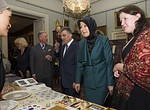 When businesses in Fort Collins want to learn about sustainable building practices, they can turn to CSU's Institute for the Built Environment (IBE).
The IBE is an on-campus non-profit focused on fostering stewardship and the sustainability of natural and built environments through research-based, interdisciplinary educational forums.
Graduate students from multiple colleges across the university — including construction management, landscape architecture, business, natural resources and interior design — have interned with IBE over the last 17 years.
"Students are given the opportunity to interact with professionals and to start to build their professional network which ultimately helps them be more employable," Associate Director Josie Plaut said.
Students help lead trainings for companies interested in making their buildings LEED accredited and teach green sustainability programs. They are also involved in outreach education and assist in building renovation plans.
"The benefits (to students) are to interface on real world projects with real world professionals," Project Manager April Wackerman said. "To learn how to manage time and responsibilities, to gain skills in the professional world related to consulting and green building services in the construction industry."
IBE was created in 1994 through a grant from the College of Applied Human Sciences. According to Plaut, the dean at the time wanted to encourage more interdisciplinary work so faculty members from different colleges came together to create a project that would focus on sustainable and healthy building practices.
The governing board still has members from multiple colleges on campus, including the Department of Design and Merchandising, College of Business and the Department of Environmental and Radiological Health Sciences.
By having contributions from multiple educational disciplines, IBE is better equipped to execute project plans because each discipline offers a unique perspective, according to Elliot Dale, a green building associate.
"It's important to get a variety of perspectives and opinions. It gives us a better understanding of the issues to be dealt with; it's obviously challenging but it's worth the challenges," Dale said. "Someone might not know the construction lingo if they're from the history department but it doesn't mean that their viewpoints aren't important and they can add in another, unexpected perspective."
While IBE started at CSU and still exists within the university and is run by CSU students and staff, IBE is a completely self-funded, independent non-profit. They charge a service fee for their certification programs, trainings and outreach education. They receive no university funding and even though they are an institute within the university, IBE is an independent non-profit.
"We feel like the greatest thing we provide to the students is practical application of the theories and concepts that they learn in the classroom," Plaut said.
Senior Reporter Kate Simmons can be reached at news@collegian.com.