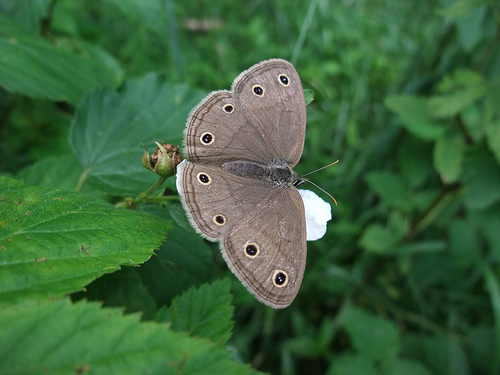 When it rains, Paul Opler can't sleep from worrying about drowning bugs.
As the assistant director of the C.P. Gillette Museum of Arthropod Diversity, Opler helps watch over a three million specimen collection of insects valued at $6 million dollars.
The current location of the museum, in the basement of Laurel Hall, is prone to water damage and minor flooding.
"Every time there's a thunderstorm, (Director) Boris (Kondratieff) and I get uneasy," Opler said. "Although it looks like nothing is happening right now, we sure would like to move before the next hundred or thousand year flood comes."
What was supposed to be a six week temporary relocation for the museum has turned into 10 long years of storage in conditions unsuitable for specimen preservation.
The 2,600-square-foot space is ill-suited as an insect museum said Opler, who is also an entomology professor.
"This space is prone to flooding, it's cramped, has bad lighting, no refrigeration and most collections would have wider aisles," Opler said. "This space was initially designed as a classroom."
The space is packed tight with rows upon rows of dusty books and ancient insect field manuals. Almost 200 large metal cabinets reaching to the ceiling house wooden glass-topped drawers, each one holding up to several hundred pinned insect specimens.
Every nook and cranny in the entire space is filled with insect related items. On the back wall, wooden drawers housing insects are stacked from the floor to the ceiling.
"Even though our museum looks behind the times, we try to keep up with cutting edge research," Opler said. "The main thing is DNA research. We also keep up with current insect classification which is the main point of the museum."
The collection is important, said entomology professor and museum director Boris Kondratieff, because it represents 15 orders of insects of national importance and is especially strong in the coverage of Rocky Mountain species.
The museum has the largest collection of butterflies and moths in the region between St. Louis and California.
"We do a lot of K through 12 outreach in the community as well," Kondratieff said. "Kids can visit an active research collection. I did three classes on Tuesday alone."
The museum was moved out of the Plant Sciences building in 2002, as the facility underwent renovation. The original plan was to temporarily store the collection in Laurel Hall and then move it to Fort Collins High School, what is now the University Center for the Arts.
A lack of funds due in part to budget freezes from the state put the move on hold. Currently, there's no space available on campus or at the UCA to house the museum.
While acknowledging the current space is inadequate, department of bioagricultural sciences and pest management head Tom Holtzer said state budget woes have created a backlog of needed renovations to buildings within the College of Agricultural Sciences.
The Animal Science and Shepardson Buildings are both in desperate need of repairs and have priority for renovations.
An addition to the Plant Science Building to house a Natural History Museum with labs and classrooms would cost about $20 million and would probably have to be raised through private donations, Holtzer said.
"At this point we have a lot of pent up needs. We're doing a lot of the things we have to but we still have to be patient," Holtzer said. "To those of who are passionately committed to seeing the museum thrive, not just exist in a cubby hole, we're going to do everything we can to see it as part of an improvement of buildings in our college."
Any new space would ideally have over twice the current square footage, higher ceilings, a stronger floor and compacting system and better ventilation and lighting along with a collections manager.
Although there have been preliminary talks over the years about an addition to the Plant Sciences building to house a Natural History Museum, there are no concrete plans to move forward with the plan.
"They made a model replica and have a few architectural drawings," Kondratieff said. "In terms of funding it's not a priority of our college or the university."
In the meantime, more insects enter into the collection every month, further tightening the already limited space.
"The collection has grown two-and-a-half fold the last 12 years," Opler said. "We get private donations all the time."
Senior Reporter Austin Briggs can be reached at news@collegian.com.