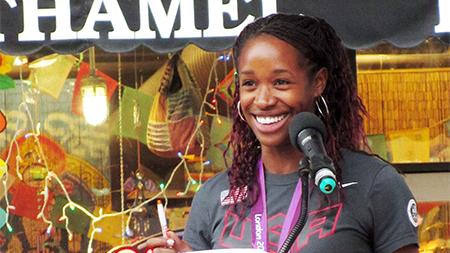 Kate Simmons
CSU graduate Janay DeLoach came back to Fort Collins with a bronze medal from the London Olympic Games.
In Old Town Square Sept. 6 DeLoach was honored for her accomplishments with a rally organized by Old Town Square owner Brian Soukup and DeLoach's uncle-in-law.
At the event, DeLoach shared her experiences at the Olympics. There was also a long-jump set up so kids could test their abilities in DeLoach's event.
DeLoach is currently ranked second in the world for long jump and her 22'7" jump this summer at the Olympic games.
She ranked fourth and her final jump got her a spot on the podium.
"Fourth is not the place you want to be at the Olympic games," said Tim Cawley, DeLoach's coach and an assistant track coach at CSU.
As fortunate and excited she felt to be participating in the games, DeLoach said it meant more to have her family there than it did to win.
"It's one thing to say you went to the Olympics, but to share it with people you love is almost more important because you're not alone," DeLoach said. "You're not alone in that moment of glory and you can make eye contact with that person. You can see how excited they are and you just feed off of each other.
"We're here. We're actually doing this together and I'm not by myself," DeLoach said. "It's fun to share the moment."
"It was so special because she worked so hard," said her mother, Dede Deloach. "When she got up there we knew then that she had accomplished what she set out to do. It all paid off."
Janay DeLoach said she was always athletic but started seriously training for long jump at CSU. She credited the university and Cawley for getting her to the Olympics.
"CSU has been monumental in my development," Janay DeLoach said. "They started me from scratch. I was doing long jump but I didn't have any coaching… I didn't have any form. I wasn't taught the proper mechanics, how to land in the pit, how to jump off the board, I wasn't taught any of those things.
"It took me from 2004 when I was a freshmen, now in 2012 to even get close to perfection and I'm not even close (to perfection) even now."
DeLoach will continue her training so she can return to the 2020 Olympics in Rio de Janeiro and win gold.
"I was disappointed because I trained for gold," DeLoach said. "I will not give up until I have gold around my neck.
"The support they (CSU) has given me even post-collegiate, the support they give me now is even more monumental than what they did when I was going to college here because it's harder," DeLoach said. "It's so much harder to make it when you're alone and don't have anyone to train with."
While DeLoach has been fortunate to make her athletic aspirations into a career, she is aware of how lucky she is and feels fortunate having the education she received at CSU.
"School is first because not a lot of people, especially athletes make it. It's really hard to be a professional athlete," DeLoach said. "What do you have to fall back on? You don't want to fall back on bad grades. You want to fall back on knowing that you got the education that is going to make you money in the end. School always came first for me. Always."
Senior reporter Kate Simmons can be reached at news@collegian.com.