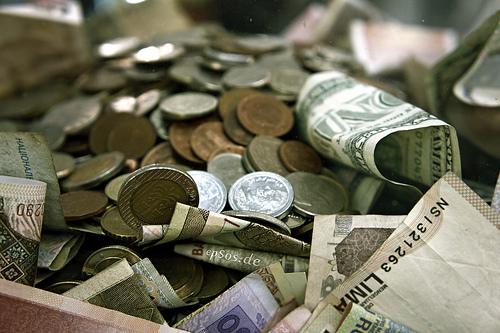 Getting the chance to handle thousands of dollars and invest them at will might be any college students' dream.
At CSU's College of Business, a select group of students have that option. Through a program called the Summit Student Investment Fund, business students can take a three credit class and handle large sums of donor money.
The fund, which is offered as a three credit class to underclassmen business majors with a finance concentration, allows students to handle up to $500,000 in a semester, invest the money in various business sectors and experience returns and losses based on their investments.
The purpose is to give them a real world scenario and allow them to perform duties they will most likely be performing for the rest of their lives.
"In essence, we manage money and look for good investments, in equity and stocks," said Valmik Kaneria, vice president of the fund.
The only catch is that the club is invite-only. Students must meet the initial requirements in order to apply, which include taking a prerequisite course and having at least a 3.0 GPA.
The Summit Student Investment Fund meets as a class from 9:30 a.m. to 10:45 a.m. every Monday and Wednesday. Each class, students do group presentations and research investment opportunities.
"It is both a class and a club, where students get class credit," said Jason Clark, a junior Business Management concentration.
Because the Summit Student Investment Fund is formatted as a class, the students receive a grade. According to Kaneria, "the class is 50 percent group presentation and 50 percent participation."
In total, there are 20 students this semester –– 14 men and six women in total.
"They take the top percentage of finance students," Clark said. Because they choose the cream of the crop, very few students fail the course.
"The fund is fairly selective, since they deal with real money," said Zach Geesing, a senior Corporate Finance and Investment Analysis concentrations.
The fund can deal with an upwards of $500,000 in a semester, according to Geesing.
Of course, the fund takes a hard hit during financial crisis. The fund was set up in the late 1990's and the money for the fund stems from donations to the business school.
This causes the mutual fund to fluctuate in size each semester.
"This semester, we are dealing with $220,000," Kaneria said.
Such a large sum of money doesn't come without any restrictions. Each student is in charge of a sector (nine in total), one of which is financial services. After researching their sector, the students create group presentations and present their opinions in class.
From there, the group "collectively decides to change [or invest] something," Geesing said.
The group of 20 students is also led by two advisors, one of which is Vickie Bajtelsmit.
She oversees the students' work in the classroom and provides assistance to the students whenever needed. She also provides them with good contacts for jobs and internships in the future.
"The advisors are well connected and provide networking opportunities," Kaneria said.
According to Jason Clark, membership in the Summit Student Investment Fund is, "huge for an interview."
"[Students] know more than just textbook information and can prove it," Clark said.
Although the Summit Student Investment Fund is highly selective, it is marketed to all upperclassmen business students, in the hopes that they will qualify and apply.
"The goal is to pick out the smartest students and give them real world experience," Kaneria said. It will only help students obtain jobs and internships in the future.
Student Life Beat Reporter Amanda Zetah can be reached at news@collegian.com.