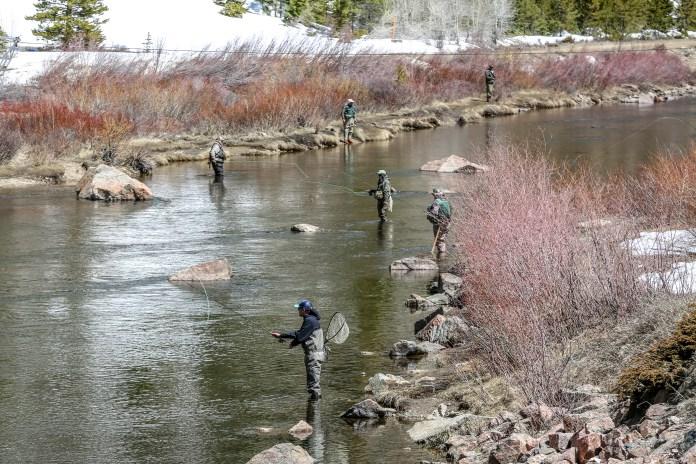 Sponsored Content
By Laura Studley
CACHE LA POUDRE RIVER
Located northwest of Old Town, the Cache have been designated as Wild Trout Waters by the Division of Wildlife. Described as both shallow and steeper waters, making for a great fishing experience. Because it's public water, visitors are able to choose from miles of water to fish. The Cache la Poudre also provides seclusion with ample space to spread out.
DOUGLAS RESERVOIR
Whether it's fly or reel fishing, the Douglas Reservoir visitors have a chance to catch rainbow trout, yellow perch, smallmouth wildlife area for any experience level. If you want to fish from a boat, the bank or even try ice fishing, Douglas Reservoir has something for every fisher.
PROSPECT POND
With easy access to the water, fishing at the Prospect Pond makes for a relaxing experience. This pond is part of the Prospect Ponds Natural Area which provides picnic areas, hiking trails, bike paths and kayaking. People can catch large and smallmouth bass, carp, crappie, catfish, among others.
HORSETOOTH RESERVOIR
Known mostly for hiking, swimming and boating, Horsetooth Reservoir can also be a great place to fish. Open year round, visitors have the opportunity to catch fish like trout, smallmouth bass, and walleye. Though bank fishing is most common at this Reservoir, boat fishing is also an option. Horsetooth has something for both fly and reel fishing making for a fun outing for everyone, regardless of experience.
DIXON RESERVOIR
Dixon Reservoir is located just 3.8 miles away from Fort Collins and includes largemouth bass, carp, northern pike, crappie and bream/bluegill. This spot is good for any level of fishing expertise but it is especially good for first timers. Dixon is a mid sized body of water with plenty of open spots along the bank to learn how to cast and reel in a catch.
SHELDON LAKE AT CITY PARK
Even though this lake isn't secluded from the hustle and bustle of the city, it is still a place to go out and catch bass, trout, and catfi sh. Located at the edge of City Park near Mulberry, this space provides easy access to the water and a quick way to get outside.