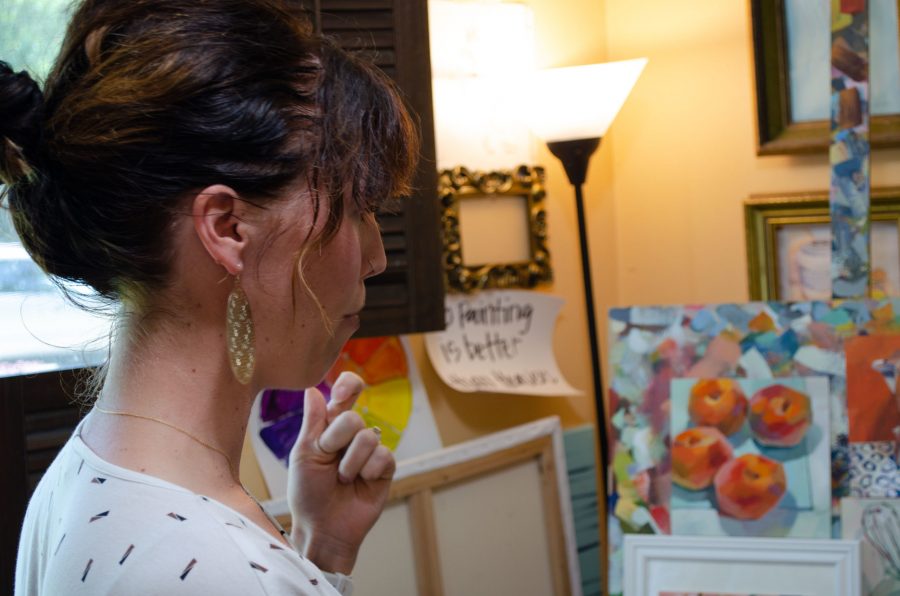 Reed Slater
Practice makes perfect — even in art — and local painter Teddi Parker demonstrates the value of trading the grandeur of large projects for incremental improvement.
Parker grew up in an artistic household in Coon Rapids, Minnesota, a town roughly an hour north of Minneapolis by her reckoning. Parker came from an artistic family; her father worked with chalk, her mother with textiles and her brother and sister became graphic and tattoo designers, respectively. 
View this post on Instagram
Pumpkin Wannabe. 8x8in house paint on canvas panel. The title is usually an after thought for me, once the painting is done. But in this case I had the title and idea before the painting. And I remembered to film it this time! Swipe to see the timelapse. Click the link in my bio for purchasing details.
Though Parker is known for her paintings now, her relationship to the medium was sporadic. While she attended special classes for painting in middle school, she switched mediums throughout her life, noting she went through a long colored pencil phase in high school.
It wouldn't be until she attended Colorado State University, and as she studied abroad in Argentina, that she took painting seriously. Using any resources at her disposal, including cardboard, she frequently painted the cityscape from her host family's balcony in addition to images from photos friends took. 
Parker said life got in the way after returning to America, and she took a break from painting. In that time, she graduated from CSU with a degree in Spanish and married her husband, Steven, in 2011. Inspiration would strike again in 2012 after discovering the artist Carol Marine, a prominent artist in the "a painting a day" movement.
"Her work just makes you feel good. … she's just a natural for this time." – Diane Findley, member of Trimble Court Artisans
"A painting a day" is a modern art movement created by Duane Keiser in 2004, who created it after recognizing the internet would change pop culture's consumption and sale of art, according to The Huffington Post. Seeing that small, frequently produced works were more profitable and internet commerce was becoming more popular, Keiser began selling and then auctioning his work on eBay and journaling his experiences. More artists picked up on this style of painting and began taking up the challenge as well.
Like so many things in life, Parker says the movement spoke to her for a number of reasons: namely, that large works often exhausted her in addition to taking a lot of time and resources and that the idea of completing projects frequently intrinsically resonated with her.
Additionally, she used an analogy that inspired her:
"It was explained somehow that you should be treating your craft as if it was playing an instrument, and the only way to get better at playing an instrument is to do it every day," Parker said.
Though she says she made immediate growth, she described the first two years as being full of ups and downs, with peaks of inspiration where things went well and lows of tiredness and frustration at not seeing the result she strived for. Despite this, she continued with the challenges of overcoming discouragement and caring for children with unsynchronized sleep schedules. 
Parker said that, as she progressed and became more technically proficient, learning what she wanted to do and how to do it became a faster learning process, and her skills grew as an artist.
"It took a good long while before myself came out and I wasn't just copying anymore, and that's hard to wait for, but you need those years of grinding, working and building up that skill before you can tune out and your craft takes over," Parker said.
Parker said that, in the beginning, she relied on emulating her style after Marine, as well as expressionist artist Vincent van Gogh and the portrait artist and proto-impressionist John Singer Sargent. Now she describes the process as relieving, and she enters a trance-like flow when she begins painting.
Parker cited her blog and social media as being a contributing factor in keeping her committed to painting daily. She also began selling and auctioning her works in the beginning, which began to pick up steam as time went on. 
So many artists are encouraged to start an Instagram account early to simultaneously receive feedback, amass a following and build a portfolio, so the thought of Parker being apathetic to the platform seems almost strange, especially when her account, @teddiparkerart, now boasts over 200,000 followers. Parker originally joined as a result of a program her church group was doing and even needed help setting it up from her niece.
It seems almost serendipitous that an account dedicated to posting art in a traditional format, with no narrative or meta content to incentivize frequent returns and engagement, would do well in today's social media landscape. It seems successful due to its adherence to some rules but its stark defiance of others. It's important to remember that the "a painting a day" movement was, in part, born out of a desire to appeal to an internet age that rewards consistency. 
To grow their audience, accounts are recommended to post frequently to keep audiences engaged and to spread awareness. A movement that emphasizes frequent creation satisfies this requirement. Parker also paints in a 6×6 inch format which naturally fits with Instagram's posting format. 
"Parker's journey represents a truth that often gets swept aside in the pressure: art and your development as an artist is not linear, it's not a race, there's no deadline to become a good artist and there is no real finish line."
But to place too much emphasis on this is to miss the intrinsic appeals of Parker's work. 
"Her work just makes you feel good," said Diane Findley, a member of Trimble Court Artisans. "She's just a natural for this time."
Trimble is an "art and craft co-op gallery featuring unique work from over 50 local Colorado artists," according to the website. Parker is also a member of this co-op.
Parker said her paintings don't tackle heavy subject matter: they focus on the everyday, and she sets out to depict bright and joyous subject matter. 
"The thing that I get most commented is that (the paintings) brought them joy — it lightened the mood of their day," Parker said.
With so much negativity circulating our consciousness and surroundings, Parker's paintings can feel like a breath of fresh air. In contrast to many other artists on Instagram, Parker's art isn't charged with anything, and it simply exudes aesthetic pleasantness, which is in-line with her philosophy that art is meant to bring beauty.
Examining Parker's art is to witness something rare in our culture, even among modern online art cultures. You get to watch an unabashed and unfiltered journey of growth and progression. In our culture, we often emphasize large undertakings that stress the full embodiment of the artist.
Seeing this, we develop a skewed understanding of what it takes to make art or become a better artist, and many become discouraged when trying to meet this journey head-on. Too often, artists think they need to develop overnight and with something that will be above and beyond expectations and the modern culture.
Parker's journey represents a truth that often gets swept aside in the pressure: art and your development as an artist is not linear, it's not a race, there's no deadline to become a good artist and there is no real finish line. The artist's journey will have highs and lows, and there will come frustration and breakthroughs.
But to see her process raw gives Parker's Instagram an almost naked appeal because, despite even the best behind-the-scenes content, we still get a summary of the work and often are not privy to the minutia of art's progress, let alone the personal development of the artist themself.
To learn more about Teddi Parker and order her art, visit her website at teddiparker.com.
Ty Davis can be reached at entertainment@collegian.com or on Twitter @TyDavisACW.