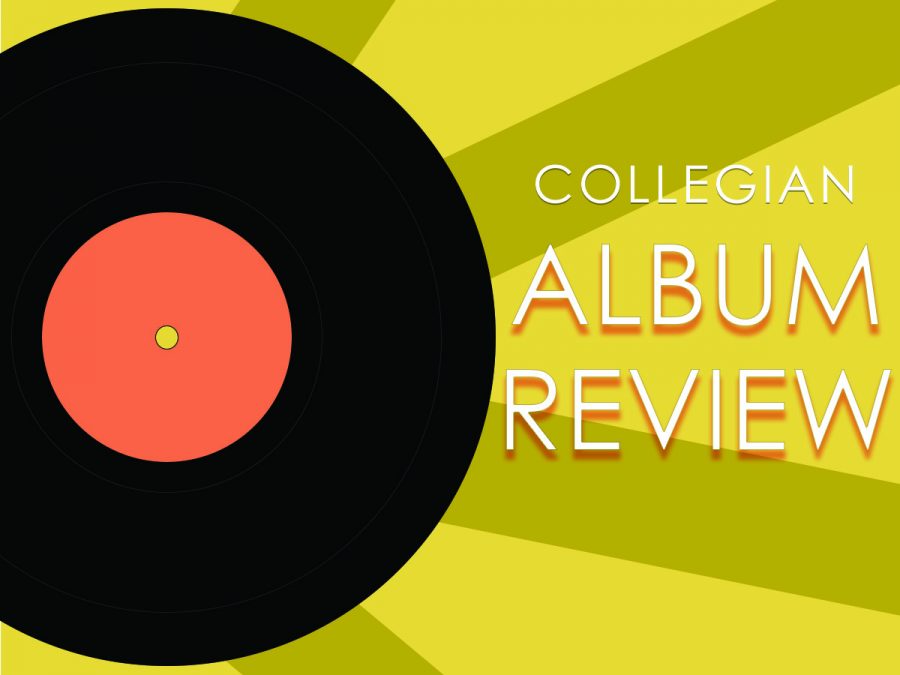 Few Christmas songs stretch past the two minute mark. If they do, it's for a good reason: say, to accommodate a gripping violin solo or to meet the standard time needed to light every candle at a Christmas Eve service. It's safe to say that most Christmas songs last just about as long as a person is willing to listen to them, which is a virtue in itself for the genre.
There are few Christmastime albums that are as ambitious as wrapping presents in a bumpy ride over the river and through the woods, as to grandmother's house you go.
"Songs For Christmas" is singer-songwriter Sufjan Stevens' contribution to the canon of Christmas classics: an absolute behemoth of an album that spans 42 songs over the course of two hours and five discs.
On this project, Stevens takes a self-admitted passion for Christmas and turns it into a five-album masterpiece, incorporating traditional carols and original compositions, all wavering appropriately between Stevens' traditional hushed "indie baby" vocals and excited arrangements of baroque instrumentals and frantic lyricism.
According to Stevens' lore, each side was recorded for friends and family as Christmas presents between 2001 and 2006. The first side of "Songs for Christmas" presents listeners with a very early example of Stevens' sound from the days of "A Sun Came" and "Enjoy Your Rabbit." Opening with a very traditional and almost irreverent version of "Silent Night," the instrumental is short and somewhat chaotic before breaking into "O Come, O Come Emmanuel," a song that features strummed banjo and gruff vocals from Stevens.
"We're Goin' To the Country!" is a cute folk number that sees Stevens reflecting upon getting ready for Christmas, as written and recorded by Stevens in the form of a steady banjo-driven carol. "Holy Holy, etc." is a hectic instrumental that sees dueling electric guitars playing alongside each other with syncopated and spaced-out notes that twinkle and seem to fall like snow.
Side one closes with a rendition of "Amazing Grace" as performed by Stevens. The song starts with banjo chording before reaching a triumphant Fleet Foxes-esque climax accompanied by acoustic guitars and vocal harmonies.
"Put the Lights On the Tree" is a quirky, piano-driven ballad that sounds straight out of an episode of "Portlandia." It is a baroque number that captures a period of time in contemporary indie pop, as well as a specific moment of Stevens' career, as it reflects the rhythmic and musical aesthetics found all over "Michigan."
This same aesthetic is shared on "I Saw Three Ships," with playful Neutral Milk Hotel-inspired acoustic guitar and a steady marching drum beat accompanied by an unknown keyboard instrument that drives the melody in gaps between Stevens' melodic and soulful delivery.
The highlight of side two is Stevens' rendition of "What Child Is This Anyway?" which is a dark and twisted rendition with a menacing drum part that drives the song under intentional vocals. Stevens takes breaths to allow for synth-heavy guitar-like leads to create a level of dissonance under the classical piano that creates the bed of chords on which most of the song lies. "What Child Is This Anyway?" is reminiscent of some of the darker textures Stevens implements on "Michigan" in songs like "The Upper Peninsula" and "Oh God Where Are You Now?"
The third side of the record starts with a piano arrangement of "O Come, O Come Emmanuel" that lands in a beautiful field of hymnal voices that create a monstrous, reverb-tinged choir.
"Come On! Let's Boogey to the Elf Dance!" is a song that shows an interesting period of transition between Stevens' "Michigan" and "Seven Swans" aesthetic and the decidedly different (and arguably more interesting) "Illinois" aesthetic. It is cheerful and clever as layers of voices chant over encouraging lyrics that urge you to drop everything, drink that cup of coffee and finish wrapping those goddamn presents!
Each song is carefully deconstructed, rebuilt and elaborated on, while Stevens' own compositions demonstrate his ability to be constantly inspired by past versions of himself."
"That Was the Worst Christmas Ever!" is a song that became a mainstay during the tours supporting "Illinois" and beyond. It's a decidedly calmer composition that invokes some of the softer sides of the manic "Illinois," such as "Casimir Pulaski Day." Stevens tells a story of a hectic Christmas that is confessional and offers a glimpse into his childhood, something that Stevens used in full force and with great success on 2015's "Carrie & Lowell."
"Ding Dong!" is a glockenspiel tune that is reminiscent of some of the instrumental breaths that Stevens often takes in some of his albums. It is dainty and disorienting yet appropriate, breaking up the third side of the record and cutting off to make way for "All the King's Horns," a traditionally acoustic guitar and banjo-driven song that is cryptic and possesses an aesthetic of fantasy and mystery.
Side four features three original compositions of Stevens' that are drastically different and reflect another transitional period of Stevens' career.
"Hey Guys! It's Christmas Time!" might be mistaken for a Built to Spill track if not for Stevens' tender vocals in quiet verses that abruptly bust into an overblown, fuzz-guitar-driven hook. The song is unmistakably '90s indie rock that demonstrates Stevens' ability to craft catchy and radio-friendly pop songs that are sparsely littered between gargantuan and traditionally folk projects.
"Did I Make You Cry On Christmas Day?" is a letter to an absent family member or friend who seems to disappear and reappear in inappropriate and emotionally tormenting ways. It is applicable to many of the feelings we might have toward family that we might have resentment for in a time that continues to be stressful and tense for many families.
The last Stevens-authored track on side four, "The Incarnation," is a spacy, ambient and haunting instrumental with aimless, noisy guitars and a feeling of tension. It is the sound of familiar instruments working against each other to create a creepy and irking atmosphere before ending on lightly-strummed electric guitar chords that stands out among a wash of reverb.
At 11 songs long, side five is the longest side on the record in song count and duration. Stevens begins the side with an angelic performance of "Once in Royal David's City," a traditional Christmas hymn that is pleasant and steady as it rings with a space similar to the ambiance of a great cathedral.
This is immediately juxtaposed by the bright and chaotic "Get Behind Me, Santa!" which is a trumpet-heavy and groovy indie song that is matter-of-fact in its vocal delivery but messy and charming in its poppy instrumentals. The chorus and verses reflect Stevens' truly unique talent for pop hooks that run along a song fit for a carefully-choreographed music video of Stevens pushing a cart in a Target shopping for gifts.
Of all of the instrumental breaks on "Songs For Christmas," "Jingle Bells" is decidedly more straightforward and truer to its source material. It is jaunty and direct, and it ends abruptly to lead into the unmistakably unorganized "Christmas in July." "Christmas in July" is another song that is confessional and invokes Stevens' non-Christmas-related work at the time. 
Side five also features "Jupiter Winter" and "Sister Winter," two more songs penned by Stevens. "Jupiter Winter" is an electronically-driven song that feels courageous and ambitious. The same cannot be said for "Sister Winter." "Sister Winter" begins as a product of its own humble nature: a subtle song with the same hushed vocal delivery that Stevens implements in most of his songs, but it's backed up with driving, distorted power chords. The song invokes the musical aesthetic of Wilco and Arcade Fire, among other indie giants at the time.
By the third reprise of "O Come, O Come Emmanuel," the album has become pretty exhausting. With three more songs to go, the end seems near until "O Come, O Come Emmanuel" cascades into "Star of Wonder."
With its seven-minute runtime, "Star of Wonder" is a puzzling number. The soundtrack is similar to being visited by a foreign form of human-like beings. Rather, it sounds like if Jesus were discovered by aliens unsure what to do about him. "Star of Wonder" is a truly interesting song, as it is reflective of Stevens' self-conscious yet ambitious sound that is found on some of the longer cuts of "Illinois" and "Michigan."
The end of "Star of Wonder" is thunderous. Its chanted vocals under pounding drums and truly spastic electronic instrumentals are thoroughly disorienting and curious. The repetition of "I see the stars coming down there, coming down there to the yard" is a direct reflection of the awe and inspiring aesthetic that made "Illinois" such an excellent album. Each note is intentional, creating an air of organized unrest that eventually dissolves into vocals and piano, then piano and then nothing.
"Songs For Christmas" ends on the whimsical "The Winter Solstice." Bright and chimey glockenspiel arpeggios cascade over each other, creating a sonic star-scape from which fragile flakes fall and collect on the ground. Backed up by Granddaddy-inflected synthesizers, "The Winter Solstice" is a magical callback to the aesthetic of "Michigan" and is a song that allows the album to end naturally with a quaint garnish, like tinsel on a Christmas tree.
What "Songs For Christmas" does that few other albums can do is exist as a separate entity to Stevens' entire discography. It is a near-linear map full of callbacks, experiments and trials that outline Stevens' limitless creativity. 
On "Songs For Christmas," Stevens reinvents Christmas music from a foundational standpoint. Each song is carefully deconstructed, rebuilt and elaborated on, while Stevens' own compositions demonstrate his ability to be constantly inspired by past versions of himself, as well as whatever version of himself he is currently working tirelessly to hone.
Score: 7.7/10
Matt Campbell can be reached at entertainment@collegian.com or on Twitter @mcampnh.