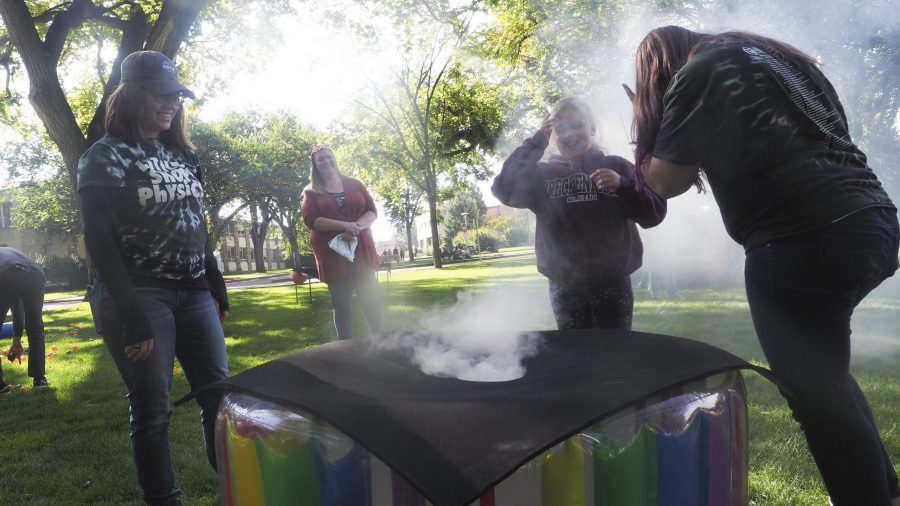 The annual Festival on the Oval and Homecoming Parade at Colorado State University brought together family members, staff, alumni and students in a wonderful display of community this past weekend. 
While the festivities allowed new students to learn the traditions at CSU, it was especially welcoming to families who were visiting Fort Collins. 
"(I most enjoy) how family-friendly it is," said Ashley Sciaroni, a parent of a CSU student. "I have all of my other kids here too, and they're having just as much fun as my freshman."
With bouncy castles, face painting and a parade, children were encouraged to take part in the fun as well. 
"I actually went to (University of Colorado) Boulder, and I think the Homecoming here is far better," Sciaroni said. "I think it's just that you guys have more activities here, and like I said, I think it's more all-inclusive for your whole family. I love it." 
Among the festivities, the Little Shop of Physics seemed to make the biggest splash. Children swarmed the fog ring display with fascinated parents watching from a distance.
"All the activities for the kids (are the best part of the festival)," said Emma Munholland, another attendee at the festival. "Having the Little Shop of Physics was so fun. Such cool stuff."  
I have all of my other kids here too, and they're having just as much fun as my freshman." -Ashley Sciaroni, parent of a CSU student
Starting from Canvas Stadium and going through The Oval, the parade was one of the highly anticipated activities of the day. The floats included everything from local businesses to student organizations. People in attendance were given candy, flyers, pencils, newspapers and many other fun souvenirs. 
Not only did the parade bring everyone together, but it also helped student organizations and businesses promote what they do. For people who have never been to a homecoming parade before, this year's presentation was a special experience. 
"This is my first year that I'm coming to the parent weekend," said Alberto Vinuela, an attendee and CSU parent. "I can basically just be with my daughter and watch the football game, the parade and the festival."
Luckily, the satisfying turnout for the festivities encouraged attendees to keep coming back in the future. 
"I've never been to (the Homecoming Parade). This is my first year," Sciaroni said. "So, we'll be back every year, and hopefully the rest of my kids will all go here. So I hope we keep coming back."
Of course, activities for those out of grade school were plentiful as well. The fireworks, bonfire and beer garden had a successful turnout.
"They always have this really big fireball, which looks like it's blowing up the field, but it doesn't actually blow up the field," said Danielle and Gabrielle Moran, both alumni of CSU. "You'll enjoy it as long as you don't go to Newsom Hall because then all the windows rattle, and it sounds like you're going to die."
Autumn Sorrentino and Emily Pisqui can be reached at entertainment@collegian.com or on Twitter @ItsNotTarantino and @emilypisq15.