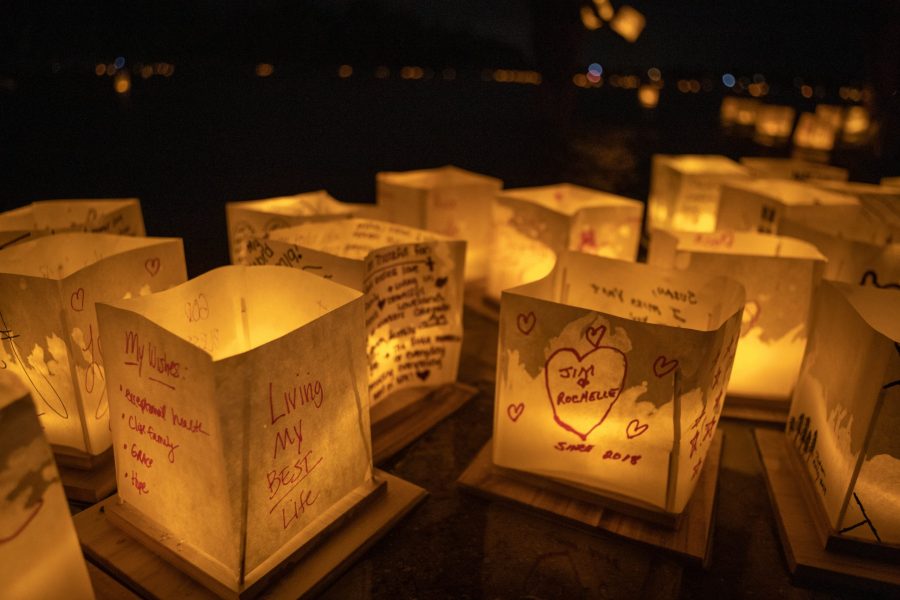 A family-friendly festival welcomes peace, unity and good vibes to Fort Collins locals. 
The Water Lantern Festival came to Boyd Lake State Park Saturday afternoon to illuminate the lake with good energy and positivity. 
Attendees of the event were welcomed to sit back and enjoy the view of the lake with their families and friends to create their own personalized water lantern with any message or drawing of their choice. 
Angela Simmons, an attendee of the festival, brought her two children and husband to have a unique family bonding day.
"I'm here for inner peace and self-care," Simmons said. "I wanted my family to be away from technology and spend time together. I personally like to attend positive peaceful events, especially being in a beach type of setting like this lake."
Simmons made sure to put in as much positivity into her lantern to symbolize good luck for the rest of the year.
"I created a lantern that represents all the things I want to accomplish and what I'm grateful for," Simmons said. "Having water lanterns go into the lake is very symbolic to me and just brings inner peace."
There were tents across the park with messages of positivity on them such as "you are powerful" and "you are unique" as a reminder for the attendees.
It's a magical experience, especially when the lanterns are launched."-Hailie King, Water Lantern Festival Employee
Children were playing in the park, dogs were getting walked and some people were tearing up while decorating their water lantern. People were making their lanterns to have special meanings, goals they want to accomplish, experiences or quotes. 
Each person was given a kit for their lanterns and a scavenger hunt to get people to get out of their comfort zones and meet some new people.
Collin Maki, the manager of the Water Festival said a festival like this is a time for individuals to reflect on the past, present and future. 
"Happiness, joy and peace," Maki said. "That's the idea behind this is releasing good vibes out into the universe. The purpose is just to bring communities together and families and they have an opportunity to have a good time with friends and loved ones."
Hailie King, a Water Lantern Festival employee, travels with the festival crew across the country to give people a chance to feel something magical. King says pictures don't do the festival justice; the energy and beauty of the festival must be caught in person. 
"Everybody comes out for different reasons. Some people come out for spiritual reasons, some come out for emotional support or just for fun and enjoyment with the family, whatever it may be," King said. "The environment at a festival like this is something you can't experience anywhere else. The environment is something that is welcoming, warm, it's fun, it's enjoyable, it's light, it's a magical experience, especially when the lanterns are launched. It's a party before that. It's enlightening."
Emily Pisqui can be reached at entertainment@collegian.com or on Twitter @emilypisq15.