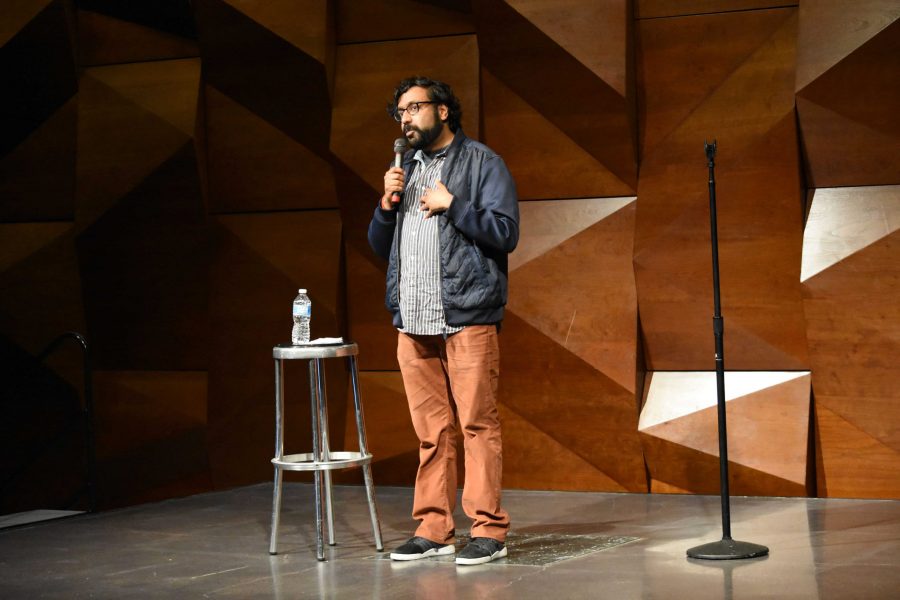 The Asian-Pacific American Cultural Center hosted comedian Hari Kondabolu Wednesday night in the Lory Student Center Theatre as part of their Asian Pacific Islander Desi American Heritage Month, which is also known as Asian-Pacific Heritage Month.
Colorado State University celebrates Asian-Pacific American Heritage Month in April to prevent overlap with finals and allow students to attend the events. According to the Asian Pacific American Institute of Congress Studies, in 1977 two bills were introduced to dedicate the first part of May to Asian and Pacific groups' heritage. Originally the celebration only lasted a week but was extended to a full month in 1992.
Assistant director of APACC Vani Narayana said Kondabolu was asked to perform due to his ability to talk about issues of race and nationality.
"He's just been gaining a lot of following and is really popular as a comedian, but addresses a lot of social justice issues in a really intelligent and funny way," Narayana said.
The event opened with the acknowledgment that CSU was built on land previously belonging to Cheyenne, Arapaho and Ute people.
Despite Kondabolu's popularity, the theater was mostly empty. Those in attendance were a mixture of guests and students from the APACC. The small turnout did not deter Kondabolu who quickly joked about the small crowd.
Over the course of Kondablu's set, he discussed everything from people mispronouncing his name, his parents coming to America, treatment of immigrants in America, class, his time in London and gun violence, to white depictions of Jesus, President Donald Trump, Christmas and mental health. Despite the serious subject matter, Kondabolu frequently had the audience cackling.
I loved it, he brought up a lot of topics that aren't necessarily talked about and I think fusing comedy was a great way to bring it to light," -communications major Ahjina Hopkins
"This was my first time seeing him, it was a pretty unique perspective that I haven't seen too often," audience member Tyler Moss said.
Kondabolu is a political comedian from Queens, New York. Kondabolu has written for numerous shows, appeared on and co-hosted numerous podcasts like "Politically Reactive with W. Kamau Bell," appeared on late night shows like Conan and Jimmy Kimmel and had his own one-hour Netflix special "Warn Your Relatives" in 2018. Kondabolu has recently been making waves for his comedic take on social topics like race, nationality and white supremacy.
"I loved it. He brought up a lot of topics that aren't necessarily talked about, and I think fusing comedy was a great way to bring it to light," junior communication studies major Ahjina Hopkins said.
Kondabolu made headlines in 2017 with the release of his TruTV documentary "The Problem with Apu," an exploration of poor and stereotypical portrayals of Indian and South-Asian people. The documentary explores the topic of representation by using "The Simpsons" Apu as an emblematic figure for Hollywood's aggressive attitude toward South-Asian people. Kandabolu not only discussed the real world ramifications of poor representation, but also included interviews from celebrities like Aziz Ansari and Kal Penn about their experiences with stereotyping and micro-aggressions. The documentary sparked a widespread conversation about inappropriate representation, leading to a rebuttal from "The Simpsons," a public apology by the voice actor for Apu, Hank Azaria, and the announcement the character would be retired.
Ty Davis can be reached entertainment@collegian.com or Twitter @tydavisACW.