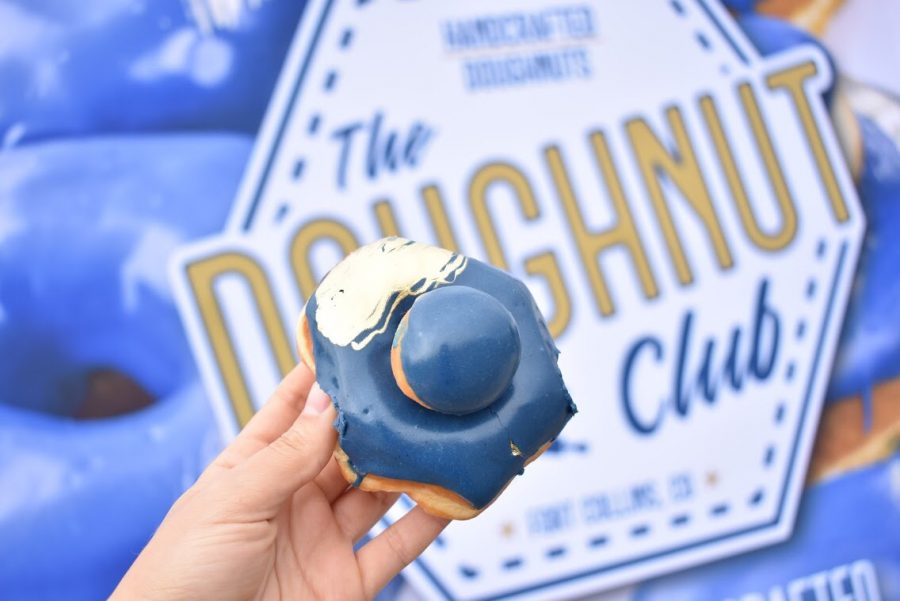 Waking up on 4/20 morning, many people's first instinct might be to buy the sweetest or greasiest thing from whatever fast-food restaurant happens to be closest. The Doughnut Club offers a more guilt-free alternative to your standard sugar-filled dessert with donuts that have 11-12 grams of protein a pop.
The Doughnut Club, owned by Ondrea and Marquez Fernandez, opened April 20 in northeast Fort Collins to an eagerly awaiting crowd which included Mayor Wade Troxell, Councilmember Susan Gutowsky and Councilmember Ray Martinez.
The opening's events began with the ribbon cutting ceremony around 10 a.m. Customers immediately formed a line that extended out the door. Hourly raffles to win free donuts were held throughout the day, along with several other events like a donut eating contest in which the winner received free donuts for a month, and donut holes pong for a free dozen donuts. All proceeds from the event went to Realities for Children, a local charity providing support for children in need.
You don't get anywhere as an entrepreneur if you aren't willing to put yourself out there and take a leap of faith." -Ondrea Fernandez, co-owner of The Dough Bar and The Doughnut Club
In addition to unique designs and flavors like "caramel macchiato" and "cookie monster," the donuts at the Doughnut Club are made with protein and are baked so as to offer a healthier option to regular donuts. According to the Coloradoan, Marquez Fernandez came up with the idea of a protein-filled sweet alternative while scrolling through food photos on Instagram at the gym.
The Doughnut Club, and the sister company the Dough Bar, offer gluten-free options with a vegan option coming soon according to Marquez.
Originally headquartered in San Francisco, the Fernandezes were visiting family when they came to Fort Collins and fell in love with the city. Though they listed a few reasons why they decided to move, both cited their two-year-old son as the deciding factor.
"From the first time we got here we knew that this was a place that we could potentially settle down and bring our two-year-old and raise a family," Marquez said.
The Fernandezes gained mainstream popularity with their appearance on Shark Tank in 2018 which earned them a $300,000 investment offer from shark Barbara Corcoran. Since then, they have expanded operations and are now selling their Dough Bar products at several locations across the U.S.
"Barbara is all about taking risks," Ondrea said. "If you follow her on social media or read her books you'll know that she knows you don't get anywhere as an entrepreneur if you aren't willing to put yourself out there and take a leap of faith."
Ty Davis can be reached at entertainment@collegian.com or Twitter @tydavisACW