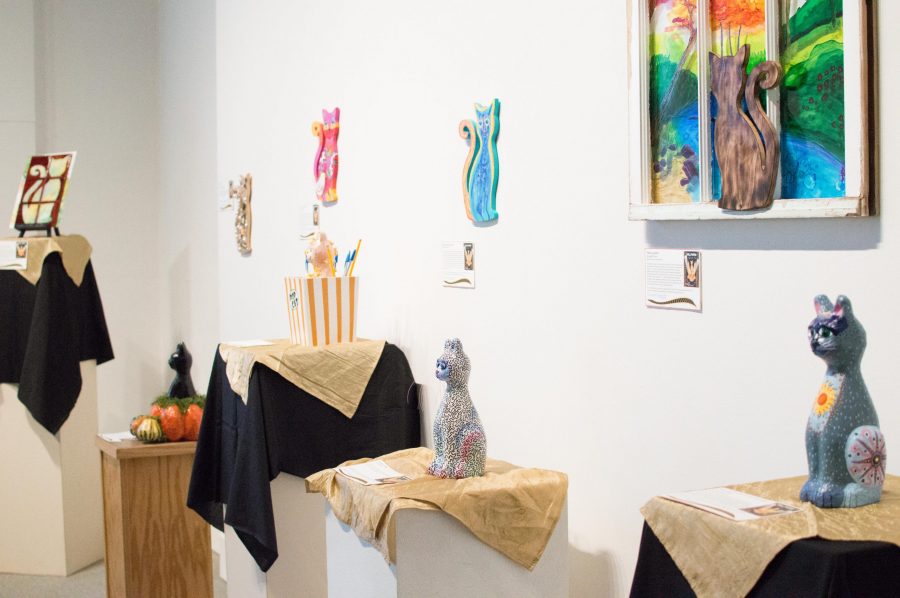 Animal lovers and artists came together the evening of Feb. 21 to celebrate a great cause: preventing animal homelessness in Fort Collins.
This is the 12th year that the Fort Collins Cat Rescue has commissioned artists to create "Popular Grand Cats:" art inspired by their favorite fluffy friends. The Grand Cats gives local artists and the animal rescue a unique opportunity to collaborate for a good cause in the community.
We invite artists from around the community to choose either a wooden form or a papier-mâché form to turn into a piece of art, and then we auction them off at our gala fundraiser, Whiskers n' Wags Jubilee," said Ashley Booth, the director of philanthropy at the Fort Collins Cat Rescue. "That is what helps us to raise funds for everything that we do to help animals and prevent pet homelessness."
The art, which was created by over two dozen local artists, was showcased at the Carnegie Center for Creativity from Feb. 20-23. The gallery acted as a preview for the public to view the artwork before the silent auction.
"The Whiskers n' Wags Jubilee is our largest single-day fundraising event of the year," said Lydia Jordan, the marketing administrator for the rescue. "Our 'Grand Cats' have been a fun and exciting highlight of the gala since our very first event 12 years ago."
Registration for the Whiskers n' Wags Jubilee can be made online on their website.
"This is our second year doing a gallery showing," said Debbie DeLong, a contributing artist, sponsor and long-time supporter for the rescue. "We wanted the public to see the art before the event."
DeLong, who owns Hummel House Art in Fort Collins, has been submitting art for the event for 11 years.
"I have two kittens, who are now 11, that came from the cat rescue," DeLong said. "(The Fort Collins Cat Rescue) is really caring and helps the community in so many different ways, not just homeless cats, but also people who can't afford spays and neuters. It's an incredible organization and I've really enjoyed watching it grow."
This year, DeLong used a drawing form called "Zentangle" to transform her wooden cat with the help of outside materials.
"I happened to have a wine topper that I got for Christmas and I noticed it was the perfect size to go with the cat, so I just merged the two together," DeLong said. "Wine and cats, what more do you need?"
DeLong was joined by other artists in supporting the rescue through art. Even staff members like Booth contributed to the art collection.
"A lot of what I do is donor relations and fundraising which are more technical aspects," Booth said. "I think it's a nice break to tap into my creative side."
Booth used a string-art technique to decorate her wooden cat.
"It kind of shows that my love for cats pulls at the strings of the heart," Booth said.
The gallery also gave the artists and staff members a chance to celebrate the hard work that they put in for the cause.
"We're very grateful for all the artists that have dedicated their time and talents to create these beautiful pieces of art to support our efforts to help animals in our community," Booth said.
Lauryn Bolz can be reached at entertainment@collegian.com or on Twitter @LaurynBolz.