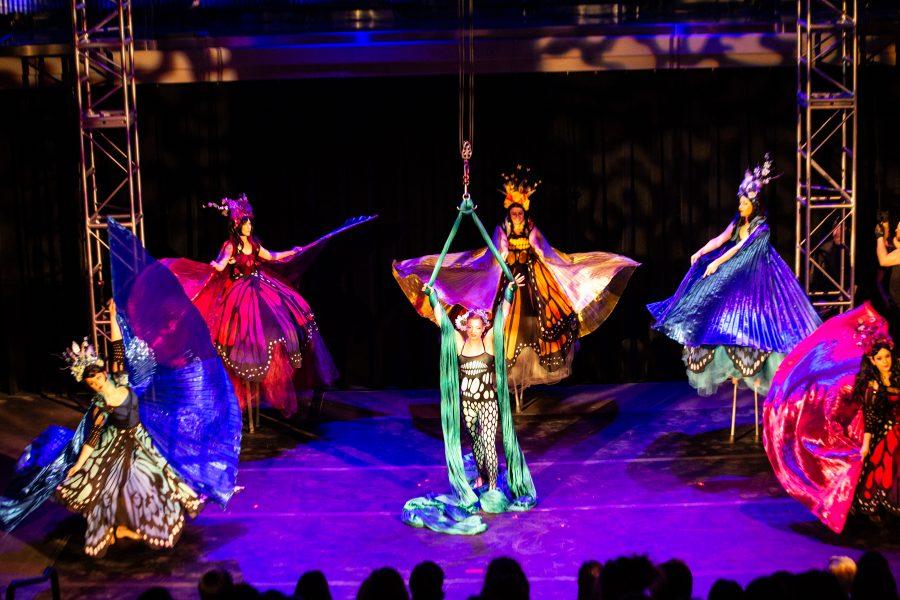 Bending over backwards to get the best seat in the house, spectators gathered in the Lory Student Center Theatre Feb. 21, to watch Phantom Circus, a traveling variety show based in Colorado for Cirque Du CSU.
Making their first Fort Collins debut, Phantom Circus juggles multiple acts including aerialists, dancers, acrobats and many more to create one elaborate spectacle.
"What's cool about (performing with Phantom) is that we take time to develop a concept and bring it to fruition," said Grace Ramsey, Phantom Circus aerialist. "It gives you an opportunity to get into a character… develop it and deliver it."
The show included a carnival of acts, pushing the physical limits of what was thought to be possible.
"I'm always worried for their safety," said Phantom Director Natalie Brown. "I'm always doing logistics, so I don't get to enjoy it like a patron would… (I'm) hoping that nobody gets hurt… or drops their people." 
However, whether it's dangling from fabric, a chandelier or hurtling through hoops, the Phantom performers love what they do.
"There's dynamism to (what I do)," Ramsey said. "My whole quality of movement and demeanor changes once I'm up there… it's kind of a little bit like reaching your higher self." 
Running approximately one hour, the show was a balancing act of music, props and costumes that illuminated the performances as they dazzled the audience with their captivating entertainment.
Junior marketing major and the president of RamEvents Shefali Kovoor-Misra was thoroughly impressed with the show. 
"It was amazing, so entertaining," Kovoor-Misra said. "For this to be the first time that we've ever done this at CSU, it turned out amazing. Phantom is so talented."
Surprisingly, Phantom was not Brown's first circus, as she had organized another group by the name of Alternacirque.
Phantom was born in the wake tragedy and aims to make a difference through art.
"I started belly dancing because I had a bad back injury and then Hurricane Katrina hit so I ended up evacuating to South Carolina and I got stuck because my job was underwater," Brown said. "So I started a belly dancing company and then it accidentally expanded into a circus in a bar parking lot."
Since then, Brown has built Phantom from the ground up, adding "we're coming up fast and we've come a long way in three years."
Ending with dancers Bethel Lindsley and Anthony Cummings, the Theatre erupted with the thunder of applause.
"(Phantom Circus has) a bunch disparate, creative types of all shapes, sizes, colors and orientations that are passionate about creating art, spreading joy and happiness," said Ringmaster and MC Steve Millen. "(They are) people who believe that art can, in fact, save the world."
Laura Studley can be reached at entertainment@collegian.com or on Twitter @Laurastudley_.