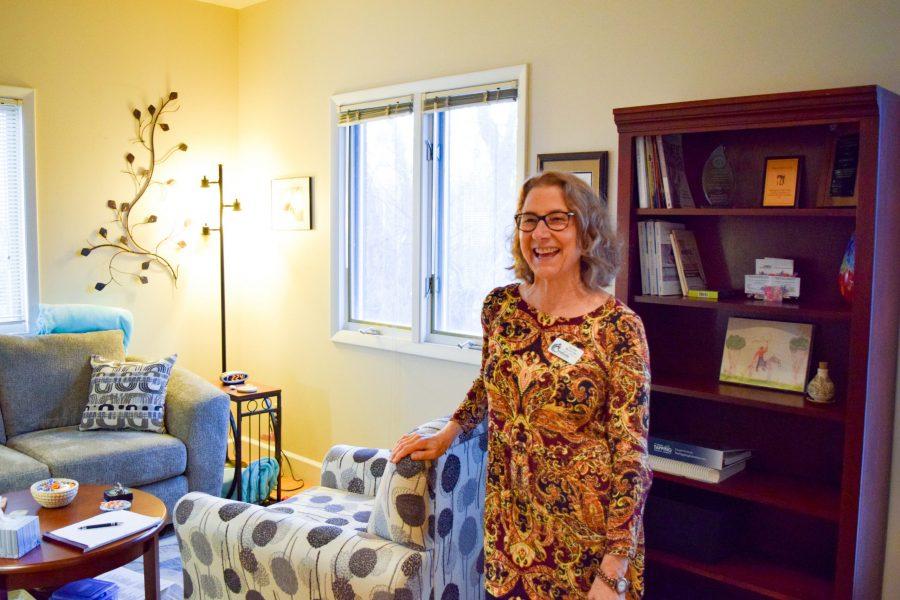 In the world of #MeToo and sexual assault awareness, Fort Collins is opening up a safe haven for not only adults, but also children who have experienced abuse. 
This is something that may take a moment to register – the reality that Fort Collins children as young as two years old have experienced sexual abuse. In the Sandtray room of the new ChildSafe house, ChildSafe co-founder and Clinical Director Valerie Macri-Lind said play-therapy helps children work through abuse.
Macri-Lind, who is also a licensed therapist, said ChildSafe began in Fort Collins 32 years ago, dedicated to supporting child victims of sexual abuse and adult survivors, as well as the parents of those abused.
The house offers things such as group therapy, play-therapy, talk-therapy and neurofeedback therapy, all conducted by a specialized staff of eight therapists and four clinical interns pursuing a master's degree. 
These services are usually at no cost to the client, with the fees paid by insurance and restitution of the perpetrators that are doled out by the state, according to Tim Alexander, the business operations manager of ChildSafe. ChildSafe held an open house Saturday at their new office after moving in on Halloween and quickly getting things running so services could be offered the following Monday. 
ChildSafe has a catalog of many programs such as parenting classes focused on Beyond Consequences, a style of parenting specialized in supporting victims of abuse and trauma. ChildSafe has gendered group therapy sessions available to all ages, including adult survivors of abuse and mothers whose significant other was the abuser of their children, or groups for caregivers of children who have suffered sexual abuse.
"Finding the words to describe your trauma is difficult, so we use a lot of methods that don't require that,"  Macri-Lind, said. 
Macri-Lind said for young children, the areas of the brain associated with the higher levels of thought required to discuss issues isn't even fully developed yet. While ChildSafe does offer talk-therapy, a lot of the time it is in conjunction with methods of therapy that delve into formats where a client can communicate their feelings.
The Sandtray room is dedicated to play-therapy, with shelves of toys and dolls lining the walls and a small sandbox on a table in the middle. The room included a Halloween section of the shelf that was lined with ghosts, skulls and frightening-looking dolls. 
"We like to have some scary ones, because well, life is scary sometimes," Macri-Lind, said.
Within the ChildSafe office, there are also two neurofeedback rooms, a form of therapy focused in helping those with post-traumatic stress disorder symptoms, panic attacks and nightmares, according to Melissa Garcia, a trauma therapist who works for ChildSafe.
Your brain doesn't have a mirror to see itself," Garcia said. "If you're walking by a mirror and your shirt is tucked-in funny, you would fix it. This is like the brain fixing a tucked-in shirt." 
The experience of neurofeedback therapy consists of sitting down in a chair in front of a television, and having electrodes put onto your head that record brainwaves during simple tasks like watching videos or playing games. The electrodes record brainwaves to determine if they are in an "optimal" state, and when they enter a non-optimal state, the screen goes fuzzy or shrinks.
This is there to let the brain know when it's entering back into a state caused by trauma and to train it into pulling itself out of that state. No talking or interaction with the therapist is required. Their other neurofeedback office also uses a bear that vibrates to let the patient know when the brain is entering this state.
"Finding the words to describe your trauma is difficult, so we use a lot of methods that don't require that." -Valeri Malri-Lind, licensed therapist, co-founder and clinical director of ChildSafe
Donations and a volunteer application to the Fort Collins location can be found at childsafecolorado.org. ChildSafe also hosts signature events such as the Black & White Bash and Trivia Bowl, as well as regular social nights at places like Big Al's where part of the money spent at the location goes towards the ChildSafe organization.
"You're helping businesses by going out on a Wednesday night, and also helping local charities, by basically just going to dinner," Alexander said. 
Nick Veintimilla can be reached at entertainment@collegian.com on Twitter @NickVeintimill1.