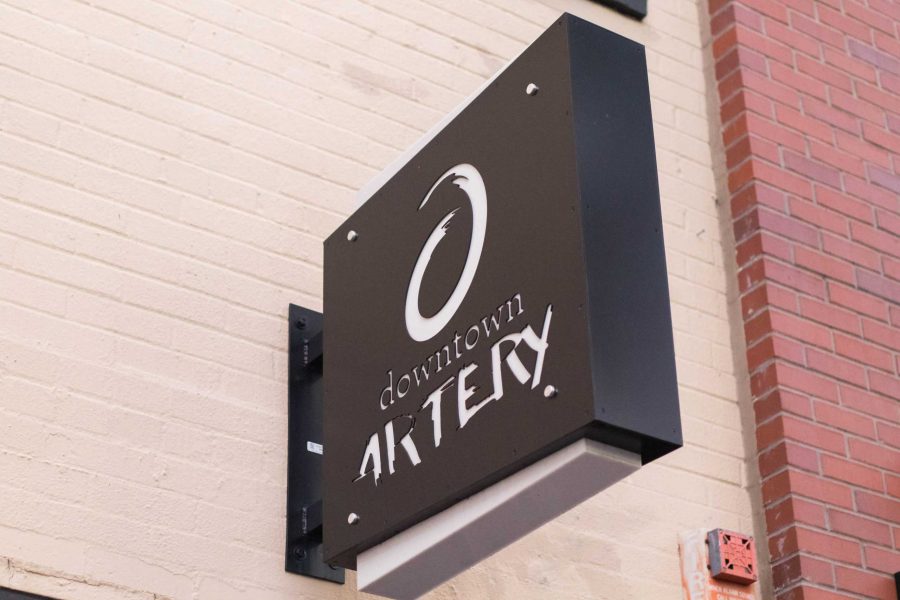 Female-led bands Soccer Mommy and Sasami emotionally destroyed the audience at the Downtown Artery last week with powerfully introspective lyrics and guitar-heavy melancholy tunes.
Alternative rock artist and lead of her band Sasami, Sasami Ashworth opened the show with some of her earlier work. Her song "Hollywood" features more optimistic lyrics along with melancholy instrumentals, reflecting her experiences growing up in Los Angeles. In the song, Ashworth describes Los Angeles as a place where everything is possible, but she said her use of a dryer sound beneath the lyrics reveals the truth behind the seemingly glamorous place.
Some of the songs are about issues that I had with relationships that are platonic too. They all pretty much stem from human relationship issues."Sasami Ashworth, musician and lead of band Sasami.
"I did everything (directed input) so instead of putting it through an amp that would have a reverb or a room sound to it, it's really dry sounding," Ashworth said. "When you think of Hollywood, you think of lush, very produced strings and lots of vocals, but I wanted to keep the production on it really dry and simple. I feel like there's a lot of dichotomy in that song, between the lyrics and the minor vibe of the song."
Ashworth has an incredibly wide palette of music, having experience in various different instruments her entire life. Growing up, she learned the piano and french horn, and went to college for music. When she went on tour with her first band after moving to Los Angeles, she began to experiment with songwriting. Ashworth said much of her songwriting inspiration comes from past romantic and platonic relationships.
"I used to play in another band and we were on tour like nonstop, so I was just kind of writing," Ashworth said. "Most of the songs were about the people I f*cked, but some of the songs are about issues that I had with relationships that are platonic too. They all pretty much stem from human relationship issues, though."
More information on Soccer Mommy can be found at sopharela.bandcamp.com/music.
Information on Sasami can be found at www.sasamiashworth.com.
Ashworth continued her set with her newest record, drawing in the audience with her deeply vulnerable lyrics. In her song "Callous," she reveals the layers of protection she had to build around herself through an emotionally damaging relationship. Many folks in the audience were introduced to Ashworth's music at the show and expressed their connection with her music.
"It's very introspective … it honestly just felt like an emotional smack in the face," said Carly Rayburg, sophomore psychology and Air Force ROTC major at Colorado State University. "She was just like, 'Here is all of me, and I don't give a sh*t if you like it.'"
Soccer Mommy, a stage name for the alternative singer-songwriter and guitar player Sophie Allison, followed Ashworth with her newest album, "Clean."
In her more upbeat song "Last Girl," Allison addresses a significant other and compares herself to their previous romance, revealing her insecurities and fears of not being good enough. "Flaw," another indie rock song on the new album, is a ballad of her tendencies to project her flaws onto lovers in attempts to fix her own issues.
Soccer Mommy slowed down the vibe mid-show, playing some deeps cut solos, from her 2018 single "I'm on Fire" to "Allison" from her previous album "Collection." Over years of touring and creating music, Allison has accumulated many dedicated fans who connect deeply with her music, many of whom were passionately singing along and shouting requests for her to play older songs throughout the show. Maddie Moore, a sophomore international studies and criminology major at CSU, said Soccer Mommy's music is her chosen playlist for a more chill vibe.
"When it's rainy outside, I play their music," Moore said. "It feels like she was putting how she felt to the tune."
Elena Waldman can be reached at entertainment@collegian.com and on Twitter @waldmanelena.