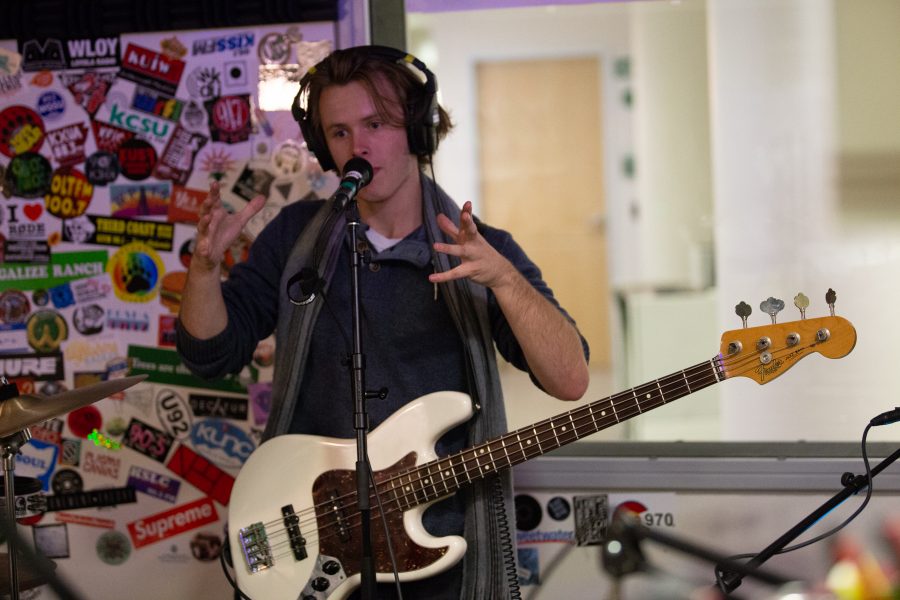 Last Friday evening, 90.5 KCSU reined in Fat Stallion, a local band, for a live in-studio session. The band enjoyed horsing around in the station, showing off their personal sound which they have dubbed "experience rock," guaranteeing that they will be "your next favorite band."
The charismatic cast includes Light Goodfellow, the band's philosopher and counselor on drums and vocals, Riley Wilkes, the cornerstone of the band who plays the guitar and vocals, Jack Elliott, the co-founder of the band who plays bass and vocals, and the newest cast member, Emma Dawn, who plays the trumpet, vocals and keys.
Fat Stallion's style creates songs that are relatable and enjoyable while also sending the message of "unity over uniformity."
"We don't have to all be the same to get along," Wilkes said. "We can all be super weird and super different and do all these different things. But we can all still love each other and support each other for whatever adventures and dreams we're chasing." 
Upcoming KCSU in-studio sessions:
Alone at the Gym – October 10th – 2pm
Clay Rose of The Gasoline Lollipops – October 24th -2pm
Taro – October 26th – 2pm
Great Salmon Famine – October 31st- 2pm
Taft Hill – November 7th – 2pm
The in-studio session was hosted by Joe Wood, also known as DJ Salad. He interviewed the band, allowing them to show their perspective on wanting everyone to feel included and writing music everyone can relate to. The band explains that one of the main reasons they make music is to connect with other people on an emotional level.
"Everyone wants to be loved," Goodfellow said. "The majority of the time when people do things that are bad, it's probably because they don't feel loved enough. And if we can portray a sense of unity, a sense of inclusiveness, and we can reach out to people and let them know that 'you are not alone.' I think that is very powerful."
The in-studio session is available on 90.5's Facebook page and website, kcsufm.com.
The songs played in the session were off of Fat Stallion's full-length album "Diverted Eyes," released earlier this year, including 10 songs with the second single "1999" having its own respective music video. 
The band rocked the house with multiple upbeat rock songs featuring thumping bass lines, exciting trumpet solos, and energetic vocals provided by all the band members. It was clear that the band played with heart, and their energy filled up the room and radiated over the airwaves. "Experience rock" is truly something that you should experience for yourself.
KCSU DJ Asher Korn can be reached at local@kcsufm.com.