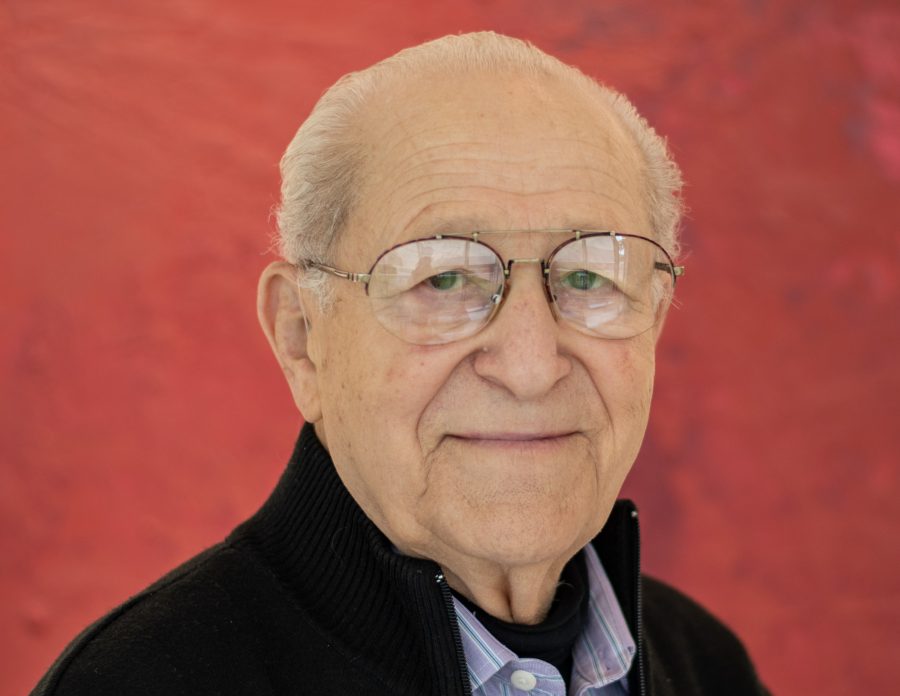 Social concepts can often mimic cancer. When cancer first affects the body, it is often inconspicuous — it may come in the form of a subtle mark or unthreatening blemish. 
Irving Roth, one of the last remaining Holocaust survivors from Czechoslovakia, describes the horrific events occurring from 1933 to 1945 as cancerous. On Oct. 11, Roth came to Colorado State University on behalf of his Holocaust awareness organization Adopt a Survivor to share his story with students as part of his mission to keep the memory of the six million Jews who died during the Holocaust alive.
"(I'm here) as an eyewitness to the most horrific part of human history," Roth said. "It is painful, (but) it's important to remember the story. It's one thing to understand history, but if you understand what happens to an individual, that's another piece of understanding."
His organization, Adopt a Survivor, works to connect students across the country with the last living generation of Holocaust victims so the next generation can carry on their narratives. Roth said he created the organization 20 years ago to ensure his message would spread and an atrocity of this caliber would never happen again. 
"As Elie Wiesel said, 'When you speak to a survivor, you become a witness'" Roth said. "In order to keep the events that led to the Holocaust and the Holocaust itself understood, my feeling was that somehow I needed to be able to speak with a person and they need to speak with me, and absorb not just the words, but me."
According to Roth's wife, Myrna Kushman, each student who participates in the Adopt a Survivor foundation must sign a contract representing their dedication to Holocaust awareness. In the program, students are each assigned a survivor who they can meet and ask questions. 2045 will be the 100-year anniversary of the end of the Holocaust, and each student involved must retell the story of their survivor. 
Irving Roth was 10 years old when Nazi Germany invaded Czechoslovakia in the spring of 1939. Within the next couple of years, he would experience virulent prosecution that led up to the commencement of millions of Jews being arrested and sent to concentration camps. Roth said as a child, he knew little of what was going on besides being isolated from the community he grew up in.
"I was 10 years old. Did I understand the geopolitics of the world? No. But I knew what was happening to me," Roth said. "I had a friend, she was a pretty girl. I had been friends with her for many years. I would carry her books, you know, the usual stuff. Along comes 1939 and 1940, and one day she says she will not speak with me anymore because I am evil. Because I am a Jew."
Along with being demonized by people who he had once considered friends, Roth had his rights stripped from him. As Nazi Germany exerted more global control, everything he once knew had changed. He was not able to go to the park or public school. He could not wear a sheepskin jacket because Jews were not allowed to have luxuries. He had to adorn all of his clothing with a Jewish star to indicate his difference from others.
In my town, almost a third of the city was Jewish. The only Jews there today are in the cemetery."-Irving Roth, Holocaust survivor.
When the Jewish people were liberated from the death camps, Roth returned to what had once been his home with both of his parents. Roth said that out of the nearly 2,000 Jewish people that once lived in his hometown, only about 100 returned. Still, he and his family faced discrimination and harassment.
"When we came back from the various methods of survival, camps and hiding and all that … There was no welcome wagon or red carpet," Roth said. "We weren't welcome. In my town, almost a third of the city was Jewish. The only Jews there today are in the cemetery."
Because there was no safe place for Jewish people in Europe, Roth and his family moved to the United States in 1947. Roth said at the time, anti-semitism in America was slowly declining because many Jewish people in America had fought alongside non-Jewish people in the war. Roth and his family settled in New York, where he was able to find a substantial Jewish community which gave him a sense of belonging and pride, something he had been stripped of for so many years.
"I was very fortunate," Roth said. "By 1947, the approach to Jews in America was different — it was changing. There was an opening, a breaking down of barriers, slowly. The most carefree time in my life was going to high school in the United States. I started high school at age 18 and was able to integrate into American society, mostly Jewish American society."
"I feel in my soul and heart, since America is a country of immigrants, in a sense we have a responsibility to take people like the Statue of Liberty says: Give me your hungry, Your poor, Your wretched masses." -Irving Roth, Holocaust survivor
Roth said that aside from global anti-semitism that still exists, neo-nazi sentiments are very much present in America. With the current administration's immigration policies and the formation of ICE being compared to certain policies that created Nazi Germany, Roth said it is a particularly scary time for many marginalized people.
"The basis of the [neo nazi] ideology is that people are not equal, and therefore those who are not as equal as we are, we can persecute them," Roth said. "I feel in my soul and heart, since America is a country of immigrants, in a sense we have a responsibility to take people like the Statue of Liberty says: Give me your hungry, your poor, your wretched masses."
Roth says that being active and speaking up about intolerance is vital because if it is to enter the mainstream, it will lead to much darker futures that reflect his own past.
"I compare it to cancer," Roth said. "When you see a (tumor), you go to the doctor, he looks at it, he takes a biopsy and (gets rid) of it. You'll be fine. If you don't pay attention and let it grow, it takes over the whole body and you're dead."
Irving Roth's organization Adopt a Survivor can be found via their website www.jfedgmw.org/get-involved/holocaust/adopt-a-survivor.
Elena Waldman can be reached at entertainment@collegian.com or on Twitter @WaldmanElena.