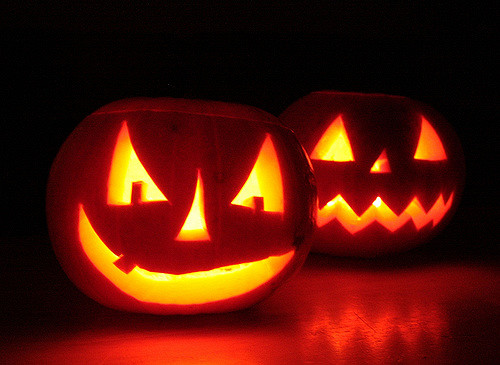 Whether you are a fan of Halloween or not, the Collegian Arts and Culture desk have rounded up some of their favorite movies to celebrate:
Jalen Winfrey, @jalen_winfrey:
"Mad Ron's Prevues From Hell:" 'Mad Ron's Prevues From Hell' is less of a movie and more of a compilation of extremely old 60s and 70s horror movie previews that would come before other movies. This provides an interesting look into the past of horror movies and advertising, with the off-the-rail trailers designed to entice people with extremely crappy old gore and other special effects as well as the over the top cheesy lines expressed by the narrators of these trailers. While more of a good watch for when you need something in the background or something to laugh at, it still captures the feel of 60s and 70s horror movies like no other. Anybody who's a fan of the old classics needs to watch this.
Claire Oliver, @claireity21:
"Coraline:" One of my favorite movies of all time is the movie "Coraline." I watch it all year round but watching it during the Halloween season just makes the movie spookier. I really like the claymation and the way the story develops. I hate movies with a bad plot line and "Coraline" has a really great story to go with the amazing visuals and music. As a kid I was pretty terrified of the 'Other Mother' and the final scenes where she is trying to get Coraline to stay and of course the idea of sewing buttons into my eyes is still pretty scary. The movie is technically a kids movie but anyone who says it doesn't scare the sh*t out of them is totally lying.
Henry Netherland, @netherlandhenry:
"Sledgehammer:" My personal favorite horror movie subgenre is slasher films from the 80's. There is an even more niche category called shot on video which essentially means shittier video quality. One of the best in this category is "Sledgehammer." It has a straightforward plot: hot college kids go to a house in the middle of nowhere for vacation and ghost boy comes in and kills a bunch of them. Nothing special on its face, but the acting is Oscar worthy levels of awkwardness and I just love the idea of eight fully abled adults staying in a moderately sized two story house and not noticing anyone getting murdered.
Elena Waldman, @waldmanelena:
"Halloween:" Starring the infamous Activia yogurt spokeswoman Jamie Lee Curtis, the 2018 slasher film "Halloween" is definitely one of my new favorites. Out of all the precious one-liners and terrifying jump-scare moments, my favorite part of the film was when Jamie Lee Curtis attempted to protect civilians from a rampant serial killer by hysterically running through a residential neighborhood and waving a handgun around while children were trick-or-treating. The maternal nature of her character combined with her reckless use of automatic weapons really creates an interesting and contradictory dynamic.
Graham Shapley, @shapleygraham:
"The Nightmare Before Christmas:" This movie is pretty well-known if only because Jack Skellington, the pumpkin king, is practically the mascot of Hot Topic nowadays. If you can look past its insane marketing presence, the beautiful stop-motion animated movie underneath is full of brains (literally), heart (implied) and a whole lot of songs that'll get stuck in your head. Don't let the title fool you, this is Halloween we're talking here.
Julia Trowbridge, @chaplin_jules:
"Hocus Pocus:" As someone who runs out of the room as soon as the   music turns on, the scariest movie I'm fond of is "Hocus Pocus." The 1993 classic is still shown today due to the timeless humor of this Halloween story, with its hints of adult humor mixed in with the main audience of children who shouldn't be watching Halloween movies by themselves. From the witches' phenomenal acting to the appreciated effort it took to stage a cat speaking, this movie is a nice break from all of the scary Halloween movies that your friends keep trying to make you watch, even though they know it'll give you nightmares.
Walker Discoe, @wdiscoe:
"Jeepers Creepers:" It's a shame what happened with the Jeepers Creepers sequels. Sensationalism and some pretty dorky dialogue squandered what was a pretty good original movie, Jeepers Creepers. The 2001 movie was always setting itself up for sequels, but as a stand alone film it holds some water. With scenes of both intense violence and some pretty good suspense, Jeepers Creepers is a unique film that has elements of both classic monster movies and more contemporary "blood and guts" elements popular in horror movies nowadays. Combine that with some truly original and creative villain design, the film is a pretty good choice for Halloween movie viewing.
The Arts and Culture desk can be reached at entertainment@collegian.com and on Twitter @csucollegian.