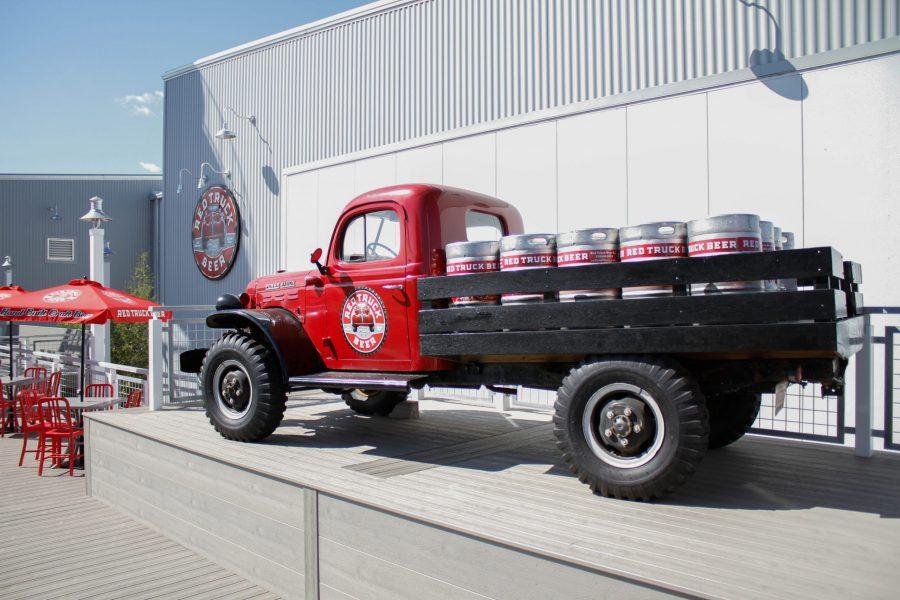 A mob of red trucks and a 50-foot water tower greets guests at the Red Truck Beer Company newly-opened in Fort Collins. 
Located at 1020 Lincoln Ave., Red Truck Beer Company offers creatively-brewed beer and a full food menu with inspired classics such as burgers, hot dogs and wings.
The Vancouver-based beer company opened its doors to Fort Collins three weeks ago and has already attracted customers. Liard Mulderink, general manager and Colorado State University graduate, says that the community has been quite welcoming and the company exceeded their expectations.
"We sold a lot more beer than we thought we were going to and now these brewers are just moving and shaking," Mulderink said.
The brewery purchased the former Fort Collins Brewery space in May 2017 hoping to expand the Canadian beer market into the United States. As Red Truck builds their presence in the community, Mulderick also says that the company strives to reach for more.
Besides featuring their flagship line beers that include a Truck Stop Classic Lager and Endless Summer Ale, Red Truck also has specialty beers for patrons to enjoy including a Downtown Coffee Brown ale for those who can't decide between a cup of coffee or a beer.
With 18 beers on tap, Red Truck offers beers for the amateur beer drinkers to the most seasoned beer enthusiast. The brewery currently uses a 10-barrel system that produces 310 gallons of beer a day. 
"Right now we're only working on the 10-barrel because we want to maintain that everything is as fresh and awesome as possible," Mulderick said. "There's no cutting corners we want to deliver the best".
The efforts that go into creating the many beers found on tap is reflected in their quality.
One beer that stands out is the Belgian Fruit Collab, made with black currant and produced in collaboration with Rally King, Black Bottle, Funkwerks, CB & Potts and CSU.
The open layout of the brewery allows patrons to hang out on the spacious patios by the firepits, grab a seat at one of their many car-themed high tops or near the live music stage where you can observe how beer is made through the many windows peering into the brewery.
Red Truck Beer Company is unique from its creative branding to its creative interior design including pit stop themed restrooms.
Very knowledgeable in beer culture and enthusiastic beer slingers, Red Truck lingo for servers and bartenders, add to the friendly and welcoming atmosphere. Piper Hall, a "beer slinger" and current intern says that is what really attracted her to the company.
 "I love everything [about Red Truck]," Hall said. "The feel is awesome and the people are incredible".
More information about Red Truck Beer Company can be found at redtruckbeer.com.
Other than the highly anticipated use of their larger 50 barrel system to meet the needs of future production, Red Truck anticipates launching a packaged product into local stores within the next two months.
"We're aiming to hit at a good premium price on the shelf," Mulderick said. "Something that everybody looks at and they go 'wow this is awesome, I get an extra or two extra cans for an extra buck'".
Deja Calloway can be reached at entertainment@collegian and on Twitter @callowaydeja.