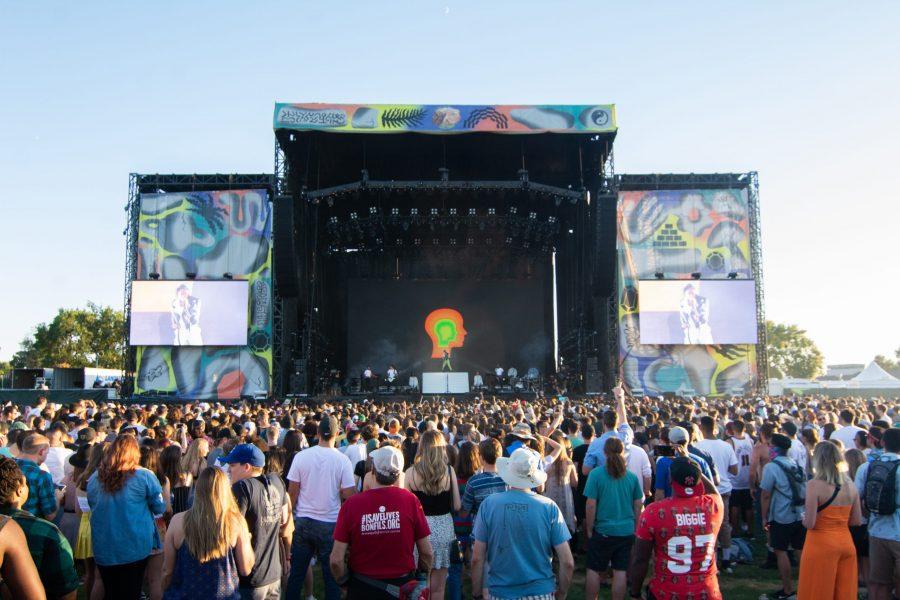 (Editor's Note:) This article discusses the first-day lineup of Grandoozy. This is not representative of the entire Grandoozy weekend of performances.
Ever since rumors began spreading in early 2017 about Denver hosting a super music festival, excitement and speculation immediately arose.
News about the festival went quiet until March 2018 when an official announcement was made for Grandoozy. The headliners included the likes of Kendrick Lamar, Florence + the Machine and Stevie Wonder who would be performing from September 14-16. Now that the weekend has passed, it is important to reflect on the festival's opening day to see if it truly lived up to the hype.
AMZY- 6/10
Colorado alternative rock band, AMZY said it was "a treat to play for the Grandoozy pioneers." Despite the group's young age, they clearly have the drive and creativity necessary to gain an audience. This can be seen in their outfits and stage props. What they lacked, unfortunately, was a distinct style that would separate them from their peers. While some of the melodies were catchy, they were reminiscent pop-rock songs earlier this decade.
Jade Bird- 7/10
Jade Bird is an English folk singer who has a bit more attitude than her contemporaries. Normally, I am not the biggest fan of folk concerts, but she presented some decent versatility ranging from quainter folk ballads to very rough acoustic bangers.
Tennis- 6/10
Denver band, Tennis' 80's obsessed indie pop can be a bit hit or miss for me. Alaina Moore is far from a dynamic singer, but she manages to pull off some captivating vocal melodies every now and then. Not to mention there were some impeccably tight grooves from guitarist, Patrick Riley.
Ty Dolla $ign- 8/10
While I was aware of Ty's incredible vocal chops, I was unsure how well he could pull off this smooth singing style while maintaining the high energy energy expected at hip-hop concerts. Luckily, though he pulled it off quite well. There were an awkward few moments where he did struggle with singing while maintaining his flow, but they were few and far between. He even surpassed my expectations when he pulled out an electric guitar to perform a notable guitar solo.
Big K.R.I.T. -5/10
Big K.R.I.T.'s set was a big letdown. I would not say his performance was the worst of the day, but it was the most underwhelming. The show was doomed from the very start after it became obvious that his voice was mixed so low that he could barely be heard. K.R.I.T. did okay with maintaining his flows, but even he lacked the charisma and swagger he usually expresses wonderfully in his music.
Phoenix – 5/10
French indie rock legends Phoenix surprisingly held one of the later spots of the day and the performances were decent. Thomas Mars' vocals translated unexpectedly well into a live setting. However, after listening to the band run through what they thought were the most essential pieces in their discography, it made it apparent how much of a one trick pony they are. There were some earworm melodies every once in a while, but after a while, the band's average sound became increasingly aggravating.
Kendrick Lamar 9/10
Considering how cinematic Lamar's albums tend to be, it was no surprise that his set would have an underlying plotline. Lamar makes good on his Kung Fu Kenny Moniker through a series of short vintage kung fu movie homages featuring him as the protagonist. In between these clips, he performed very energetic renditions of his instantly classic catalog. My only critique would be that some moments it felt as though he was phoning it in a bit flow wise. Other than that, Lamar managed to meet the very high expectations set out for his set.
Overall: 7/10
Best act: Kendrick Lamar
Worst act: Phoenix
For the first year of a festival intended to compete with the likes of Coachella and Lollapalooza, this was not a bad start. While there were some issues with transportation as well as a few underwhelming performances, Grandoozy shows incredible potential in solidifying itself as a must-see annual event.
Henry Netherland can be reached at entertainment@collegian.com or on Twitter @NetherlandHenry.