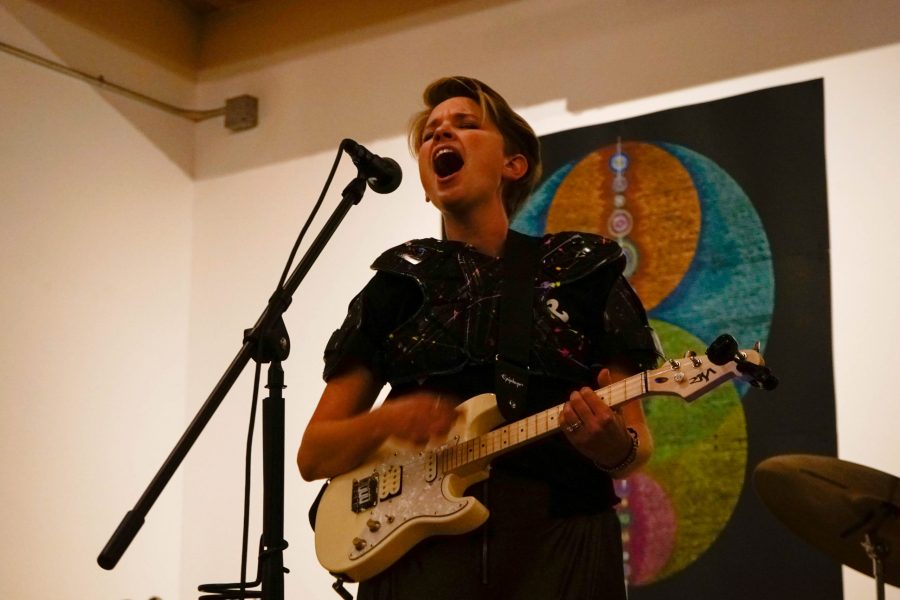 Women empower women through female powered fulk-folk fusion.
Saja Butler, a member of local, all-female band Lois and the Lantern and proud "mother" of the Flying V, has been assembling groups of female musicians and female-led bands since last spring through her Flying V Sessions. The Flying V Sessions is a monthly event, hosted by Wolverine Farm Letterpress & Publick House on the second Thursday of each month, that showcases local female-led bands.
"They are called Flying V Sessions, short for flying vagina," Butler said. "I call it the flying va-jay-jay. It is basically a showcase promoting female acts in the Northern Colorado range."
The idea came to fruition when Wolverine Farm Letterpress & Publick House reached out to Butler to form a female act. Butler, a member of a female band herself, was an obvious choice to assemble the monthly event.
"He told me to just go for it," Butler said.
Butler books all the acts that perform and she's making sure to give every woman artist in the Front Range a chance to show the audience what they've got.
It's 2018 here on earth, and female energy is needed. It should not be feared by any of us, male or female. It should be empowered and embraced." -Mary Claxton, lead singer of Trash Cat.
One of the two acts that performed on Sept. 13 was Valerie Bhat, who didn't start playing her own music until her late thirties. Her self-proclaimed 'hard-to-book' style influenced by Bob Dylan and R.E.M., was both eclectic and haunting. Bhat's almost androgynous voice and melancholy lyrics about love filled the upstairs hall of Wolverine. Though she is both a talented singer, songwriter, and musician, Bhat still expressed difficulty when getting involved in the music scene at her age.
"A lot of open-mics are younger people, but there's a lot of old men," Bhat said. Overall, she said, the community has been very supportive.
After Bhat performed her folky, rock-infused set, three-piece band Trash Cat, led by Mary Claxton, closed the night with a bold, jazz-funk mix that had the audience dancing along.
Claxton, who was clad in a spray-painted football shoulder pads, is the leader of the band. Usually the drummer, for this performance she opted for an electric ukulele and played beside her bandmates. Her husband Brian Claxton took over the drum set and long-time friend Hayden Farr was on the saxophone. The three peoples' dynamic personalities and unique songwriting influences made for an unforgettable performance. Claxton's vocals truly shined during the band's funk-infused rendition of Gwen Stefani's Great Escape.
"People react to color and movement and the way your face looks when you play," Claxton said.
Even with Butler's charismatic announcements and the lively performances, the event was able to keep a serious undertone. There was, after all, a reason why the Flying V Sessions are needed, and that is because women still fight for recognition daily in the music industry.
"The music industry has been, in the past as well as now, mostly male-dominated," Butler said. "It's 2018 here on earth, and female energy is needed. It should not be feared by any of us, male or female. It should be empowered and embraced."
Claxton, whose primary instrument is the drums, said that she has lacked female role models in the past, never having a drum instructor who wasn't male.
"For women in music right now, you need to make a very conscious point of featuring female musicians if you want to hear their voices," Claxton said. "It means a lot to me to try to be a role model to the next generation."
By showcasing women working together and creating beautiful music, the Flying V is not only creating a way to give woman musicians recognition but is also making a statement for all women that their voices are needed.
"One time someone told me that music is the expression of the human experience through sound," Claxton said. "Everyone's experience is different and in the world we live in, you have a different human experience depending on your gender."
Due to Butler's hard work to bring in female musicians and the participation and passion from the strong women who perform, the Flying V does not only showcase great talent, but is also setting an example for female musicians all over the world; that their talent is needed, and it is powerful.
Lauryn Bolz can be reached at entertainment@collegian.com and on Twitter @laurynbolz.