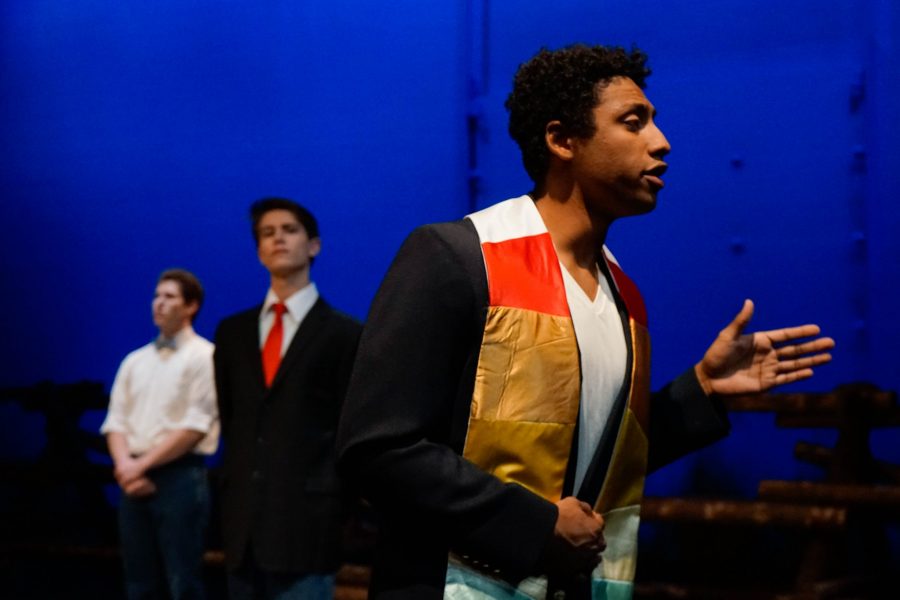 Almost 20 years ago, Matthew Shepard was tortured and left to die near Laramie, Wyoming.
Found beaten, bloody and tied to a fence, he was taken to the Poudre Valley Hospital in Fort Collins where he died six days later from severe head trauma. His death was ruled as a hate crime due to his sexual orientation, and the two men who committed the act were charged with first-degree murder after his death.
These horrible and sickening events sent shockwaves from the small town of Laramie across the country, inspiring activist groups, foundations and even artists to keep Shepard's story alive. Now, approaching the 20th anniversary of Shepard's death, The Colorado State Theatre program is bringing the story back where it started and performing "The Laramie Project."
"Hopefully we can portray (the show) in a way that (the audience) really feels for the town and the people who were closest to Matthew," said Annabel Wall, a CSU senior communication studies major and a member of the cast. "Hopefully they can remember that, and feel remorseful, and also think about the world we live in, especially, because we are doing it on the 20th anniversary, how we've changed 20 years later and how we haven't."
Jacob Bielmaier, an actor portraying six different characters, says the difficult subject matter the play deals with has been demanding and tough to portray.
"It's a different project than I've ever worked on before," Bielmaier said. "The production is very hard-hitting, which makes it a difficult task to do. It definitely has impacted each of us in different ways, some of them may be in one way connecting with a monologue that is super hard-hitting. That has definitely impacted my acting style on it because reading the words is completely different than acting out the words when you're onstage."
"The Laramie Project," a case-study turned into a play by the Tectonic Theatre Project based out of New York, chronicles the real interviews done by the theatre company after Shepherd's murder. The show, which has been performed for around 30 million people around the country, tells the true tales of the events, people and places involved in the murder of Shepard. In three acts, a small cast depicts more than 60 characters in series of short scenes, recreating in detail the events which transpired after Shepard was found.
The CSU Theatre Department has brought in Charlie Oates, freelance director and a former director at San Diego University to guide the students as they take on the difficult show.
"Because these are verbatim interviews, and core transcripts and real people, most of whom are still alive, we try to be objective in a way, and present people by what they've said and how they've said it," Oates said. "I think people's words should stand for themselves."
Portraying real, living people has proven to be difficult for both Oates and the cast. The play deals with a very serious subject matter including morals, the controversy around homosexuality, and most of all, religion. Following Shepherd's death, the members of Tectonic not only interviewed Laramie citizens with physical proximity to the event but also several prominent religious figures, one being Fred Phelps, the bombastic founder of Westboro Baptist Church. Jake Cuddemi, a senior theatre major, will be portraying Phelps.  Cuddemi and Oates have worked to create an unbiased, realistic portrayal of the late minister.
"I'm doing my best to treat him authentically, and not bringing in any of my own bias against him or contradictory beliefs from him," Cuddemi said. "I'm trying to keep those apart from him so I can act as he would because he's not pretending to have these bigot-y perspectives."
Cuddemi and Oates researched taped interviews of Phelps and Westboro protests to help place Cuddemi in his role.
"There are some physical and vocal traits that we saw and we're bringing to life," Oates said. "We're not trying to make him look like a monster, necessarily, just who he was and what he said."
The religious aspect of the play has proven to be an integral part of the entire production, both on stage and off. Westboro Baptist Church, who infamously picketed at Shepard's funeral 20 years ago, has traveled the country to do the same to schools performing the controversial play. Now the production is returning to Fort Collins, where Shepard died, questions are arising about how the community will be affected as a whole.
This is a 20-year-old event, but it's still something that we have to pay attention to. There's that immediate connection that the people of Fort Collins have, but also people have to understand that hate crimes are still occuring, not just against gay people but all different kinds of people."Charlie Oates, director of the "Laramie Project"
"Fort Collins was affected by this directly," Cuddemi said. "This happened long enough ago that the student population is unfamiliar with it. It is important to retell this story and keep it alive so people understand the importance of Matthew Shepard's life and his impact afterward."
Even though 2 decades have passed since Shepard's murder, marked by the work done by his parents with the Matthew Shepard Foundation, hate crimes still exist in Fort Collins, as well as all over the nation.
"This is a 20-year-old event, but it's still something that we have to pay attention to," Oates said. "There's that immediate connection that the people of Fort Collins have, but also people have to understand that hate crimes are still occurring, not just against gay people but all different kinds of people."
Preserving the history and telling the story of  Shepard is a difficult and noble task and certainly not an easy one. Shepard is an important figure for LGBTQ rights, anti-hate laws and is a continuous inspiration for people to forge more loving, accepting and caring communities, especially in Fort Collins.
The CSU Theatre Department will be performing "The Laramie Project" from Sept. 28 until Oct. 7 at The University Center for the Arts. Tickets are available online or in person, but seating is limited.
"Come out and see it, and feel the way you feel when you see it for yourselves," said Bielmaier. "Come into it not expecting what you are expecting."
More information about the Laramie Project, the Matthew Shepard Foundation or CSU's performace, is avalible at: www.stageagent.com/shows/play/4642/the-laramie-project
Lauryn Bolz and Walker Discoe can be reached at entertainment@collegian.com or on Twitter @wdiscoe and @laurynbolz.