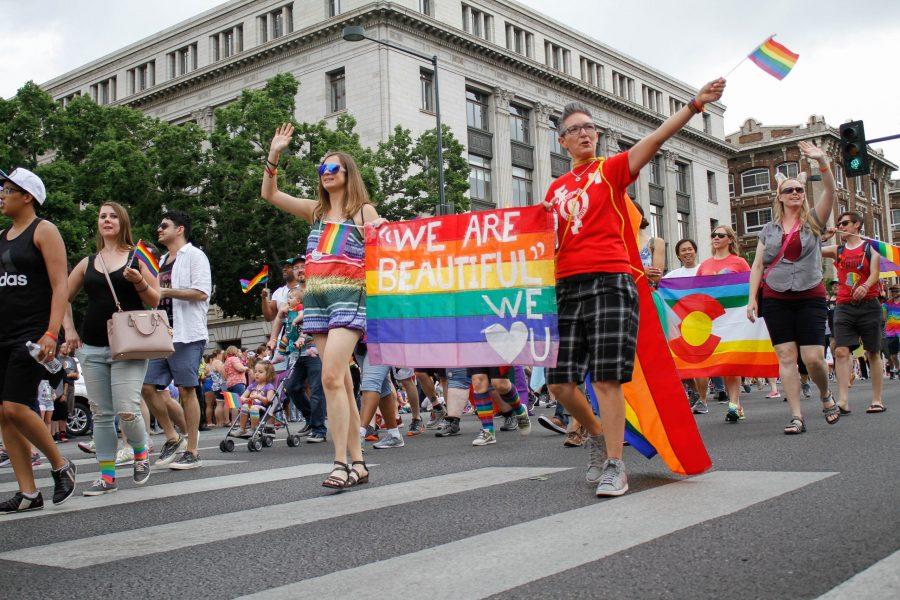 LGBTQ pride was felt heavily in the Rocky Mountains this past weekend. 
Not only was Comic Con in town, but PrideFest threw a party at the same time making downtown Denver the best place to spend a summer weekend. Denver PrideFest is one of the largest pride celebrations in the country, attracting around 400,000 people to Civic Center Park and the Downtown area.
The weekend-long event is part of LGBT Pride Month, a celebration started in 1969 to celebrate the Stonewall riots that led to the gay liberation movement and LGBTQ rights. PrideFest held events such as the Pride 5k and the Coors Light PrideFest Parade to celebrate Pride Month. The event also featured health and wellness booths, art pieces, entertainment on three stages and retail booths selling pride-themed products. 
PrideFest was put on by the GLBT Center of Colorado, an organization that aims to "engage, empower, enrich, and advance the gay, lesbian, bisexual, transgender and queer community of Colorado," according to their website. 
"I think pride is important because it is a place where people gather to show their support for the LGBTQ+ community in one concentrated area," said Sarah Kurtz, a CSU alumna who attended PrideFest. "It is a place where people can be their true authentic selves, and it is a beautiful thing to see. Pride is a space to feel empowerment within yourself and within others around you."
Kurtz's girlfriend, Annalise Placek, echoed similar thoughts. "I identify as a lesbian and I love to show how proud I am to be a part of a great community," said Kurtz's girlfriend Annalise Placek. "I think pride is very important for individuals to have a chance to celebrate who they are at a judgment-free festival."
Allies and non-members of the LGBTQ community were also present to show their support. "I want to continuously express my support for the LGBTQ community not just through my words, but through my actions," said Madison Wood, a friend of Kurtz and a straight ally. "For me, I want to always be a person that my LGBTQ loved ones can count on to provide an environment full of love and compassion as well as act as a judgment-free support system."
The parade is a favorite attraction at PrideFest. This year the parade grand marshals were Charlie Craig and David Mullens, the couple who was denied service at Masterpiece Cakeshop in 2012. The case, which generated national attention was finally ruled on by the Supreme Court just two weeks earlier. The ruling wasn't exactly pride positive, but that didn't stop the couple from kicking off a true party of a parade.
"The parade was great to see the different local and national companies that openly support the LGBTQ+ community, like Target and Comcast," Kurtz said. "There wouldn't be another time of the year or time or place for large corporations to safely express their support … It was incredible to see the amount of support coming from a wide variety of places I wouldn't think of."
Wood was also pleased with the accessibility of the event. "I liked the parade because it was a moment for anyone and everyone involved to have a moment of unabashed authenticity, pride and love for their true self and show that off to the public."
Regardless of any court ruling undertones, PrideFest was a blast for all who attended. From drag queens to dogs to average American dads, everyone was included in the fun.
"The thing I took away from the event is the importance of my role as a straight ally in contributing to conversations and actions that combat the continuation of hateful sentiment that rampantly continues," said Wood. 
"Pride is an amazing event that allows everyone to be themselves and have a great time doing it," said Placek. "I loved how included I felt and I hope everyone walked away with that same feeling."
Ashley Potts can be reached at entertainment@collegian.com and on Twitter @ashleypotts09.