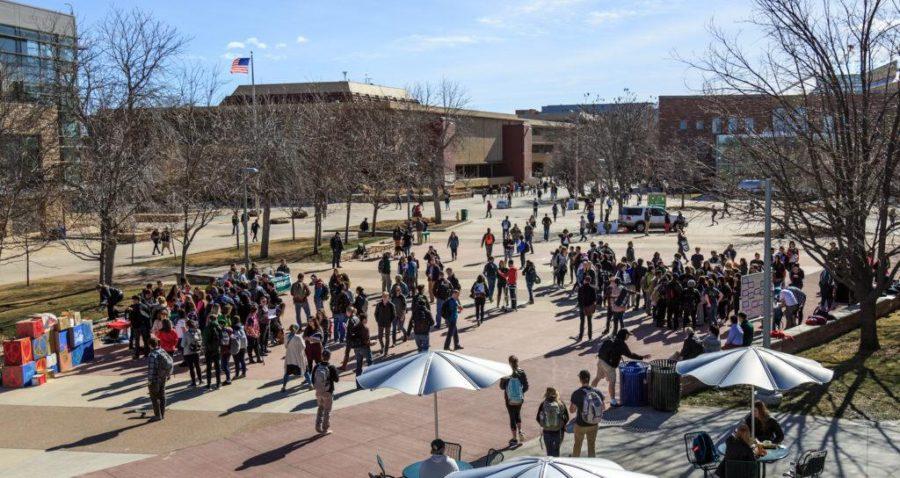 Davis
Community.
It might evoke a sense of shared purpose. It might conjure images of camaraderie or something else entirely.
Colorado State University students have their own takes on what community means to the campus.
"A group of people you can be yourself with," said Christopher Shuey, a freshman health and exercise science major.
For some, it can be found in an atmosphere.
"Being able to walk around campus and feel part of something," said Parker Maddocks, a sophomore civil engineering major.
Does CSU foster that communal spirit?
"I think there is a sense of community," Maddocks said. "Usually you can walk around campus and run into people you know."
 For Maddocks, personal engagement is key.
"I would say getting involved is a huge part of that," he said. "Regardless, I think you can find community on campus."
For some, friendly people that make the community.  
"I feel connected to a lot of people," said Josiah Nelson, a junior journalism and media communication major. "Everyone is so friendly. You are free to talk to them."
 Nelson added that there is a niche for everyone at CSU. Nelson enjoys music and goes to the University Center for the Arts frequently to meet new musicians, he said. 
Annika Mikkelson, a junior English major, said that spirit of community applies to the classroom.
"When you have a problem, there are always people willing to work through the problem with you," Mikkelson said.
Mikkelson said there is a sense of "shared struggle" among her peers.
 Being in smaller classes also have particular benefits, said student Hannah Olson.
"You make a lot of friends," Olson said. 
 Olson said that community encompasses several definitions.
"I feel like there is a larger CSU community and smaller communities that makes it all connected," Olson said.
Olson also said she goes to the gym and having shared interests can further those connections.
"It feels like we are all working towards the same thing," Olson said.
Students also have suggestions for how to strengthen the collegiate community.
"I found out about a lot of clubs that weren't represented," Mikkelson said. "It was just bigger clubs like student leadership, involvement and community engagement…student government."
 Maddocks said more events can help foster community and spirit.
"I have noticed our football team has brought our school closer together," he said.
In particular, the events gave freshmen an opportunity to participate in their community, Shuey said.
Some students have a different attitude toward community betterment.
For Olson, "a community just has to evolve naturally."  
Upcoming CSU Events
CSU vs Boise State Football Game
Where: CSU on-campus stadium
When: Saturday, Nov. 11, 8:30 pm.
Collegian reporter Mir-Yashar Seyedbagheri can be reached at entertainment@collegian.com. His Twitter handle is @dudesosad.