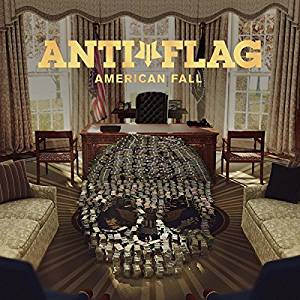 Political records are in high demand right now.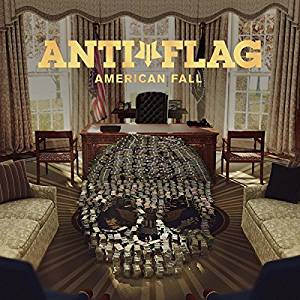 You often hear people complaining about keeping politics out of music, but for years that has been a massive source of inspiration for many artists. When done tastefully, it is great music to listen to. One such band that has never shied away from their stance on politics or human rights is Anti-Flag. Now on their tenth-studio album, "American Fall", they aim to do the same thing they always have: make you think when listening.
Anti-Flag are from Pittsburgh, Pennsylvania and originally formed with Justin Sane and Pat Thetic in 1988. It was not until 1992 did the band start to solidify their lineup, pick up a few members and start making waves in the punk rock scene. The band's debut record, "Die for the Government," was released in 1996. It was not until the release of their following albums "Their System Doesn't Work for You" and "A New Kind of Army" did the band start to pick up steam and become a more activism-centered band. Their style always had been a mix of anthem-style, rock tracks to hardcore, venom-filled tracks taking aim at certain targets. This is something they have kept relatively the same up through the release of "American Spring" in 2015 and have only had some minor production changes since. "American Fall" is a record that does not depart too much from that formula and is reminiscent of "American Spring."
"American Fall" is an 11-track record that clocks in around 31 minutes in length. Right away, this record is loud, fast and targeting American values. Once you get into the middle of the record, you start to reach the more anthem-filled tracks that are supposed to get you to sing some "Whoa-ohs" here and there. When "American Fall" really starts to pull through is the back half of the record. Tracks are poignant, relevant and exciting to listen to. "American Fall" is a record designed to make the listener think and it is written by a band that has decades of experience with this now.
Musically, "American Fall" is still the same old Anti-Flag fans have been listening to. Some tracks shift things up and have a different driving force, but percussion and fast guitar riffs still are the focus. When you listen to lead track "American Attraction" you are treated to sweeping guitar riffs and larger-than-life progression elements. Then there are tracks like "Trouble Follows Me" and "Finish What We Started," which are more bass driven, when everything else is layered on top of that. On tracks like "I Came. I Saw. I Believe.," everything starts out fast and then starts to slow down. It is a refreshing change of pace for how the rest of the record is constructed. Overall, the record is clean, layers are well rounded and tracks are mixed so that they build a wall of sound for the listener. It has an almost identical style to "American Spring" with just enough changes to keep it fresh.
Lyrically, this has always been the one area that Anti-Flag has always stood out. In the first two tracks alone they take aim at what have become American values. "American Attraction" and "The Criminals" take aim at how much things have changed and become twisted in the last few years alone. While there are some shots taken at the government, there really is not any mention of the current President.  Tracks like "Digital Blackout" speak to how dependent our culture has become on technology and how that affected our view of the world. "Lair" and "Racist" are when Anti-Flag really shine on this record. Lyrics on these tracks come with venom and are easily some of the standout tracks. Anti-Flag are reminding us with this record that not all hope is lost; this is just a tasteful look at what we have become.
Should you listen to it? Yes!
Anti-Flag have not changed much of what they are doing with "American Fall" instead, they are refining their lyrics and trying to inspire some listeners to make a difference. "American Fall" is a record that is much needed given the current political climate and debate going on. Overall, a few aging punks have been able to say a lot with just a little and this may be the beginning to a new wave of activism in music.
Band info: 
The band has explained that their name stands for anti-war not anti-American stances.
The band has been associated with seven labels and often drew criticism from fans as being sell outs when they signed to RCA. The band is now with SpineFarm Records.
The band has been involved with some activist groups including Green Peace, Amnesty International and PETA
Collegian Reporter Alec Erickson can be reached at entertainment@collegian.com or on twitter @CTV_Ace.