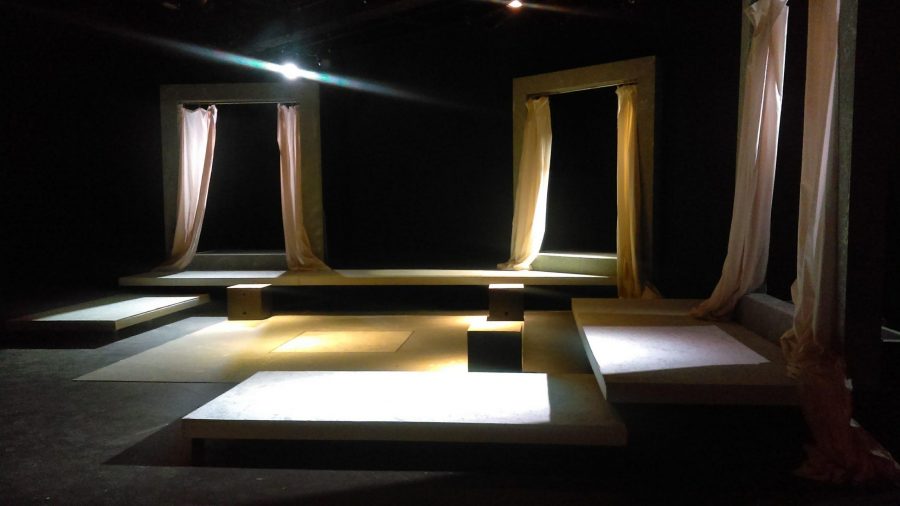 The existentialism of Front Range Community College's performance of "Rosencrantz and Guildenstern are Dead" is extremely relevant.
Performed at the Bas Bleu Theatre, this absurdist tragicomic play incorporates dark undertones lined with humor and silliness.
The plot follows Rosencrantz and Guildenstern, two minor characters from William Shakespeare's "Hamlet." They experienced the events of "Hamlet" and dive deeper into the subplot. There are other characters from "Hamlet," and when they interact it stays true to Shakespeare's work.
But Rosencrantz and Guildenstern heavily guide the show. The play itself has been compared to Samuel Beckett's "Waiting for Godot" in that it is frequently just two characters who are somehow both almost the same person and complete opposites. They are on stage sometimes in silence, sometimes playing games and sometimes contemplating life's greatest questions.
This play was written by Tom Stoppard who is famous for using humor to address philosophy. Stoppard's work also showed up in the community in September in the UCA's performance of "Every Good Boy Deserves Favor."
The show used many technical elements including lights and sound to incorporate this tone.
The set was minimalistic as is appropriate for the show. It essentially was composed of three large "window frames" and a couple platforms. Because it is a show that relies more on the philosophy than it does the setting, keeping it simple allows for the audience to focus more on the action and the dialogue of the show.
Keeping with the minimalistic theme, the lighting was simple yet captivating with dramatic fades and color changes to match the mood.
There were eerie elements of the show, including continuous background music that also was appropriate for the time of the show incorporating renaissance elements.
Similarly, the costumes were all period appropriate with puffy pants and pointy leather boots.
The show was nothing if not existential. Rosencrantz and Guildenstern often discuss ideas of mortality, isolation and reality. These conversations carry to other characters, such as The Player, who is a travelling actor. Through him, ideas of playing a part in society shine through, often in comedic ways.
For example, The Player suggests that he never changes out of his costume and is always on stage. But here is where it gets really meta. The Player is truly always on stage and never changes out of costume because the only place he exists is in this play.
The show dealt with deep themes but was not without its comic relief utilizing slapstick gags and rapid fire dialogue. It follows the whole idea that we cannot forget to laugh among the severity of all things that come with living. The show has a strong contrast of silly versus seriousness.
A lot of the themes are similar to what many college students experience on a day to day basis; the existentialism, whether it is all worth it and the uncertainty of it all.
There were only a few people in the audience, but this is the intimate experience of the Bas Bleu Theatre. This is the tenth year of collaboration between FRCC and the Bas Bleu. 
Should you see this play?
Yes!
It shows different elements of philosophy without being pretentious or "fake deep." It also shows all these themes in a way that makes you laugh while also questioning your entire life. FRCC does an excellent job of using their theater department to put on a captivating show that fits in well with Bas Bleu.
When: Now- October 28
Where: Bas Bleu Theatre
Genre: Tragicomedy
Collegian reporter Maddie Wright can be reached at entertainment@collegian.com or on Twitter @maddierwright.