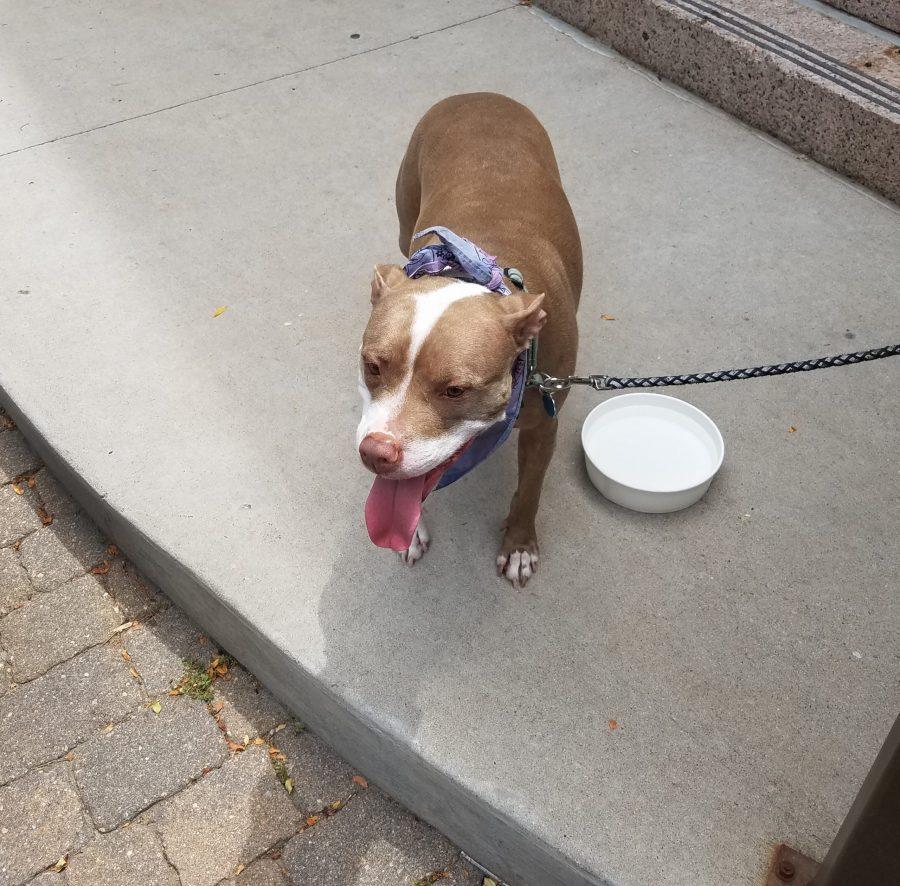 Video by Oliver Homan
Northern Colorado is an ideal place for dog owners, with plenty of natural features ideal for trekking with your furry friend, but what about going out in Fort Collins? If you're looking for places to bring your pooch, there are many great options in the area. As an owner of a dog with separation anxiety, I can attest that these places are a lifesaver when you are going stir crazy at home but don't want to abandon your fur baby.
Fun for pup:
Wagz Pet Market and Grooming- 132 N College Ave
Wagz Pet Market and Grooming is like a super store for dogs. Outside the store there are leash hitches if you prefer to leave your dog outside as well as bowls of water, but you are welcome to take your dog inside. The store boasts plenty of interesting leashes and dog products such as doggie shoes, collapsing water bowls, and petchup (doggie vitamins). The front desk is stocked with treats and there are sometimes even events like the free doggie ice cream stand to support the Larimer Humane Society we stumbled upon in the video.
Poudre Pet and Feed- 2601 S Lemay Ave | 622 N College Ave | 2100 W Drake Rd
Poudre Pet and Feed is a local pet store with plenty of selection, interesting pets and a great loyalty membership. Dogs are allowed inside and often the cashier at check out will offer treats for whoever you bring along.
The Dog Pawlour- 2005 S College Ave
The Dog Pawlour is a combined doggie daycare and spa where you can bring your dog if they are in need of any pet-sitting, or grooming. The front of the store also carries many different pet supplies and accessories like leashes.
Fun for you:
Mainline Ale House- 125 S College Ave
Mainline Ale House allows dogs on the porch if you are okay to eat outside, just make sure you bring some water for your pooch if you plan on staying for long periods of time. Additional considerations are whether your dog does well with other dogs, as many people will be walking in Old Town with their dogs.
Blue Agave Grill- 201 S College Ave
Blue Agave also allows dogs to be tied to the porch should you wish to dine with your canine in tow. While the oak plaza area of Old Town does get considerably less foot traffic, still keep in mind that your dog may interact with passersby both of the human and pupper variety.
Coopersmith's Pub & Brewing- 5 Old Town Square
Coopersmith's is another popular destination for dog owners looking to hitch their dog to the porch rail while they eat outside. Located in Old Town square, there are often people and dogs passing by and it can get a little crowded, so make sure your dog can handle the crowds and is well hydrated.
Fun for everyone:
Fort Collins Nursery- 2121 E Mulberry St
Fort Collins Nursery is a large garden center with plenty of interesting outdoors features. You may bring your dog into the store and surrounding gardens making it an ideal location to pick up your petunias while your dog stops to smell all the various outside smells. There is a small Italian greyhound occasionally brought in with the employees and opportunities to see other dogs so be prepared.
The Forge Publick House- 255 Old Firehouse Alley
The Forge allows dogs both inside and on the porch of their bar, and is a popular destination for drinkers and their dogs. Make sure your dog is okay with loud environments and socializing, and you should be set to bring your dog along with you for a night of fun without having to leave them tied somewhere. Bonus: you'll have a walking buddy on your way home, so no need to worry about drinking and driving.
Prost Brewing Company- 321 Old Firehouse Alley
Prost Brewing is also a popular location to bring dogs both inside and out. There is also a large bucket of treats available within the bar near the corner where they keep many different board games. Stop by to pick up a game and a little something for your pooch and everyone will be happy.
Collegian Digital Production Manager Mikaela Rodenbaugh can be reached at entertainment@collegian.com or on Twitter @mikarodenbaugh.