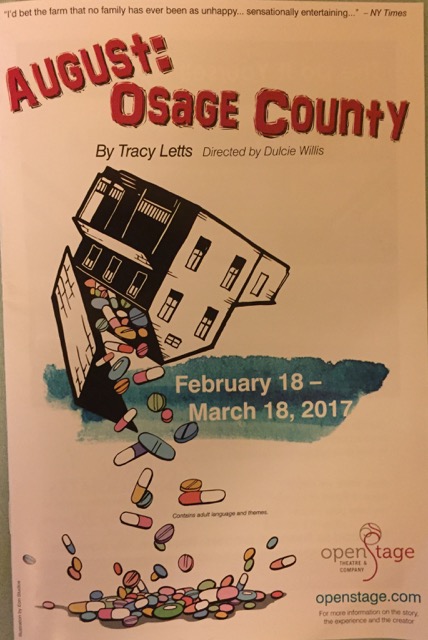 The standing ovation received by the cast of "August: Osage County" on Saturday night was well deserved. Open Stage Theater Company's production of the show at The Lincoln Center was not without weakness but overall truly powerful.
The play, first produced in 2007 and written by Tracy Letts, tells the story of a highly dysfunctional family in Oklahoma and how they deal with a great tragedy. The female leads, especially Denise Burson Freestone and Sydney Parks Smith, played a large role in carrying the show.
The first impression for the audience was that of melancholy. A dimly lit, detailed set accompanied by the tune of "Far Away" by Carol King prepared the audience for the dark subject matter found throughout. The set design lent itself to the multitude of storylines that unfolded without distracting from main scenes. The light design detracted from the focus of the first act, in which the audience was still figuring out whether or not they were watching a drama or comedy, with a hot orange glare. Still, other aspects of the act remained engaging enough to overcome this distraction. Costumes were fitting and reflected each character who wore them.
From the moment she entered Smith was clearly a force to be reckoned with on stage. Her expressive body language and dynamic line delivery drew the audience into the story and into the heart of her character. Her realistic portrayal of a troubled wife, mother, sister and daughter were echoed in her words at the end of the first act. "Thank God we can't tell the future. We'd never get out of bed," she said. Smith's stage presence faltered not a single time.
The dynamic created between the three sisters was a directing success. Rebecca Spafford begins as an annoyingly bubbly character but through her interactions, understandably, shows her darker side. Nicole Gawronski fell flat in her presence during certain scenes, but when she delivered a punchline the audience roared.
Rachel Jacobs interacted very effectively with the rest of the cast and remained in the moment. Her passionate portrayal of Jean Fordham was believable and enticing. The men in the cast were somewhat upstaged in comparison to their female counterparts except for James Burns who developed his character quickly and beautifully. Still, the ladies were definitely in charge.
The direction, acting and production combined allowed Letts to speak through the play. The words touch on dark truths about what the American family looks like today. Characters are relatable in ways that can be upsetting for some. Each is flawed and, more than anything, trying and that can feel desperately familiar. It is no wonder the drama is a Pulitzer Prize winner.
Should you see it? Yes
Overall the show started like a typical opening night, but quickly morphed to a closing-night-level production. Anger, comedy and desperation kept the audience on the edge of their seats. One minute you could split your sides laughing and the next you might be crying for a character. Worthy of any and all praise it has received, this show is truly entertaining. If you have ever experienced even the smallest bit of a dysfunctional family in your own life then you will love "August: Osage County."