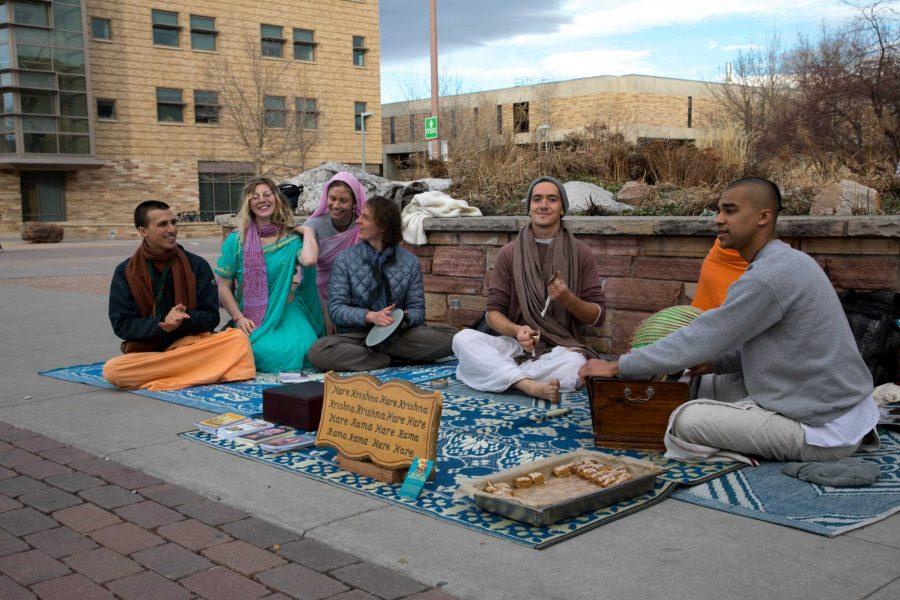 After leaving my last class Tuesday, I heard some beats and chimes in the distance. I started following the positive vibrations until I finally met a group of friendly people who were a part of the Hare Krishna faith. I stopped to enjoy the music and the piece of cake they gave me. Trying to act serious, yet having a little bit of cake on my face, I had to know the reason behind all of the music and cake-giving. I sparked a conversation with a cordial guy named Amala Purāna Dāsa.
"The music that you hear is called Kirtan," Purāna Dāsa said. "This is musical meditation. People walk by and say that they feel they are receiving good energy."
Purāna Dāsa said Hari Krisjna stems from a practice called Gaudiya Vaishnavism, a branch of the Vaishnava practice.
"We are given the nickname because we chant the Hare Krishna mantra," Purāna Dāsa said. "This (Gaudiya Vaishnavism) comes from the Vedic Literature, which stems from literature from over 5,000 years ago from ancient India. The original teachings are about yoga, meditations and consciousness."
Purāna Dāsa said Hare Krishna can be described as a religion, way of life or spiritual journey.
"Everyone is an individual, and no one can take away your individuality," Purāna Dāsa said. "We believe everything has a unity, a wholeness, but at the same time there is diversity and uniqueness."
Purāna Dāsa said an important aspect of the Hare Krishna faith is to connect with your inner self.
"We are trying to connect with our real identities and try to get away from all these designations we have accumulated," Purāna Dāsa said. "With a little bit of contemplation and patience, anyone can find something deeper within, regardless of background and experience."
Purāna Dāsa comes from a Roman Catholic background, but he said he was exposed to Indian culture because his mom is a yoga teacher. His conversion to the Hare Krishna faith was the result of a chance encounter.
"One day, I met this amazing person, and we conversed about yoga, meditations, karma and the third eye," Purāna Dāsa said. "We developed a strong relationship over time. One day, she invited me to the Hare Krishna temple she is a part of. At first I was going for the food because it is really good."
Purāna Dāsa said his time at the Hare Krishna temple was a wonderful experience full of music, philosophy and food.
"It was amazing, the giving of food and knowledge," Purāna Dāsa said. "These people are very welcoming and not condescending in any way."
Purāna Dāsa said he particularly liked the sense of community and diversity at the temple. There were people from China, Russia, Africa and South Asia.
"All of these people were from different cultures and are coming together for a common cause," Purāna Dāsa said. "Everyone can find a common connection with this practice, whether it is the food, the music, arts, theatre or even fashion."
Purāna Dāsa is a guitarist. In high school, he signed to a record label. The band mostly played funk and hard-rock, but they played anything that sounded good, according to Purāna Dāsa.
"I still play guitar, and I will add it to the musical plays," Purāna Dāsa said. "For me, music is very powerful and what has attracted me here is their appreciation for music."
Purāna Dāsa said he has become more connected to himself spiritually.
"I felt like in the past I couldn't express myself, for I was always putting on a mask and had to impress others," Purāna Dāsa said. "This practice has helped me remove some of my insecurities, which is very difficult to overcome, and for I am still going deeper, this practice has taught me how to make the best out of a bad bargain."
In today's world, we need to be more tolerant than ever when it comes to people's religious backgrounds and differences because we all have so much in common. So whether it is to feel the positive vibrations, eat a treat or connect with your inner self, swing by the Plaza on Tuesdays during the afternoon and say hello to some friendly faces.