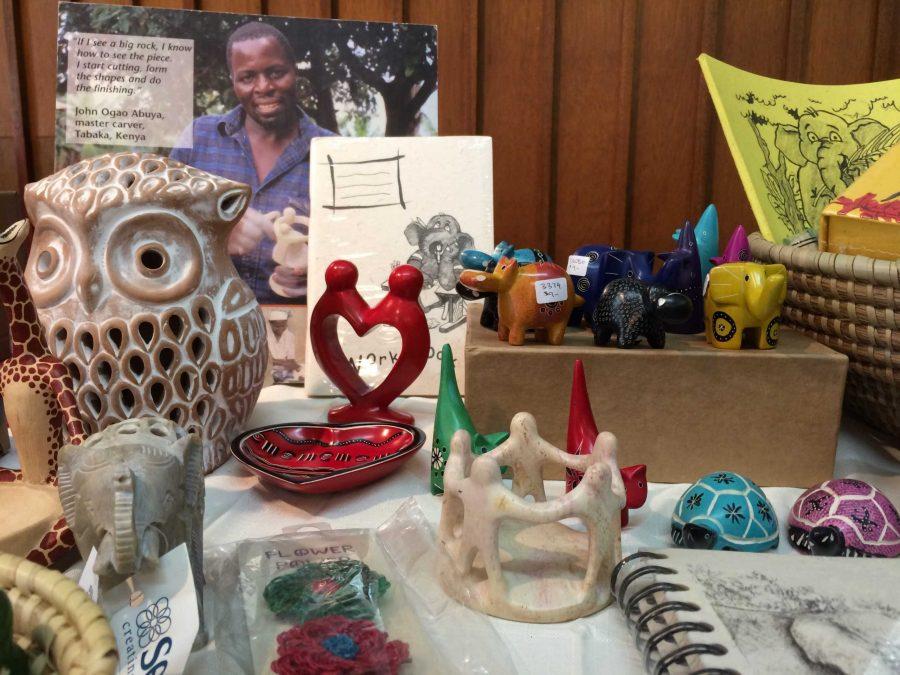 With Halloween over, some people are already starting planning for the holiday season. Early shoppers were able to make their holiday shopping more meaningful with the 15th annual Alternative Giving Fair.
The Alternative Giving Fair, held Saturday and Sunday at Shepherd of the Hills Church on South Taft Hill Road, provided gifts that give both ways. Shoppers were able to purchase handmade merchandise that gives help to people both locally and abroad.
"It's to give people a chance to do their shopping," Lois Lawson, the event's organizer said. "The best part is that every dollar we make goes back to a nonprofit organization. It's helping needy people in other countries as well as this one."
The fair has grown over the years both in the number of vendors and the amount of money raised. Within the recent years, it typically has brought in around $16,000. This year, 15 vendors came out to sell their goods for a cause.
"It's very heart warming and a good feeling knowing that we are helping people that are so much in need," Lawson said.
One of the tables featured handmade cards and earrings made by women who are passionate about contributing to the education of CSU students. Each year, for the past 15 years, the CSU Women's Association Creative Cards group raises money to provide a non-traditional CSU student with a $2,500 scholarship.
"It's been a real pleasure," member Mary Raich said. "The women who make the cards are really artistic and creative. It's a really dedicated group. We work hard to raise the money."
Another group present at the fair, that works to make positive impact on the local level, is the Sewing Circle at Shepherd of the Hills Church. The group has been in existence for over 50 years and works to create three to four dozen quilts a year. The quilts are made mostly from donated material, and once completed, they are sold to raise money for organizations such as the Matthews House, the Mission and the Salvation Army.
The work is split among the eight women of the group, and each woman contributes to a unique part in the quilting process.
"It's a joint effort," group member Nancy Wick said.
For Wick, quilting not only allows her to give back to the community, but it also lets her continue a family tradition.
"I'm carrying on tradition," Wick said. "My grandmother has done this kind of thing and my mother."
One group looking to help beyond the U.S. borders is Ten Thousand Villages. Ten Thousand Villages is organization, which started in 1946, that helps people in developing countries sell their craft and make a fair wage. The money earned allows the workers to provide education for their children, food for their family and a safe place to live. The organization has hundreds of locations across the U.S., selling the Fairtrade products, including a location in Old Town on Linden Street.
"The whole goal is getting the people who make the products a fair wage," volunteer Nadine Hunt said. "The artisans are paid as soon as they finish the product."
Some of the items brought for sale were cards, jewelry, headbands and decorative paperweights.
"Everything is handcrafted," volunteer Cheryl Backsen said. "It amazes me, all of the work that goes into the products."
Among the vendors, were representatives from U Count, a campaign to end human trafficking.
U Count works locally and globally to end trafficking, by partnering with organizations such as Project Rescue, which works internationally to end sexual slavery by selling goods produced by women saved from the sex trade.
There are more slaves today than during the Trans-Atlantic slave trade, a U Count Volunteer said.
Among their collection of goods were journals, bags, jewelry, reusable coffee cup sleeves and linens, all of which were handmade.
"It's amazing what women can make when given the opportunity," a U Count Volunteer said.
U Count will be giving a presentation on Domestic Trafficking at CSU. The presentation will be held Wednesday Nov. 9 from 7 to 8:30 p.m. in the LSC Greyrock room 290.