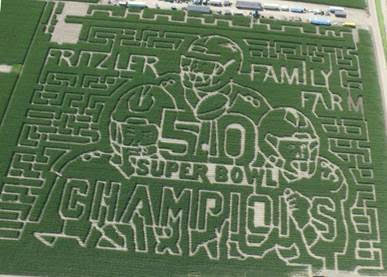 Fall is a farm's favorite season. The seeds that were planted months ago finally come to fruition, and the once barren ground explodes with greens, yellows and oranges as far as the eye can see. Pumpkins, gourds, squashes and corn flourish are just waiting to be feasted on. But, before Glen Fritzler harvests his hard work, he has a little fun.
Fritzler's Corn Maze puts the full month of October to good use. The maze is located in La Salle, Colorado, which is just a 45 minute drive from the Colorado State University campus.
This year's maze celebrates the Denver Bronco's Super-Bowl 50 win. The maze depicts Peyton Manning, Von Miller and Demaryius Thomas along with the Super Bowl 50 logo. The design is meant to make maze goers feel even more like champions for finding the way out.
"We use grid paper," said Glen Fritzler, co-owner of the farm. "We plan our corn maze to match our grid paper, and then we go in there by hand and cut it out. My dad and I do it. It takes us about five days."
Once through the maze, there are a number of other events to explore while waiting for the scares that come with sun down. These include picking pumpkins in the seven acre pumpkin patch, watching live pig races, jumping on a giant inflatable pillow, go-karting and shooting pumpkins out of canons.
When the sun goes down, the scary part of the fun comes out to play. "Phase 2" of the maze and "Scream Acres" are filled with scary characters, props and special effects meant to send visitors home screaming. This year's theme is Undead Zombies.
There is also an old-western style ghost haunted house, a zombie slayer paintball bus and an escape room called Al-corn-traz.
The fall fun doesn't stop there. Fritzler's also has their own beer garden, Fritzler's Hop House, which will host several events alongside the regular attractions.
On Oct. 8, Fritzler's Hop House will put on The Great American Pumpkin Festival. They will be the Colorado exclusive vendor for eight specialty pumpkin beers from Elysian Brewing Company. Craft breweries will also showcase other pumpkin specials. This day will feature live music from the bands Swerve and Big Thompson Flood.
On Oct. 15 and 22, Fritzler's Hop House will have pint nights with local brewers Wiley Roots and City Star Brewery. These events will host tastings of beers and free "swag."
"Sixteen beers on tap here, including some ciders," Fritzler said. "You'll be able to come up here and enjoy beer anytime we're open."
No outside alcohol is allowed inside Fritzler's, so the Hop House will be your only choice once entering the farm.
Oct. 14, 15 and 16 will feature a professional stunt dog show where rescue dogs will show off by doing tricks and stunts throughout the day.
Oct. 21, 22 and 23 will feature shows put on by the West Coast Lumberjacks. This will include axe throwing, log rolling races, log climb races and sawing demonstrations.
There is no shortage of fun to be had at Fritzler's, day or night, young or old. Tickets will usually run a college student $25. This price includes the non-scary Phase 1 part of the maze, the Phase 2 part of the maze and Scream Acres, and a turn at most of the farms games. The paintball Zombie Slayer games can be included for and extra $20.
There are also options to pay for most things individually. VIP tickets that allow you to skip the lines are also available, as well as season passes.
Fritzler's offers a number of discounts for students, seniors and military personnel. They also offer a few dollars off depending of the day, as well as group discounts and coupons for even better deals.
For more information, hours and quick ticket purchasing, visit fritzlermaze.com or screamacres.net.