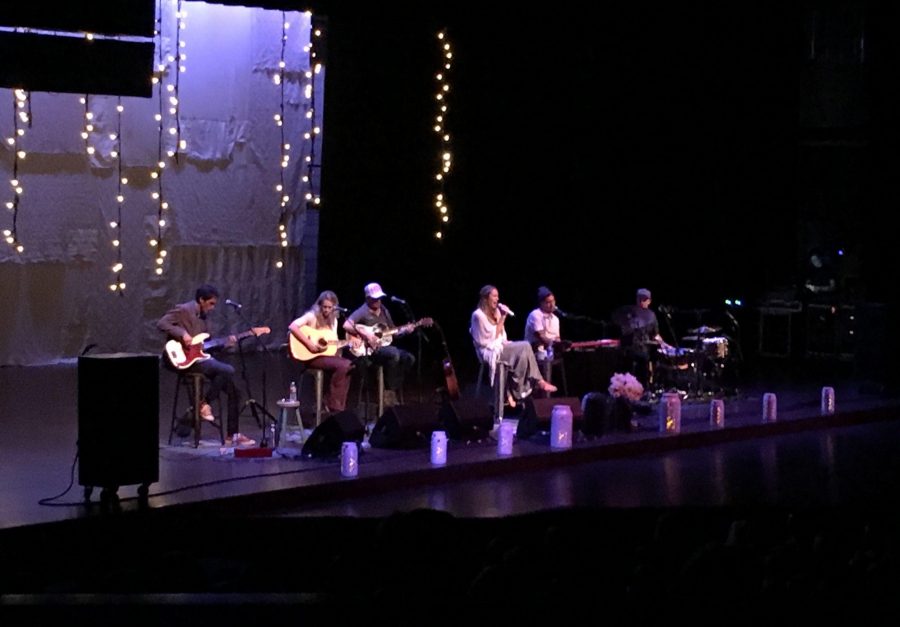 Colbie Caillat, two time Grammy winner and artist of the career-launching song "Bubbly," took the stage at Fort Collins' Lincoln Center for a mellow and inviting evening as part of the Malibu Sessions Acoustic Tour.
Calliat's newest album, "Malibu Sessions", was released October 7. It was performed in full and was accompanied by some of the old favorites. It created a warm, friendly and personal atmosphere. Caillat and the band sat on metal stools for most of the performance behind a small bouquet of white flowers and flickering lanterns. Behind them, multiple stands of lights hung from the ceiling. After most songs, Caillat and the band would debrief and talk about parts of the recording process, personal growth or engage in dialogue with the audience. It gave the feeling that the audience was invited to listen to and engage in one of the band's jam sessions. Towards the end of the concert, Caillat spent some time alone on stage with her guitar and revisited some of her fan favorites: "Bubbly" and "Try." She also brought her fiancé out to do a short romantic duet of "Lucky."
With "Malibu Sessions," Caillat wanted to take a different approach to the recording process, one that wasn't rushed and was the product of an intimate a musical community.
Up on stage with her, for most of the performance, were her two opening acts, her fiancée Justin Young and spouses Jason Reeves and Nelly Joy of High Dive Heart.
It was enjoyable seeing Caillat, Young, Reeves and Joy interacted with each other on stage. They made jokes, puns and finished each others sentences. Their personalities shone through and they appeared as anything but pretentious. It was easy to imagine them living down the street or inviting them over for dinner.
Overall, I was pleased with the concert and thought Caillat and the performers did a great job keeping the audience engaged. For the most part of the show, Caillat only performed vocals. I personally would have liked to have heard her play more guitar. I also wished that Caillat spent a little more time on her beloved original songs. While many were included, they were often dramatically shortened.
After leaving the concert, I not only got a chance to experience fun and easy going music from one of my favorite artists, but I also got to learn about her as a person and hear part of her story. Caillat didn't have an over the top stage set up, costume changes or synchronized dancers. She gave a performance that was true to her style and appearing just as I would have imagined she would while recording in Malibu with a long skirt and a kimono accompanied by a small cup of tea.