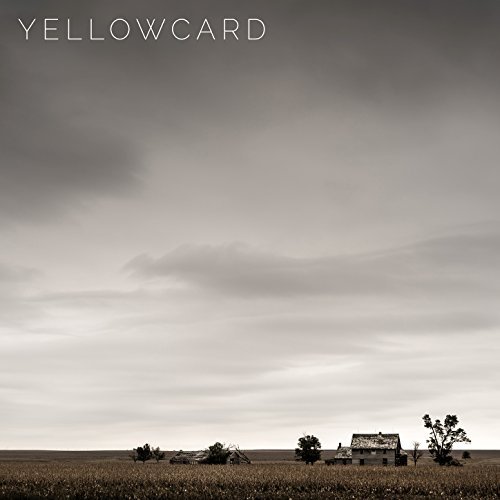 Saying goodbye is never easy. In the music industry, we don't get to see many bands leave things the way they want them to be. Most of the time, we see bands have long drawn out and ugly breakups. That's not the case with Yellowcard. They are putting out their last album in the way that they want to and calling it quits after one last tour. Everything about their final studio album is in a way that the band wanted to do it, which is why naming their album "Yellowcard" perfectly sums up the bands journey to this point.
The Florida-based punk rock powerhouse formed back in 1997. The band quickly rose to mainstream fame in the 2000's with releases of tracks like "Ocean Avenue," "Only One" and "Lights and Sounds" with each track by their own rights serving as a teenage anthem for many people who grew up in that time. The band managed to really separate themselves from the rest of the scene by using a violin in all their tracks. Creating their own aesthetic that, at the time, was uncommon in the punk scene. They would go on to release nine studio albums in that time and even take an indefinite hiatus back in 2008 before reforming in 2010. Now, after six years and three more records, we are getting the tenth and final self-titled album from the band that has been so instrumental in shaping today's punk scene.
"Yellowcard" is a 10 track record that clocks out to be around 48 minutes long. You'll be able to find a healthy mix of classic and new here with more modern and electronic elements driving the first half of this record and the slower power ballads bringing it home. Yellowcard hasn't tried too hard to experiment with their sound and didn't necessarily play it too safe either. This record, from front to back, is constructed in the way the band wanted it to be. Going back to Hopeless Records for this farewell album gave them create control over the whole process, and it shows.
Musically, there isn't anything new here. Essentially, Yellowcard has given everything they have to offer musically. But, that doesn't take away from the overall record. In fact, it means there is lot of technically sound and smoother instrumentals. There is some very clean mixing from band in this album, which really shines through in tracks like "Empty Street," "Savior's Robes" and "Leave a Light On." If you want more slowed down and acoustic tracks, you can always listen to "I'm a Wrecking Ball" or "The Hurt Is Gone." Either way, if you are into fast paced punk or emotional power ballads, this record has what you are after.
Lyrically, this record is depressing and for good reason. Saying goodbye is not meant to be easy or happy in any aspect, and every bit of that shines through in the theme of this record. The tracks on this album with the issues of saying farewell and letting go. Whether it's the topic of past relationships or being haunted by memories, you name it, and this record has a track that covers it. The very first track off the record, "Rest in Peace," and the last track, "Fields & Fences," bring this record full circle. If this was any other record or any other circumstance, much of this subject matter would get old fast, but since it is this is the farewell album, it's all the more emotional in its impact and delivery. Tracks like "Got Yours" and "A Place We Set Afire" stick with you long after listening.
Final Score: 4/5
Yellowcard has definitely given fans of any level a must-have record for the year, regardless of if you just casually remember there hit songs or if you are a long time listeners. Ignoring the last record from a band that has been so instrumental in shaping the pop punk scene that we know today should be considered a crime. While it isn't the most perfect punk record out there, you can't help but admire that Yellowcard ended things on their terms in the way they wanted to.
Do yourselves a favor, and go out on Saturday, October 29, to the Summit Music Hall for one of the last chances to see the band perform before their break up.
And Yellowcard, for everything you have done in the last 19 years, thank you.