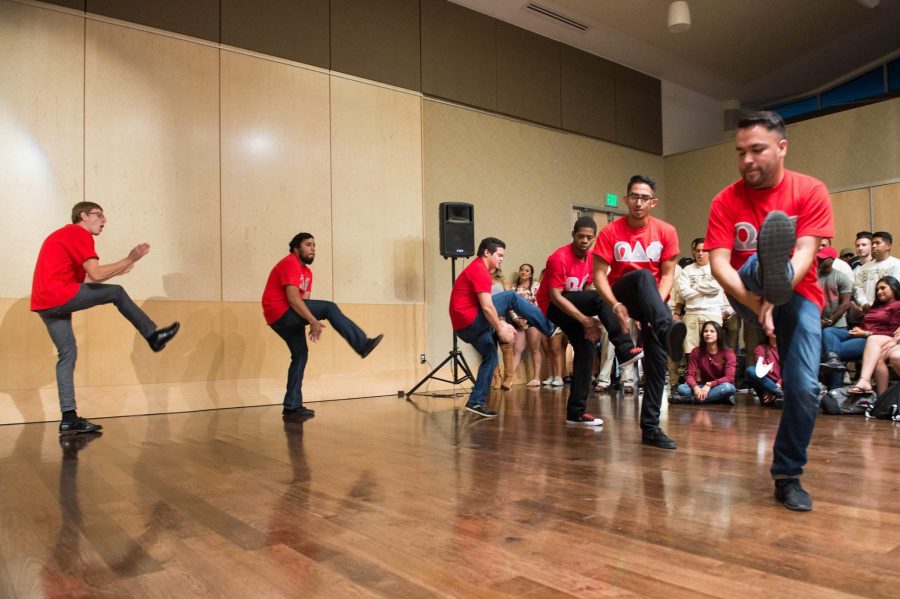 Walking up the stairs toward Ballroom A in the Lory Student Center on Thursday night, it was clear that there was something going on. Music was blasting and loud cheers could be heard far from the doors to the ballroom. What was happening inside those doors was MGC Stomps, an annual affair put on by CSU's Fraternity and Sorority Life.
MGC Stomps is an event in which all ten sororities and fraternities that are part of the Multicultural Greek Council participate. Each sorority and fraternity has some of their members create a team, and they choreograph a type of line dance known as strolling. After weeks of rehearsing their dance, it is stroll-off time.
The event always attracts a rather large audience. Members of Greek Life make up a large majority of attendees but parents, friends, and even students who are interested in joining a sorority or fraternity are included in the crowd.
When the event began and the first team went up to stroll, the energy level in the room rose through the roof. Everyone was cheering and shouting for the gentlemen of Nu Alpha Kappa Fraternity Incorporated, the first fraternity to perform; the energy only got higher and higher with each team that took the stage.
Along with the vitality that was filling the room was a great sense of unity and support. For members of MGC, part of what they pride themselves on is how all ten organizations, though separate entities, are united as one greater community. That sense of community can be seen even to those who are not part of Greek Life.
"My favorite part was seeing the overwhelming support everyone had for each other," said first-time attendee of MGC Stomps Aralhi Bustillos Hernandez. "I've never seen anything like it, and it's so awesome to see the bond between everyone."
After every team was done performing their choreographed dance, the floor became everyone's for the taking, and multiple organizations went up to stroll at the same time. At this point in the night, the strolling turned from more competitive in nature to just pure fun and enjoyment.
Though this event is considered a competition between different organizations, it was evident that at the end of the day, all that really mattered was having fun and embracing the community that the attendees are a part of.