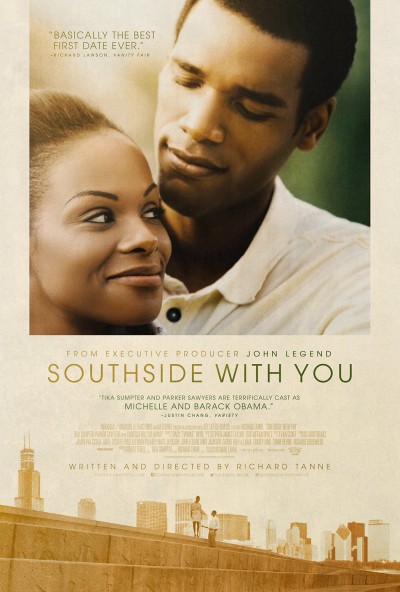 "Southside with You" is a romantic drama that tells the love story of young Barack and Michelle Obama. The movie is entertaining and has true substance.
Released on Aug. 26, the film tells the story of Obamas' first date in 1989. During the date, Barack, played by Parker Sawyers, and Michelle, played by Tika Sumpter, visit The Art Institute of Chicago, go to a community meeting, go for drinks, see Spike Lee's "Do the Right Thing" and Barack treats Robinson to ice cream. In addition to the full schedule of the date, the couple engages in rigorous intellectual dialogue, which is fun to watch.
Smooth-talking Barack, a summer associate, met Michelle, his advisor, when they both worked at a law firm. Barack tricked Michelle into thinking they were going to a meeting instead of going on a date. Throughout the movie, Barack tried to persuade quick-witted Michelle to date him despite her reservations about their work relationship.
Written and directed by Richard Tanne, the film didn't follow the normal format of mainstream romance dramas partially because the audience already knew the end to the story. Tanne had more creative liberty with the storyline. The film only covered the day of the date. There was no real conflict to drive the couple together nor was there a conflict driving them apart. It simply told the story of two people getting to know each other on all levels. This simplicity was refreshing.
Although the couple is now in the public sphere, the film did a good job of painting a picture of the personal lives of both Michelle and Barack. Michelle and Barack both talk about the hardships in their life. Michelle poignantly talked about how she has to work harder in the work place because she is a black woman and Barack talks about having an alcoholic father. At some points, the insights into their past seemed a bit forced. The movie simply didn't have enough time to cover the couples' personal lives, but it tried to fit information in when it could.
Sawyers and Sumpter had excellent performances in the film. Sawyers uncannily captured Barack's mannerisms. This was made especially evident when Barack made an inspirational speech to a group at a community meeting.
Premiering at the 2016 Sundance Film Festival, the movie had no political agenda and the story was charming regardless of your opinion of the Obamas. As the Obamas' time at the White House is coming to a close, the movie was a good way to humanize the president and first lady.
The movie was entertaining and enjoyable because of its sincerity. It's a good, real story that didn't need much else to make it entertaining. The appeal of getting to know someone intellectually as well as romantically is rarely shown in Hollywood. The intellectual banter between Michelle and Barack was a definite highlight of the movie.