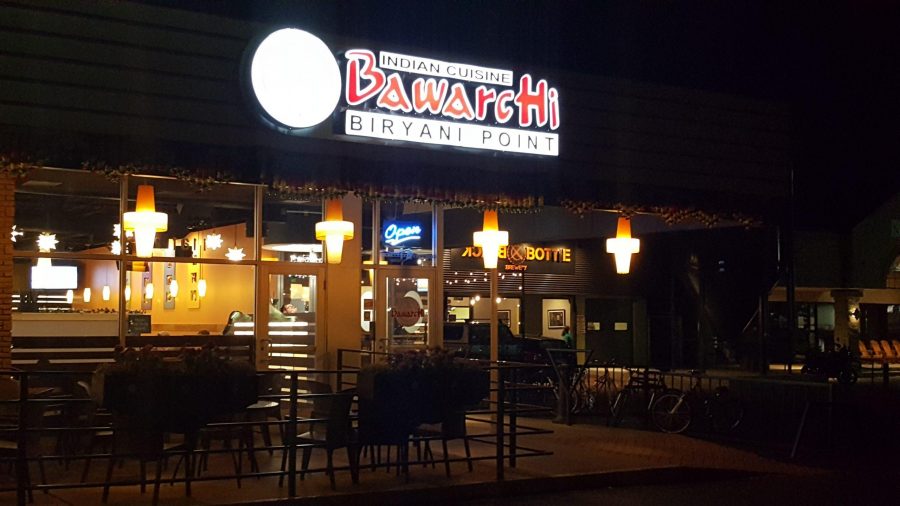 Bawarchi Byrani Point is one of the newest places in town to get authentic northern and southern Indian cuisine. Located on 1611 S. College Ave., Bawarchi Byrani Point is a small and humble place to try new and tasty Indian food.
This Indian and Indo-Chinese food chain is one of the largest in the country with locations in 13 states, according to their website.
The first thing that is noticeable about Bawarchi Byrani Point is the décor. Simple decorations such as elephants, modern lighting and statues adorn the restaurant. Indian art and pastel colors decorate the walls, adding a relaxing environment to have a nice dinner in. Televisions playing Indian music videos and shows add some entertainment and a little cultural education.
When it's time to eat, visitors have their options. There is a small outdoor patio in front of the restaurant, a bar on the inside, booths and beautiful wooden tables.
The amount of choices on the menu are a bit surprising and could even be a little overwhelming for someone new or not knowledgeable about Indian cuisine. Divided into vegetarian and non-vegetarian, visitors have their options of chicken, seafood and goat entrees.
The menu even includes Tandoori, a style in which bread and barbeque dishes are cooked in a clay oven. Though the menu includes small descriptions of each dish, newcomers to Indian cuisine might struggle to pick something they would like.
If a newcomer to Indian food has any questions on the menu, the staff at Bawarchi seemed very knowledgeable and provided great customer service. Chef specialties are also options on Fridays, Saturdays and Sundays for those that might need a little direction.
The Chicken Vindaloo is a fantastic dish, especially for those that like their food to be a little more on the hot side. Those that get spicy foods are asked by the server how spicy they would like the dish, which can range from mild to hot. This spicy and savory dish is made with chicken, gravy, potatoes and coriander. For the 21 and over crowd, this meal goes very well with The Taj Mahal imported lager which is brewed in India.
The Chicken Vindaloo is served with a side of rice, which helps to soak up some of the spice. Getting an order of plain Naan bread is never a bad idea to cancel out the spicy flavor or to have something to dip in the dish. One dinner entrée is big enough to leave someone with a full stomach, and you might even have enough for leftovers the next day.
One thing to keep in mind is that the prices of the entrees are not very cheap. With prices of entrées ranging from 13 to 14 dollars, plan on spending a pretty penny to enjoy this dinner experience. Vegetarian entrees cost a little less than non-vegetarian options.
With its extensive menu, approachable staff, relaxing environment and its close to campus location, Bawarchi Byrani Point is a great starting point for anyone that is curious or new to Indian food. "The food you love. The tradition we follow." seems like an appropriate motto for this chain of authentic Indian restaurants.
Bawarchi Byrani Point is also available for delivery through Order Up.