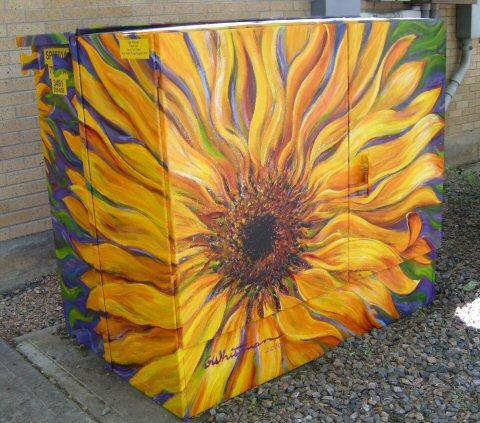 If you step back and critically examine Fort Collins, you will notice that in addition to the beautiful mountain views and natural scenery there are countless pieces of artwork that contribute to the welcoming atmosphere. From painted pianos to unique sculptures, local works of art can be seen scattered throughout the city.
Fort Collins is clearly dedicated to celebrating art. But something that's not so obvious is who is behind all of this artwork. Art in Public Places was created in 1996 after a graffiti abatement ordinance allocated one percent of tax money to capital projects.
The Arts in Public Places program celebrated its 20th anniversary on April 27. During the past 20 years, the program has benefitted the overall quality of life in Fort Collins by making art a daily attraction in the city.
"Fort Collins is filled with amazing artists," said Art in Public Places board member Carol Ann Hixon. "I think we are a very fortunate town to have that. It really does contribute to the atmosphere."
Ellen Martin, City of Fort Collins visual administrator, said the program works towards creating art in all areas of the city.
"We hope that you discover us in every nook and cranny," Martin said. "Sometimes we are very integrated and you have to ask yourself, 'is that a public art piece?' And sometimes we stand out more."
The program is responsible for most of the art in Fort Collins public spaces, but there are some pieces that are more recognizable than others.
"Our artworks that people really know are the transformer cabinets, pianos and kid's pavers," Martin said. "We have 206 transformer cabinets completed, we have painted 67 pianos and we have over 265 pavers in sidewalks."
Martin said the electrical transformers are a perfect example of the program's goal to bring art to ordinary spaces.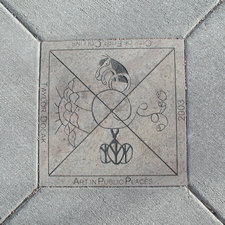 "It's a great canvas," Martin said. "It has to be there anyways, so why not make it beautiful and give a great unique character to our town?"
Hixon said the paver project also provides an example of how the project integrates art into the community.
"The pavers project is really remarkable because we get so many submissions from kids," Hixon said. "You're looking at these sketches that they have done and they are talking about what they love about Fort Collins. As you are walking along in Fort Collins, you come along those pavers and they are great surprises."
Martin said the program supports local artistry.
"The program works with local artists and helps support local artists and highlight the work of local arts," Martin said. "Anybody can submit and we feature about 20 local artists a year."
Hixon said the program's process facilitates the creation of various types of artwork.
"Our process is unique because we don't ask an artist to create a piece, we ask artists to work with the committee that is designing the project," Hixon said. "It provides opportunities for local artists to present their work in ways that they might not have had."
Martin said the pieces are unique to the city and its people.
"We are lucky that Fort Collins is known for its art and culture," Martin said. "Art in Public Places is just a piece of that to make Fort Collins unique and distinctive. We get pieces that are unique for us and unique for Fort Collins. So hopefully it gives this identity to Fort Collins."
Hixon said she enjoys calling Fort Collins home because of the abundance of local art.
"I have visited a lot of places and when I come home I realize how truly lovely, inviting and warm Fort Collins is," Hixon said. "Art in Public Places is one of those pieces of Fort Collins that genuinely makes it the best place to live. A lot of cities have art in public places, but ours is absolutely woven into the fabric of what the city is about. For me personally, the Art in Public Places program enlarges life. It makes my heart sing."
Within the next 20 years, Martin said the program hopes to grow and bring more art to the public.
"We are hoping for more opportunities for artwork and for partnerships within our community in the future," Martin said. "We have been really lucky in the past to have a supportive community for the arts. Hopefully, we expand and create more partnerships to create more art for the town."
Collegian Reporter Randi Mattox can be reached at entertainment@collegian.com or on Twitter @randimattox.