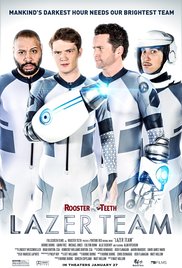 Rooster Teeth Productions fans completely funded the company's first full-length movie, amounting to $2 million.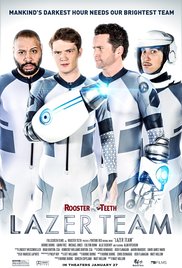 The Austin, Texas-based company is best known for their animated web series, "Red vs. Blue." "RvB" began in 2003 and was originally created using the "Halo" video game series for the basis of the animation. Since "RvB's" success, RT has gone on to create a series of live-action skits, several award-winning podcasts, multiple gaming channels, including Achievement Hunter and Funhaus and several additional animated series along with a myriad of other productions. Rooster Teeth has also grown a massive community, which is celebrated at the annual RTX event, which gathered 45,000 people at the event in 2015. However, the true power of this community was demonstrated last year when RT asked fans to donate money in order to fund a full-length movie.
In June of 2014, RT launched an Indiegogo campaign to fund "Lazer Team," which they had revealed very little about at the time. The campaign reached its $650,000 goal in under 10 hours and reached $1 million within three days. When the campaign ended, the fans had raised over $2.4 million for the film, and it currently holds the record for the highest-funded Indiegogo film campaign of all time. The sheer magnitude of money raised for the film by fans demonstrates the power of the online community, and it brings into question the future of large-scale content creation.
"Lazer Team" premiered Wednesday to audiences around the country. Rooster Teeth used a movie-hosting company called Tugg to allow fans to host their own showings, and the showing in Fort Collins opened to roughly 180 fans. The use of Tugg made all the difference to fans, since it allowed people to come see the movie anywhere that enough people purchased tickets. This allowed for a much greater distribution of the movie, although theater workers were a little confused by what a "Tugg Event" was.
The movie follows the story of four unlikely heroes as they accidentally don four pieces of alien armor and become the self-dubbed "Lazer Team," champions of earth. The story is fresh and original, and significantly better than anything we've seen from sci-fi comedies in a while.
Courtesy of Rooster Teeth Productions.
Overall, the movie was fantastic.  The cast consisted of Burnie Burns (star of "Red vs. Blue" and a co-founder of the company), Gavin Free (star of "The Slow mo Guys" and creative director of RT), Michael "Rage Quit" Jones and actor Colton Dunn alongside "Blue Mountain State's" Alan Ritchson and a cast of actors well-known to fans from Rooster Teeth's many shows. The cast delivered as well as that of any big-budget film, and it was enjoyable for fans of the company to see cameos of their favorite cast members throughout the film.
While the film had plenty of references to many of Rooster Teeth's works, it also worked just fine as a stand-alone film. A viewer with no previous experience with any RT production would enjoy the movie just as much as they would any other film, and that is where the movie shines. Rather than relying on the audience's previous knowledge of RT's content, they created an entertaining new film that just so happened to star members of the company.
Not only was the film entertaining, but the simple fact that a company that formed 13 years ago making Internet videos had fans raise over $2 million to create a movie is astounding. Rooster Teeth has spent its entire lifetime fighting the standards for content creation as we know it, and very few other companies represent the power of the Internet as well as RT. The future of entertainment is changing, and Rooster Teeth seems to be at the forefront of the shift.
Overall, "Lazer Team" is absolutely worth seeing, no matter your knowledge of the company that made it. I'm very excited for more large-scale productions from Rooster Teeth.
Collegian Reporter Chapman W. Croskell can be reached at entertainment@collegian.com and on Twitter @Nescwick.