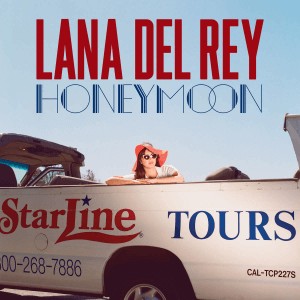 Put on your party dress and don't forget your heart shaped sunglasses as you prepare to listen to Lana Del Rey's third studio album "Honeymoon," which brings listeners a soft alternative sound with a 1950's vibe. 
Del Rey has truly perfected the art of creating cinematic music, which is very evident in this album. Inspired by "late night Miles Davis drives," "Honeymoon" tells a dreamlike love story that makes you feel as though you are watching an old Hollywood romance film.
"Honeymoon" displays a variety of sounds, making it Del Rey's most versatile album yet. With songs like "The Blackest Day" and "24," Del Rey displays her signature mellow style that is mysterious and dark. Conversely, however, Del Rey brings listeners songs like "Freak" and "Music To Watch The Boys To" that are reminiscent of her debut album "Born To Die." Think Nancy Sinatra meets contemporary pop music.
Although "Honeymoon" brings listeners a variety of sounds, it still caters to Del Rey's usual audience. If you think Del Rey's music is sleepy and boring, you will not enjoy the album. But if you love her dramatic and artistic approach, then you will be more satisfied than ever with "Honeymoon."
The album is remarkably unique and refreshing. Del Rey never fails to bring originality and authentication to whatever she does. "Honeymoon" is no exception.
Collegian Reporter Randi Mattox can be reached at entertainment@collegian.com or on Twitter @randimattox.