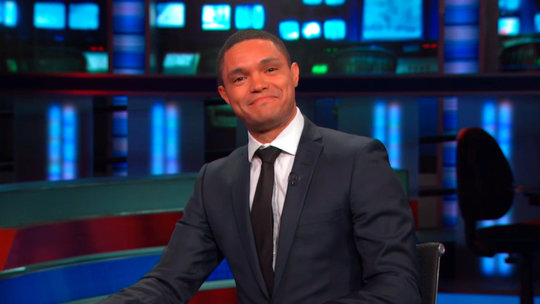 Early Monday, Comedy Central gave fans of "The Daily Show" what they've been waiting for since Jon Stewart announced he was leaving the show after 16 years as its host back in February. We have a successor, and it's a familiar face.
Current senior international correspondent Trevor Noah will be sitting at the desk after Stewart's departure.
Noah made a name for himself on the late night program when he joined the team in December, with some of his most notable segments being "Spot the Africa," in which he displayed photos of locations in both Africa and the United States and asked Stewart to guess which was which, and "Boko Haram in Nigeria," where he discussed the hypocrisy in the lack of coverage of the terrorist group's atrocities.
Many are already suggesting that, as a South African who grew up during apartheid, Noah's perspectives on race and intersectionality will bring a fresh take to the show.
Entertainment Weekly proceeded to gather up supportive celebrity tweets about the replacement, arguably the best and most direct being Chris Rock's that simply read: "Thank you, President Obama."
In a statement, Stewart expressed excitement for the change saying, "I'm thrilled for the show and for Trevor. He's a tremendous comic and talent that we've loved working with."
Noah himself took to Twitter shortly after the announcement tweeting, "No one can replace Jon Stewart. But together with the amazing team at 'The Daily Show,' we will continue to make this the best damn news show!"
Collegian A&E Editor McKenna Ferguson can be reached at entertainment@collegian.com or on Twitter @McKennaMagazine.