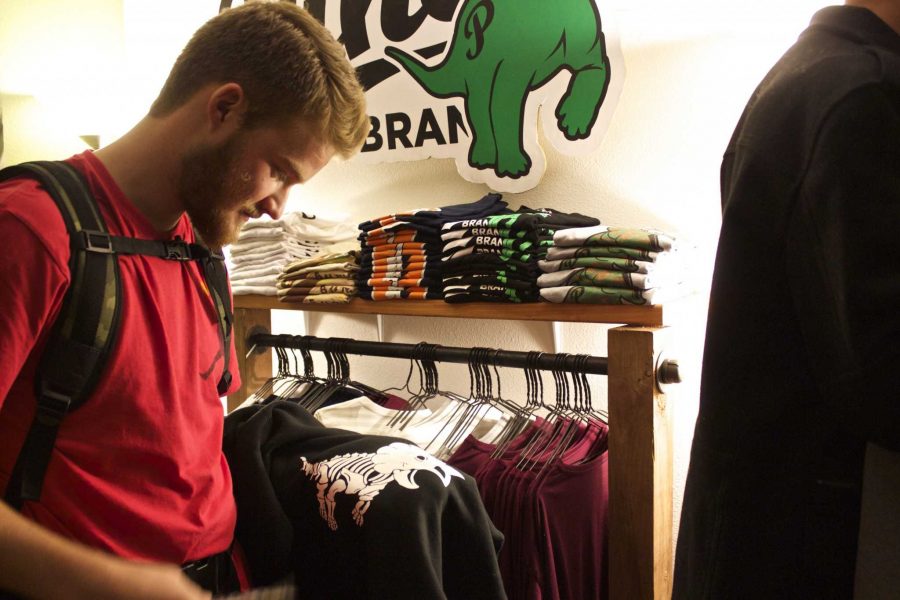 A locally founded t-shirt company is beginning to find its roots here in Fort Collins.
Pine Brand is a t-shirt company founded in a Fort Collins basement by CSU alumnus Garrett Danielson. Grant Stauffer, who runs printing and production, later joined him in December.
Danielson realized he was not meant for a desk job while working as an intern in college. He was a finance and entrepreneurship major at CSU. What began as a small hobby on the side during college has come to be Danielson's business today.
"[Screen-printing] was the best thing I knew how to do," Danielson said. "My parents had a sign shop growing up and I had a basic knowledge of screen-printing from my dad. I just used my skill set and what I knew, while still trying to have fun."
His business venture was originally just something he did on the side out of his cousin's basement. At first, Danielson said he would just make a run of shirts and hats. He would sell them to people he knew out of a friend's garage.
Danielson kept reinvesting the money until he could eventually buy a screen printer. It was only one color at first and kept working so that eventually he was making multicolor screen-prints on his own.
Eventually, he was able to raise enough capital to buy a screen print shop.
"Now we are working on getting into retail stores and store fronts," Stauffer said. "We have unique designs done in a unique way. We hold ourselves to our own set of standards."
According to Stauffer, everything in the designs is subtly Colorado based. Their logo, a green triceratops, is called the "Pinosaurus." This is partially because the first triceratops' bones were found in Colorado.
"Nothing comes from a single source," Danielson said. "I guess just what I do and what I enjoy inspired me. I like plain, simple design."
Having a good time is a large part of this company to the founders, with both Danielson and Stauffer being unwilling to compromise fun in order to make money.
"We're trying not to seal our souls to a desk job," Stauffer said.
According to Stauffer, they work 40-plus hours a week, but it is satisfying to work for something.
"Business is hard, period," Danielson said. "If you're not willing to put it all on the table and lose it all, don't even bother."
Merchandise and more information about Pine Brand can be found at www.pinebrand.com.
Collegian A&E Writer Emily Short can be reached at entertainment@collegian.com or on Twitter @TheNamesShort.