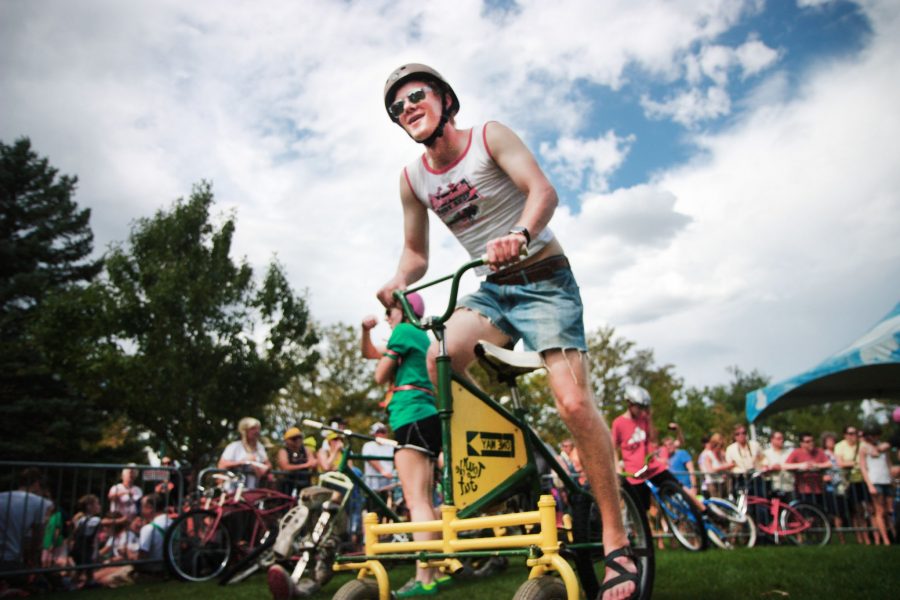 Correction: Dot Dickerson was originally falsely referred to as a male; she is female. The Collegian regrets its error.
While recovering from Friday's Showdown excitement, Saturday offers the chance to be amused and bemused by the swarm of decorated bikes and people decked out in flamboyant and eccentric costumes riding around Civic Park and the downtown Fort Collins area for the annual Tour de Fat celebration.
Tour de Fat, sponsored by New Belgium Brewing Company and three non-profit Fort Collins bike companies, is a fun way to bring awareness to the community about bike safety and the benefits of swapping a car for a bike in regards to the environment.
Cristina Brito, a senior at CSU, is a Tour de Fat supporter and participant who has attended since her freshman year.
"Its always a blast. The bikes, the costumes, the beer, the games, the circus shows. But the best thing is is that its all for charity," Brito said.
She believes that the event is a great way to bring not only the CSU community together, but all of Fort Collins.
"It's an event where you're gathered with your local Fort Collins community and you feel a sense of unity when you're all biking together having a good time," she said. "People should attend not only because it's a blast, but because it also raises money for charity. And wear beads. Lots of beads."
Tour de Fat is an exciting way to end the summer with beer, bikes and costumes surrounded by friends and family.
The money raised from the parade with beer sales, live music and donators goes to Bike Fort Collins, Overland Mountain Bike Club and Fort Collins Bike Co-op. Last year's celebration nearly brought in over $500,000 from purchases at the parade, making it a significant event for the City of Fort Collins.
Dot Dickerson, Bike Fort Collins president, has her bike advocacy organization supported by approximately 500 volunteers during the event who marshal the parade, collect signatures on waivers and sell beer and souvenirs.
"It's an incredible amount of work on our part, but also on the part of New Belgium who does monumental work to support bike safety in our community, and around the country for that matter," Dickerson said.
Tour de Fat is more than a day to drink beer on bikes while in costume; it brings character to Fort Collins and allows for everyone to do their part to give back to the people serving the environment and the people of the city.
Sam Beck, CSU senior and Fort Collins native, has been watching Tour de Fat for years.
"It is so exciting — rolling out of bed at seven in the morning and getting dressed up in silly costumes to drink beer and ride your bike with what seems to be the entire Fort Collins population," he said. "I love that everyone comes together for an event like that."
Tour de Fat is a free parade for all to attend, but donations are greatly appreciated to raise awareness of trading bikes for vehicles and for local bike shops. When signing a waiver at the event, a $1 donation is all that is needed to keep this event and community together.
Collegian A&E Writer Makaela Bamonti can be reached at entertainment@collegian.com.