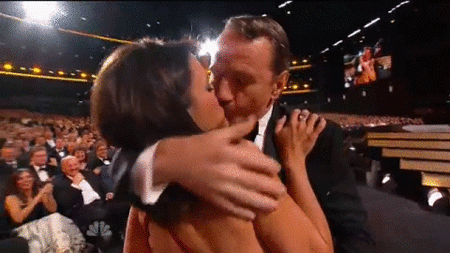 Last night, the annual Emmy Awards took place in Los Angeles, hosted by Seth Meyers.  The gowns were sweeping, the tuxes were sharp and the rest of the world was most likely at home in a cozy set of pajamas watching the glamour unfold from the comfort of their couches.  If you were one of the unlucky few who missed the ceremony, here's a recap of the events, fashion and crazy moments from the night.
1. Seth Meyers was…well, Seth Meyers
Let's be honest, Seth Meyers has never really been a very versatile actor.  He has a specific sense of humor and you either love him or you hate him, so that's probably how you felt about his monologue, too.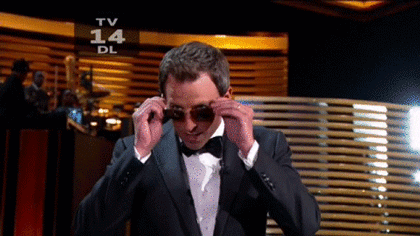 2.  Amy Poehler is the same as Beyonce, right?

She stole the show while she presented, but first, Meyers introduced his SNL pal as "Beyonce", confirming our notions that combined, Amy and Bey would make the perfect superhuman.
3.  Modern Family takes home an Emmy…or two
Ty Burrell won for Best Supporting Actor in a Comedy Series, which a lot of us were probably expecting.  Modern Family has proved itself to be an impressive show, but whether you're a fan of it or not you might agree that it's won enough Emmys to last it a few lifetimes.

4. Louis C.K. wins big
For his self-titled show, Louis C.K. won for Best Outstanding Writing in a Comedy Series.  This scene from the winning episode, done in one long take, might explain why the award is well-deserved:

5.  Seth Meyers and Billy Eichner yell at people
Billy Eichner did a special Emmy edition of his Funny or Die show Billy on the Street with Meyers as his guest and asked pedestrians about award snubs, nominations and more.  Well, not so much asked as…shouted.  

6. Julia Louis-Dreyfus makes out with Bryan Cranston
She seemed surprised, but at least she remembered what Seinfeld episode he was from.

7.  American Horror Story represents
Both Cathy Bates and Jessica Lange brought home awards for their roles on the show, representing the ladies of the Coven.

8.  Weird Al is really, really weird
It was a good break from the constant presenting, but Weird Al certainly lived up to his namesake.  He basically just sung keywords from each nominated show's description while Andy Samberg (as Joffrey) danced behind him.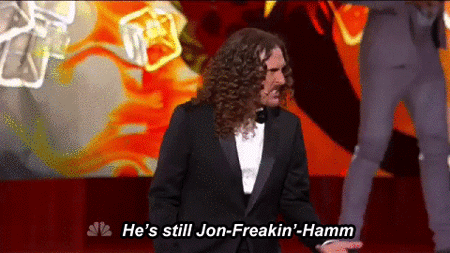 9.  Sophia Vergara spins on a platform
Some might say it's a great time for women in television, but Sophia Vergara was almost explicitly told to 'stand there and look pretty'.

10. Robin Williams' moving tribute
Billy Crystal shared funny and touching anecdotes from his friendship with Williams, and the crowd fell into a moment of silence remembering their lost peer.


11. Breaking Bad sweeps
Aaron Paul, Anna Gunn, Bryan Cranston, and Moira Walley-Beckett all brought home awards for the show, and the show also won Best Drama Series at the end of the night.

12. Modern Family wins…again.
Really, guys? Again?
—
We hope you enjoyed the Emmys as much as we did, and don't forget to tell us what you thought about the ceremony using the hashtag #HeyCollegian or tagging @CollegianC on Twitter!
Collegian Senior Interactive News Team Member and Blogs Editor Madi Scruggs can be reached at socialmedia@collegian.com.