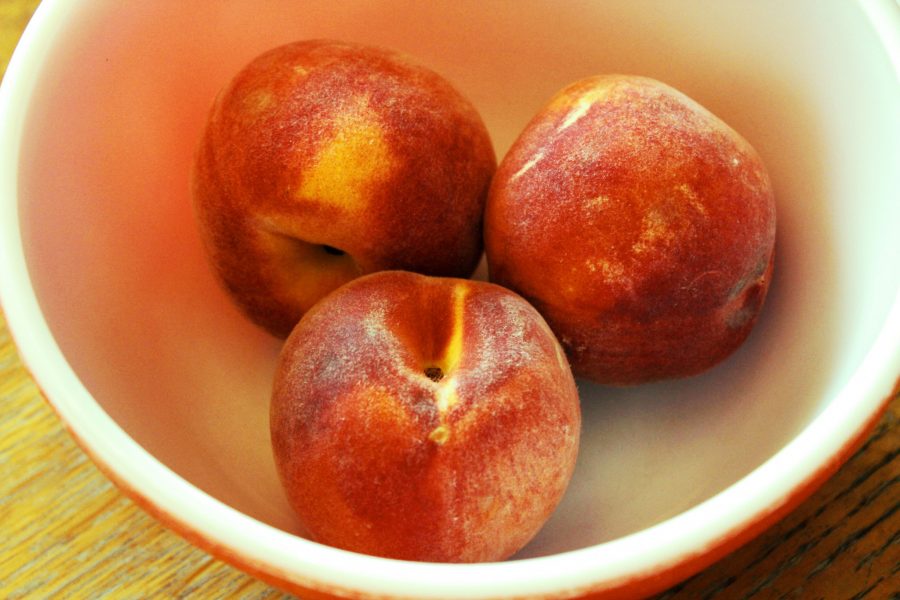 Peaches from Palisade, Colorado are in their prime this month. Eat them plain, or stop by the local peach stand to pick up some peaches for a perfect summertime meal.

Peach Cobbler from "The Fannie Farmer Cookbook"
12 tablespoons butter
3 cups peeled, sliced peaches
3/4 teaspoon salt
3/4 cup sugar
1 cup milk
1 egg
1 1/2 cups flour
2 teaspoons baking powder
Preheat oven to 375°F. Melt 4 tablespoons of the butter and pour it into an 8-inch square cake pan. Spread it evenly and arrange the peaches over it. Mix 1/4 teaspoon of the salt with 1/4 cup of the sugar and sprinkle evenly over the peaches; set aside. Melt the remaining 8 tablespoons of the butter in a small pan, remove from the heat, add the milk and egg and beat well. Mix the flour, baking powder, the remaining ½ cup sugar and the remaining 1/2 teaspoon salt in a bowl. Stir in the milk and egg mixture and beat until smooth. Pour over the peaches and bake for about 30 minutes, or until a toothpick comes out clean.
Raspberry-Peach Pie from "Blue Ribbon Pies"
1 unbaked 9-inch pie shell with top crust
2 1/2 cups sliced fresh peaches
1 3/4 cups fresh raspberries
1 1/4 cups sugar
1/4 cup quick-cooking tapioca
1 tablespoon lemon juice
1/8 teaspoon nutmeg
2 tablespoons butter
Preheat oven to 450°F. Mix peaches and raspberries with sugar, tapioca, lemon juice and nutmeg. Pour into unbaked pie shell. Dot with butter. Cover with top crust, flute edges and vent top. Sprinkle with a little sugar. Bake at 450°F for 10 minutes, then lower oven heat to 350°F and bake for another 30 minutes, or until light brown.
Peach Pancakes from "Peaches and Other Juicy Fruits"
Makes about 16 pancakes
1 cup low-fat or nonfat milk
1 cup chopped peaches
1/2 cup all-purpose flour
1/2 cup whole wheat flour
1 tablespoon melted butter
2 eggs beaten
1 tablespoon canola oil or nonfat cooking spray
Fresh peach purée for topping
Stir the milk, peaches, flours, butter and eggs together in a large bowl. Heat 1/2 tablespoon of the oil in a large skillet and drop in large spoonfuls of the batter. Cook over medium heat for about two minutes on each side, until golden brown. Repeat with the remaining oil and batter. Serve hot with the peach purée.
Just Peachy Shake from "Peaches and Other Juicy Fruits"
Makes about 4 1/2 cups, or 3 servings
3 juicy peaches, pitted and quartered
2 tablespoons honey
1 cup peach applesauce
1 cup peach nectar or apple juice
1 cup low-fat or nonfat peach, apricot or vanilla yogurt, semi-frozen (for semi-frozen, freeze 15 to 20 minutes)
Purée all of the ingredients in a blender until smooth.
–
Whether you are making pancakes for a Sunday brunch or peach cobbler for a summer family potluck, these recipes are sure to please.
Collegian Staff Reporter Katie Schmidt can be reached at entertainment@collegian.com.