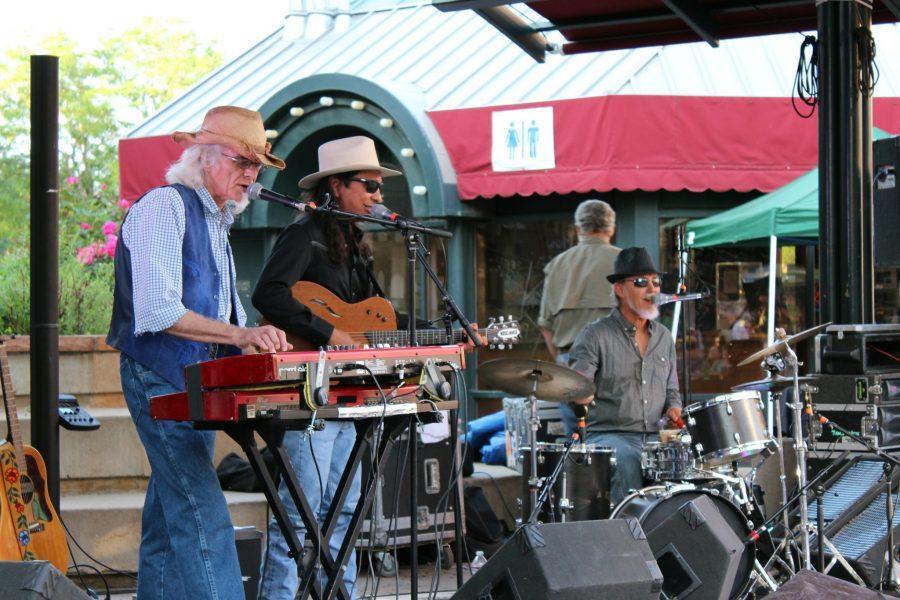 Please refresh your browser if the slideshow does not appear.
[flagallery gid=145]
Audience members brought their dancing shoes during the second week of Bohemian Nights Presents Thursday Night Live.
The June 12 event showcased Americana music from the Fort Collins band Young Ancients. The concert featured new songs from the band, as well as reinterpretations of old songs.
The concert attracted devoted followers, along with those unfamiliar with Young Ancients. Not long after the concert began, toddlers and romantic couples took to the front of the venue to show off their dance moves.
Young Ancients incorporates a blend of country, zydeco and blues. The band is comprised of members John Magnie, the accordion and keyboard player, Cary Morin, the guitar and steel pedal player, and Steve Amedée, who plays drums and percussion. All three members also provide vocals.
In order to keep their instruments at a minimum, the members of Young Ancients vocally harmonize and carefully layer guitar, keyboard and percussion to create a full sound. Morin said Young Ancients often record their music live and the tracks on their website often sound the same way it was recorded.
"The members of the Young Ancients are three of the most respected and admired musicians in our community," said Liz Barnez, Bohemian Nights artist relations manager.
Magnie and Amedée had previously played together in The Subdudes. Barnez said The Subdudes have reached international acclaim and performed for The Tonight Show with Jay Leno and Late Night with David Letterman. Meanwhile, Morin was the recipient of the Lifetime Achievement Award by the Fort Collins Musicians Association and is a winner of the Colorado Blues Challenge.
Magnie and Amedée began collaborating with Morin last year as a songwriting project.
"We noticed an interesting thing with our instrumentation, with my fingerstyle guitar and John's accordion," Morin said.
Magnie said that while they were reworking Morin's old material and generating new songs, they wished to express their music. Thus, Young Ancients was formed.
The band was christened with an oxymoronic name by Magnie.
"All three of us have had long lifetimes of playing American music, but it feels like it is always new and we are beginners," said Magnie.
Morin got his start in music when he learned to play piano. He then taught himself guitar because, in his opinion, there was nothing else to do growing up in Montana. As a young teenager, Morin was inspired to become a musician after seeing guitarist Richard Matoon perform. Morin also credited Jeff Beck and Scott Joplin as influential musicians.
Magnie, however, did not begin seriously playing music until his adulthood. Magnie attended three colleges before shifting his focus to music. After being "bit by the bug," Magnie moved from Denver to New Orleans because the music from his favorite albums came from that area. He then became immersed in the blues because the lyrics seemed deeper to him than pop music.
Amedée, who came from a family of drummers, grew up with Magnie. Amedée has previously stated that he was influenced by soul music and classic rock groups like The Beatles and The Rolling Stones. Like Magnie, he moved to New Orleans and became a Bourbon Street musician before migrating to Colorado in 1987.
Through the summer, Young Ancients and The Subdudes have an extensive lineup throughout Colorado and Wyoming. Young Ancients will next play at JT's Summer Jamboree in Fort Collins at 3 p.m. on June 21.
The members are also anticipating their upcoming music video. Young Ancients will make their video from 5:00 to 8:00 p.m. on June 18 at the Bellvue Grange, located on County Road 52 East. Magnie said he wanted to invite fans to come dance in the video.
The Thursday Night Live series offers free concerts at Old Town Square from 7-9 p.m every Thursday night. The final concert of the series will be held August 7.
Collegian Staff Reporter Katie Schmidt can be reached at entertainment@collegian.com.