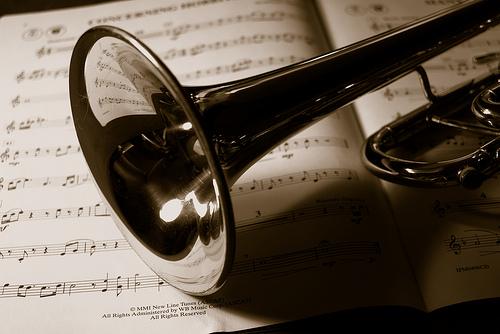 When it comes to supporting the hard work of fellow CSU students, a few things might come to mind: research projects, department awards, graduation and, of course, sporting events. But, there is a vibrant subculture of artistic endeavors that are worth visiting as well.
"Our student recitals are an exciting way for CSU music students to showcase their work," said Carrie Care, publicity and alumni coordinator at the UCA. "While many other areas present research, this (music) is our medium and the reflection of years of hard work, study and excellence in performance combined."
This Saturday, four students will perform at the Organ Recital Hall: one percussion, two vocal and one trumpet. Robert Bonner, the trumpet player with a penchant for orchestral music, will close the day with his performance of several pieces of varying nature.
Bonner is a graduate student in CSU's department of music. He recently won second place and a $750 prize in CSU's annual Concerto Competition with an Arutunian Trumpet Concerto. He was one of three finalists, all of which were considered to be "CSU's finest soloists," according to the University Center for the Arts website.
"The level of his upcoming recital will be at the professional level," said Dr. Steven Marx, his professor, "Robert is one of the top musicians at CSU, and is an example of the rising level of standards on campus."
A native Texan, Bonner said he is grateful for the opportunity to go to school out of state. He started playing trumpet when he was 12 years old and, now approaching 26, has never stopped.
"I guess I chose the trumpet because my mom played it," Bonner said. "I've been pretty successful at it and kept doing it ever since high school."
Playing an hour's worth of music in front of a formal audience is a daunting endeavor.
"The good thing about it is we get to choose the route, so whatever we want to play or whatever we really like at the time, it's an opportunity to show that," Bonner said of the on-stage experience. "We don't sit in practice rooms for hours and hours a day for no one to hear us play."
Students are encouraged to attend events like this and show their support for the hard work that fellow students put into their artistic passions.
If you plan on attending the recital on Saturday, you can expect to hear a set of three Rachmaninoff songs adapted for trumpet, a trumpet concerto by Hummel, an unaccompanied piece by Toru Takemitsu, which Bonner described as "a sort of meditative dialogue between yourself and yourself," and a final chamber piece for brass quintet that he will perform with his teacher.
This performance will make for a varied experience that Bonner hopes will draw a more diverse crowd than usual. While he appreciates the support of older, regular attendees, he also thinks that current CSU undergrads shape the future of concert performance receptions.
Drop by and enjoy some music from a talented fellow Ram from 7:30 – 9:00 p.m.
Collegian Entertainment Reporter Cassandra Buitron can be reached at entertainment@collegian.com. 
When: Saturday May 10, 7:30-9:00 p.m.
Where: Organ Recital Hall
Cost: Free