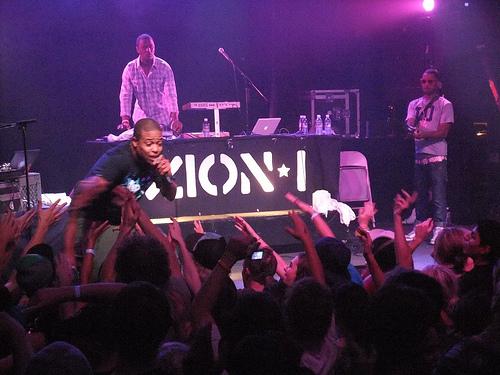 Rap duo Zion I, who has come to the Colorado and the Aggie Theatre many times before, is putting on another show tonight at 7 p.m. The group, who has been touring together since the early 2000s, looks forward to an upbeat show with some amazing guest artists. I recently had the opportunity of interviewing Zumbi, who makes up half of the duo. He enthusiastically talked about his new tour, his collaborations, and, of course, his love for his Colorado fans.
Cassie: So, you have done a lot of shows in Colorado before. What do you think of your fan base here?
Zumbi: Colorado's definitely one of our stronger states, I mean, for touring and everything. It might be because we get a lot of songs in ski videos and stuff like that. But, for some reason, Colorado's always been very open to what we've been doing ever since we started touring in the early 2000s. We've always hit up Colorado, and we always have a good fan base. And, I think some of our Colorado fans like the music scene with EDM. So, there's a local, organic movement of people who are making music. And then there's something about, I don't know, just maybe connecting with our message and our perspective.
C: You've also played at the Aggie before?
Z: Yeah, for sure, several times.
C: Is there anything about Fort Collins, in particular, that makes you like to play here?
Z: Yeah, I mean, the Aggie's always — when it's a packed house or sold out – it's always (got) this great, turned-up energy. That stage is built pretty well. There's the bottom pit and the three levels, so everybody can see the stage. So, it's a good place to play. I always expect high energy when I go there.
C: So what can people expect to hear when you come to the Aggie on Friday?
Z: Definitely cuts from all of our albums and some off the new EP. We have a singer we're just bringing out on this stretch of the tour, 1-O.A.K. He's featured on the single "Danger Zone" on the EP and he's with us on stage. He brings a dope element vocally. He also plays electronic drums on stage. We also collaborate with the other DJs (Mike Smith, Sol, DJ Infrared) for a collaborative, beat-making thing. You can see it on stage, the chemistry between everybody, and that's probably the thing I enjoy most about this tour is how everybody gets along and you can see it in the creative process when people come back on stage and we all rock out together…you can just feel it.
Collegian Reporter Cassie Maack can be reached at entertainment@collegian.com.