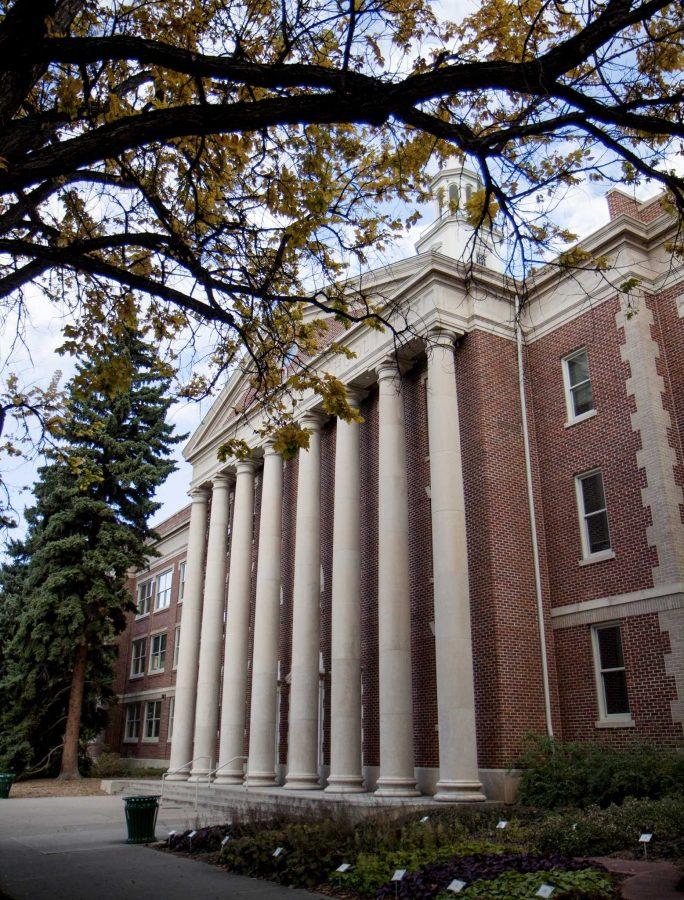 The play opens on a classically French scene: a woman with her lover, who hides in the closet when her husband arrives home. When he opens the closet door, the lover drops dead at their feet.
It takes the actors a moment to realize the lover really is dead.
"It's theater within theater," said French instructor and director of the play Sophie McKee.
The fruit of a semester's worth of labors, "La coupable est dans la salle" or "The Killer is in the Room" is the entire syllabus of a French class.
"There are about 10 to 15 students, doing acting and translation for the supertitles, props and settings," said McKee. "I have a student who's very artsy who painted the chimney. There are a lot of different aspects."
One of the most important aspects for a primarily English-speaking university is translation, a job that fell to computer science major Bertrand Kre.
"I had to make sure the idea translated appropriately," Kre explained. "It's a challenge to be able to translate and keep the same idea … it's time consuming, but overall a good experience."
"I would do it again," he added.
The subtitles will be displayed large on a Powerpoint during the play.
McKee explained, "The first phase was choosing the play. We had a more traditional vaudeville and a more modern piece written in 2008. The students unanimously chose the modern."
Before even that process, McKee had to undergo the difficulties of finding a French play in a largely English-speaking country. "It's very hard to find French plays here. I had my father go to a theater library." McKee's father then had to narrow choices down by number of actors and kinds of props needed and content, among other things.
After months of work, the play is ready for the CSU audience. French major Wendy Russell said, "It went really well, and it was a lot of fun to put together."
McKee said that this is the first time she's taught this class.
"(McKee) never stresses, she calmly tells us what she needs to happen and keeps us calm," said Russell.
"Most classes worry about things personally," Russell explained her biggest challenge in the class, "worry about when a paper's due, their own thing and their own grades. But we all have to hope to be successful and work together as a team."
McKee said, "It's great as an instructor to get to know students in a different context. It's great when everything comes together … and to see students proud of themselves."
The play will take place in Eddy 212 Friday, May 3 at 7:30 p.m. and Saturday, May 4 at 2 p.m.
Entertainment Editor Em Kribs can be reached at entertainment@collegian.com.