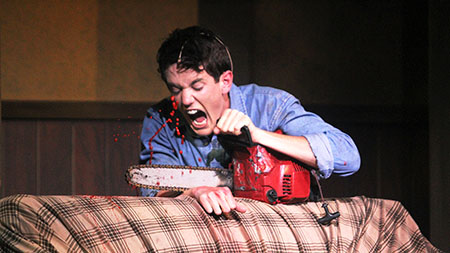 Be prepared to laugh hysterically at the sight of a tramp, a bro, an S-Mart employee, his girlfriend and his dorky little sister getting attacked by Candarian demons in CSU's production of "Evil Dead."
Join the CSU theatre department in the most epic and terrifying quest of their lives in "Evil Dead: The Musical," opening tonight in the University Theater of the UCA.
The musical centers around five college students spending their spring break at an old, abandoned cabin in the woods. What they don't know is that reading aloud the Necronomicon, or Book of the Dead, causes the deceased bodies to come back to life with a vengeance.
Ash, the protagonist of the story, tries to keep what little peace there is left after his sister is attacked by evil trees and his girlfriend is stabbed in the ankle with a pencil.
"It's one of those things where you don't know why you were put on this earth, and he figures out he was put on this earth to kill zombies," said Seth Klusmire, who plays Ash.
Klusmire added that Ash is arrogant and takes himself very seriously, something that Klusmire has learned not to do by being "whipped into shape" by his two older siblings.
This show is big in every sense of the word. The cast is the largest the University Theater has ever seen, and the tech includes the use of a chainsaw, intricate lighting design, and a splash zone. That's right, a splash zone. As in if you pay for a special ticket, you will be doused in fake blood from beginning to end.
Senior theatre major Bryan Connolly is the fight choreographer for the show as well as part of the zombie hoard. Using his experience as a trained stunt man, Connolly taught the cast a trick or two about killing each other.
"The most dangerous thing is managing to kill 25 bodies on stage in one scene. That many people on stage flailing about getting massacred is naturally dangerous," Connolly said.
The show is a musical parody of the "Evil Dead" movie franchise from the 1980s. CSU has pulled bits and pieces from all the original "Evil Dead" movies as well as spoofing off of other recognizable movies and musicals.
After much blood is spilled, the owner of the cabin, Annie, along with her boyfriend, Ed, and straight out of the woods trail guide, Jake, comes back home to find Ash singing "Die!" over and over.
Ed, played by Brenna Otts, is possibly the only sensible character who notices the zombies milling about while everyone else is distracted by song. Unfortunately, he is also the most socially awkward, which is saying a lot in a zombie musical.
"He's kind of pathetic and loveable. You just want to give him a hug afterwards. But he does experience quite a self-discovery throughout the show. He really finds himself," Otts said with an evil laugh.
The CSU theatre department has never been one for an ordinary show. This time last year, senior theatre major Tim Garrity played Lady Bracknell in "The Importance of Being Earnest." Otts experienced the same surprise when she was cast as a male character.
"I reread the cast list several times to make sure I wasn't reading it wrong, because it was very unexpected from everybody," Otts said. "Walt (Jones) sat me down one day and patted me on the shoulder and said, 'Don't worry. I have a plan.'"
Jones, the director of the show and the department, loves surprises, both from his actors and giving them to the audience.
"(Walt) likes to do that because it shows imagination," Klusmire said.
The musical will run until April 21. CSU students can get a free ticket with a student ID from the box office at the UCA for Thursday performances. These tickets are first come first serve. This show uses a fog machine and is not appropriate for youth under 17.