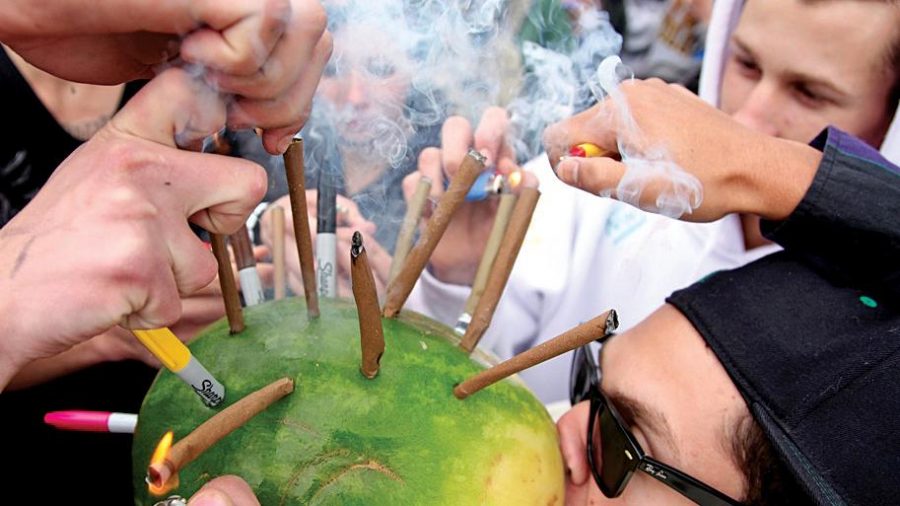 Michael Bettis
As anyone who really cares has already figured out, this particular April 20, 2013 will be the first 4/20 since recreational use of cannabis was legalized in Colorado. If you partake in smoking weed, this deserves a celebration. Here are a few suggestions to make your 4/20 a fun one.
Food
When people think stoners, they're not thinking about the plant or Bob Marley. They're thinking about the phenomenon commonly referred to as "the munchies."
– Head to Cheba Hut. If the name's insufficiently indicative, the fact they are having a 4/20 party should be a good hint. There'll be live music, giveaways, contests and — most importantly — you can get a 4" sandwich, a bag of chips and a drink for $4.20.
– Anywhere but Taco Bell. Let's get real: Taco Bell is the quintessential place to get your munch on, and will probably be packed all day long.
– Make edibles? Actually, a seasoned veteran informs me that edibles, while a great way to get high, aren't the best way to assuage your cannabis-caused craving. Ingested this way, the effects last forever. Contrary to what you might think, getting excessively high isn't fun, and you certainly don't want that to last all day.
– Order food in. It's more responsible than driving under the influence, and it requires nearly zero effort.
Things to do
Sure, you could smoke weed and stare at the wall all day, but 4/20 isn't your average hazy weekend; it's a holiday. Here's some stuff going on in Fort Collins Saturday.
– It's Record Day, and Bizarre Bazaar, Rock 'n' Robin's and Downtown Sound are all down to participate this year. According to the Record Day website, "Festivities include performances, cook-outs, body painting, meet and greets with artists, parades, DJs spinning records and on and on."
– Go to Fort Collins' smoke shops. Your options include Higher Education, Kind Creations, Mellow Yellow, MTNside Glasswares and One Love, some of which are having 4/20 sales.
Music
Pretty much anything sounds good while you're high, but here are a few recommendations.
– MGMT
– Tame Impala
– Flying Lotus
– Pink Floyd (specifically "Dark Side of the Moon")
– The Holdup
– Slightly Stoopid
– And of course, Bob Marley
But for real, pretty much anything will sound good.
Entertainment Editor Em Kribs can be reached at entertainment@collegian.com
Disclaimer: The Collegian does not endorse substance use. Use wisely and responsibly.